Hyundai Ioniq 5 Vs. Tesla Model Y: Is Tesla Still King?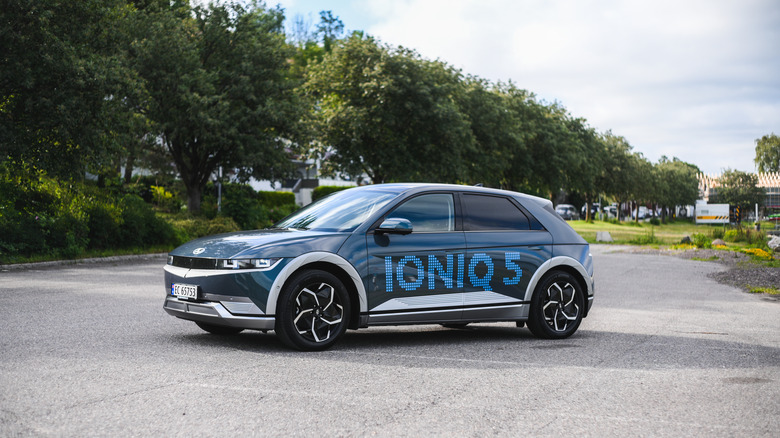 ginger_polina_bublik/Shutterstock
South Korean auto giant Hyundai could be considered a newcomer in the highly-competitive global car industry. It sold its first car in the United States, the subcompact Excel, in 1986, a Mitsubishi Mirage or Dodge Colt wearing a Giugiaro-penned body. The automaker was among the first to foray into electrification with the now-defunct Ioniq sedan, which was available in hybrid, plug-in hybrid, and electric variants. In 2020, Hyundai relaunched the Ioniq name as an all-electric brand with the Ioniq 5 as its first, all-new product that formally arrived at U.S. dealerships in 2022.
It could have something to do with the Ioniq 5's rakish crossover silhouette, but it immediately drew comparisons with the mighty Tesla Model Y, the world's bestselling electric car, and what could become the bestselling vehicle globally (per Electrek). Furthermore, the Ioniq 5 is similar in size and intent to the Tesla Model Y with four doors, seating for five, and room for cargo in the back.
It also helps that the Hyundai Ioniq 5 drives and performs as well as it looks. Motor Trend said the Ioniq 5 has a better interior, rides quieter, has more standard features, and has roughly similar range numbers as an equivalent Tesla Model Y — not to mention having a much more affordable base price. So, is Tesla still the king of EVs, or is Hyundai ready to take the crown?
Hyundai Ioniq 5: EV for the masses?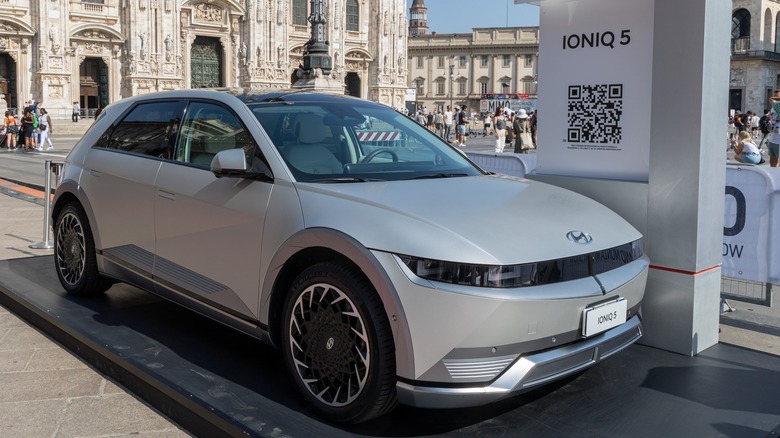 MilanoPE/Shutterstock
The new Hyundai Ioniq 5 is available in many battery and powertrain configurations. The most affordable Ioniq 5 is the SE Standard Range with a single, rear-mounted electric motor churning out 168 horsepower and 258 lb-ft of torque. It also has a 58 Wh battery to deliver an EPA-rated 220 miles of range. With base prices starting at $39,700, the Ioniq 5 SE Standard Range is a bang-for-the-buck EV after factoring up to $7,500 in federal tax credits.
The base Ioniq 5 has LED headlights, 19-inch wheels, dual-zone automatic climate control, a power driver's seat, heated front seats, a 12.3-inch infotainment touchscreen, five USB ports, and a six-speaker audio system, to name a few. It's also packed with advanced safety equipment like adaptive cruise control, blind-spot monitoring, forward collision braking, and lane-keeping assist.
Moreover, the Hyundai Ioniq 5 has DC fast-charging capabilities. Thanks to its 800-volt architecture, it recharges from 10% to 80% in about 18 minutes using a 350 kW DC fast-charger. The cherry on the pie is every Hyundai Ioniq 5 comes with two years of free 30-minute DC fast-charging sessions courtesy of Electrify America, a worthy perk in considering a Hyundai EV over a Tesla.
Tesla Model Y: Premium for a cause?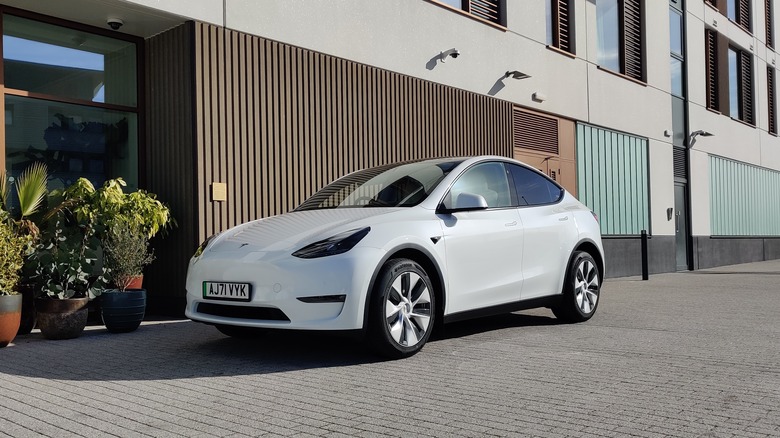 H.E. Group Ltd/Shutterstock
Fans and pundits have long awaited the imminent arrival of Tesla's car for the masses, a genuinely affordable EV with all the perks of Tesla ownership. It includes access to the Tesla Supercharging network, the most extensive fast-charging system with over 35,000 charging stations globally, and the typical hi-tech quirks of a Tesla vehicle like Dog Mode, in-car video streaming, and Sentry Mode, among others.
But then again, you need to pay significantly more money to relish the modern eccentricities of a Tesla. The cheapest Model Y is the Long Range variant that starts at $67,990, a far cry from the base Ioniq 5's sub-$40k MSRP. In addition, Tesla vehicles are currently ineligible to receive federal tax credits, but the automaker has a comprehensive database to determine potential savings if you're planning to buy a Tesla.
On the other hand, it's hard to beat a Tesla if performance and more range are what you want in an EV. The Model Y Long Range (with dual electric motors) scampers from zero to 60 mph in 4.8 seconds (per Edmunds), while it achieves an EPA-estimated 326 miles of range if you're easy on the go-pedal. Edmunds adds the Model Y Long Range delivers a 26.2 kWh/100 miles consumption rate in max-range battery mode, making it the second most efficient premium EV next to its Model 3 stablemate.
Hyundai Ioniq 5 vs. Tesla Model Y: Long live the king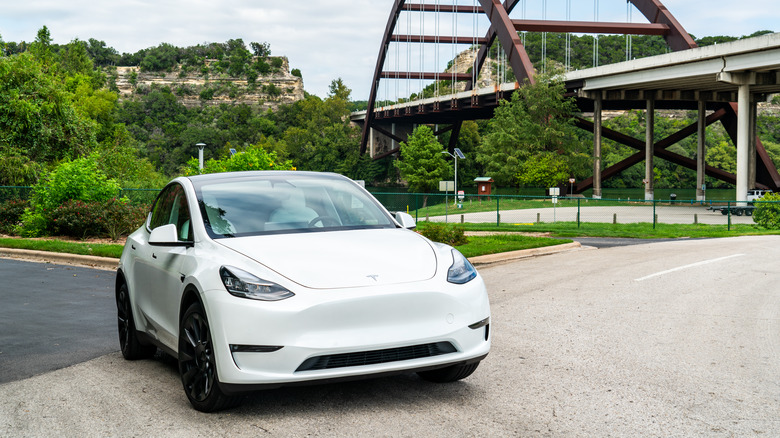 Roschetzky Photography/Shutterstock
Hyundai has beaten Tesla to release a more affordable and viable EV alternative, but it doesn't mean the Ioniq 5 will dethrone the Model Y soon. The range-topping Ioniq 5 has dual electric motors, AWD, and a 77.4 kWh battery. It may have up to 320 horsepower and 446 lb-ft of torque at its disposal, but the added grunt only allows an EPA-estimated 256 miles of range, a lowish number considering its sub-$53k base price.
But with a range-topping Tesla Model Y Performance, you get an EPA-estimated 303 miles of range, zero to 60 mph in 3.5-seconds, and a 155 mph top speed. For a true enthusiast, the Model Y Performance's sporting upgrades are worth its $69,990 base price. If you fancy spending more, Tesla's Enhanced Autopilot (also available in the base Long Range variant) includes auto lane changing, auto parking, Summon, and Smart Summon for an additional $6,000. At the same time, you can unlock full self-driving capabilities for a whopping $12,000 more.
The Hyundai Ioniq 5 shook the EV industry with its sterling combination of hi-tech styling, great features, and commendable performance. You'll be hard-pressed not to consider the Ioniq 5 if all you want is a decent, family-sized EV. But if performance and blazing tech features are top priorities, the Tesla Model Y — or any Tesla, for this matter — is hard to beat.