How Tom Cruise's First Car Jumpstarted His Dreams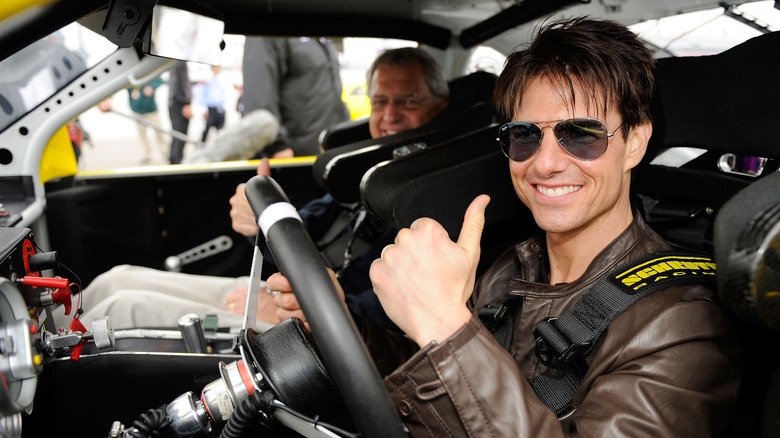 Rusty Jarrett/Getty Images
Thomas Cruise Mapother IV, better known to the rest of the world as Hollywood mega action star Tom Cruise, is back in the limelight. Cruise's latest blockbuster, "Top Gun: Maverick," grossed over $800 million globally, making it the actor's highest-grossing movie to date, surpassing the theater receipts of "Mission Impossible: Fallout." What's more interesting is that Top Gun: Maverick" earned $800 million in just 21 days of the movie's theatrical release, and Forbes adds the film will likely pass $1 billion by summer's end.
Tom Cruise is a household name, and his passions shine brightly in every film he makes. Cruise is a huge motorcycle freak, and you typically see him in movies riding bikes. According to Motorious, Cruise has a mouth-watering collection of motorcycles like the Vyrus 987 C3 4V, a Kawasaki GPZ900R (seen in the first "Top Gun" movie in 1986), and a Ducatti 999R, to mention a few. GQ adds that the actor spent upwards of $610 million (£500 million) on aircraft, helicopters, and motorcycles and amassed a spectacular car collection typical of Hollywood royalty.
However, Tom Cruise had modest beginnings. Born on July 3, 1962, in Syracuse, New York, Cruise endured poverty and an abusive household bereft of the luxuries he currently enjoys. Before becoming the most prominent Hollywood star the world has ever seen, Cruise took a leap of faith in a car as humble as his childhood.
Tom Cruise drove a Mitsubishi Galant
When he turned 18, Tom Cruise got his parents' blessing and approval to move from New Jersey to New York City to pursue an acting career (per GQ). Before getting bitten by the acting bug, Cruise wanted to become a catholic priest, but fate had other things in mind. He hopped in a used Dodge Colt and drove to The Big Apple to pursue an acting career. The Dodge Colt is a rebadged first-generation Mitsubishi Galant (or Colt Galant) that made its JDM debut in 1969. The Galant is the first Mitsubishi car sold in the United States, and it arrived in 1971 as the Dodge Colt after Chrysler acquired a stake in Mitsubishi that same year.
The Dodge Colt was nowhere near as potent or as fast as Detroit muscle cars. It was lighter, cheaper, and more economical at the pumps, just perfect for a rookie actor. The Colt Galant came with a 1.3-liter or 1.5-liter four-cylinder engine, the first Mitsubishi powerplants to feature overhead camshafts (OHC). The first to third-generation Galant had rear-wheel drive, capable of offering a sportier driving experience. Mitsubishi has a knack for rallying and motorsports, which shows in its product offerings — for example the Mitsubishi Lancer Evolution series. The Colt Galant's claim to fame was its overall victory for the 16L-GS class in the 7th Southern Rally in 1972 (per Mitsubishi).
Today, you can potentially see Tom Cruise around town in any of his two-wheeled superbikes, airplanes, whirlybirds, or behind the wheel of a million-dollar exotic hypercar. But before starring in "All The Right Moves" and "Risky Business," he jumpstarted his dream of hitting it big in a Dodge Colt.