The 1996 Lincoln Sentinel Was A Sleek Concept Car With Retro Flair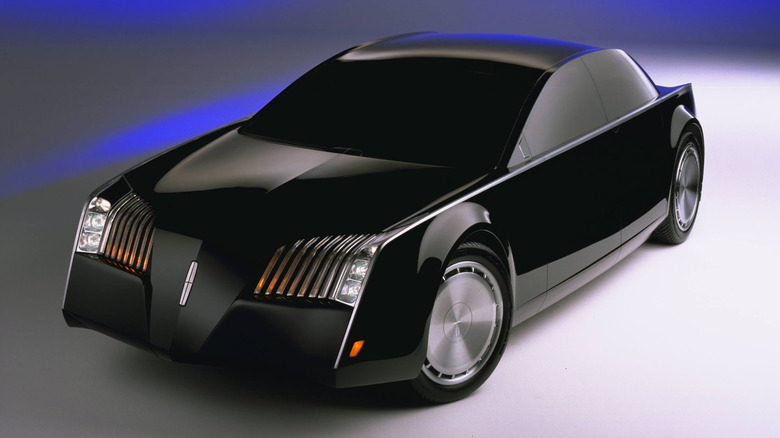 Getty Images/Getty Images
Ford's Lincoln division is behind some of the best-looking American cars to ever see full production. The Lincoln Continental from the 1950s and 1960s is heralded as one of the most stylish and well-designed cars ever made. Ford's designs for its own lineup are aggressive and wild like the Ford Raptor and Ford GT. Lincoln, on the other hand, takes a more restrained approach. You likely aren't going to see a Lincoln doing burnouts like a Mustang. Lincoln's current concept, the Model L100, made last year to celebrate the brand's 100th anniversary is sleek, autonomous, and looks more like a bullet train from the future than a sedan designed in Michigan.
As one would expect in today's age of sustainable fuel sources and self-driving cars for the future, the L100 concept is an EV and while not slated for mass production, heralds the way for other Lincoln EVs that you may see zipping around in the near future. In 1996, Lincoln unveiled a concept called the Sentinel that served as a callback to some of Lincoln's iconic cars from the last century of automotive design. 
A design for a more civilized age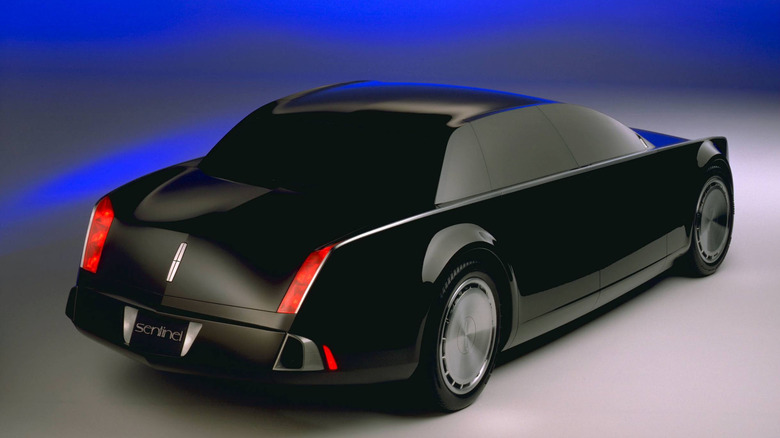 Getty Images/Getty Images
Upon seeing the Sentinel concept, it wouldn't be out of line to say that it looks like the Batmobile from a Batman movie that was never made. It has an imposing grille that brings to mind the Lincoln Continentals of old that were driven by heads of state, funeral directors, or "legitimate" businessmen on their way to talk some sense into a client. According to the Henry Ford Museum, where the concept is stored today away from the eyes of the public, the front fascia was designed after the Continental from 1940. 
The design manages to look like it's going incredibly fast while sitting completely still and all the sharp angles on the grill and rear trunk look like they could give you a serious cut if you weren't careful. Like the Continental, the Sentinel had doors that opened from the middle in what are colloquially referred to as "suicide doors." The rear features an exhaust that looks like it came right out of a Lincoln showroom circa 1955. 
Per the Henry Ford, the Sentinel was meant to capitalize on the 1990s retro car trend that famously flopped with cars like the Plymouth Prowler. Although it never saw production, it's safe to say that the Sentinel's design has aged a little more gracefully than the beleaguered Prowler.