Lincoln Model L100 Concept Is Hyper-Luxury Electrification With Wild Doors And A Disco Floor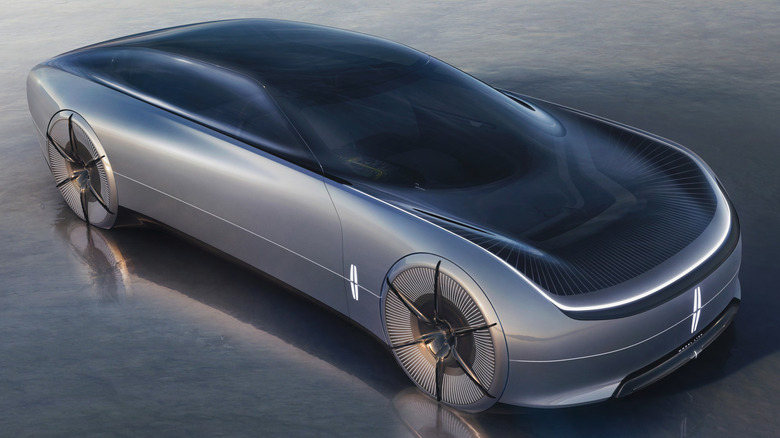 Lincoln
Lincoln is no stranger to concept cars with serious presence, and nobody could accuse the Lincoln Model L100 Concept of being anything but striking. A high-tech nod back to the 1922 Model L — which the automaker claims as its first true luxury vehicle — the Pebble Beach design study envisages a thoroughly modern interpretation of lavish motoring. A world, indeed, of zero emissions and no human driver.
Unsurprisingly, then, the Model L100 Concept is fully-electric. Lincoln isn't giving specifics in terms of battery size, the power or range from the motors, or even how many of those motors it envisages in the car. All it says is that there are "next generation battery call and pack technologies" in play, which will enable "game changing energy density."
Arguably as important, though, is how the automaker envisages the packaging of that electrification all working. By integrating the battery packs structurally in the concept, Lincoln says it has been able to make better use of interior space, as well as unlock exterior design advantages.
Electric aero meets luxury scale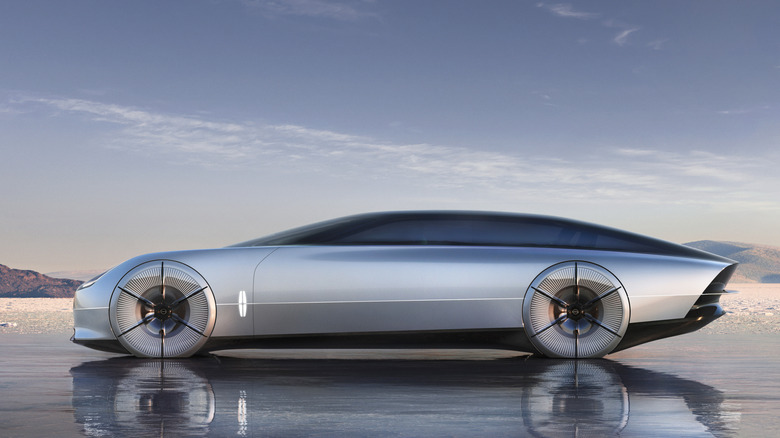 Lincoln
Certainly, the exterior of the Model L100 Concept is memorable. Lincoln describes it as "the tension between exuberant elegance and subtle restraint," and it's clear that aerodynamics have played a big role in deciding the overall silhouette. We've seen how that chase for slipperiness through the air can lead to electric cars looking like relatively amorphous blobs, though that's something Lincoln manages to avoid.
Instead, it plays with light, glass, and scale. The Model L100 Concept hunkers low to the ground, with a glass panoramic roof and reverse-hinged doors to add drama as well as make entering and exiting more straightforward. Sensors track the owner's approach, meanwhile, with the promise of a curated light show both outside and inside. Then, the doors — which extend all the way back to the rear bumper — gape outward, while the entire glass roof section lifts up.
The concept is finished with a satin digital ceramic tricot metallic paint, shifting between cool blue and soft white. Instead of the traditional chrome, frosted acrylic has been used as a more sustainable alternative. The whole floor of the cabin, meanwhile, is one big digital panel capable of showing shifting graphics, colors, and patterns. 
No steering wheel, no production plans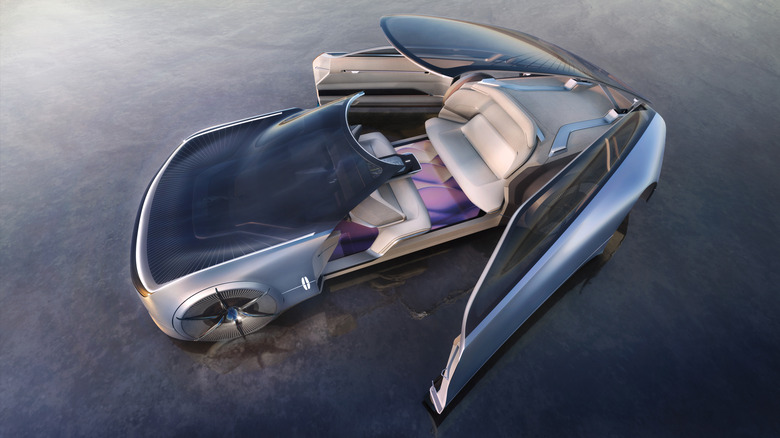 Lincoln
What you won't find inside is anything so mundane as a steering wheel. Instead, Lincoln is pitching the Model L100 Concept as a fully-autonomous vehicle, doing away with human operation in favor of a self-driving virtual chauffeur.
It's controlled with a jewel-inspired chess piece, moved on a digital chessboard integrated into the center console. That's all illuminated, as well as the canopy and other cabin ambient lighting. Lincoln has used recycled suede fabric to leave the Model L100 Concept's interior animal-free. With no need to look out of the windshield as the Lincoln pilots you, the front row of seats can be rotated so as to create a lounge-style interior instead, leaving those in the first row facing the rear seats.
Like with most design studies, Lincoln isn't talking about production for the Model L100 Concept. Instead, it's viewing the car as a tipping point in style possibilities, as the automaker prepares to launch its first all-electric cars. We saw the first hints of that with the Lincoln Star Concept earlier in 2022, as well as hearing the promise of three all-electric vehicles launching by 2025. With arch rival Cadillac preparing its Celestiq EV, and high-end competition from Bentley and Rolls-Royce, all in the same timeframe, the stakes for Lincoln's reinvention — and the opportunities for something dramatically game-changing in high-end vehicles — have never been higher.