Lincoln Star Concept Teases Four 'American Luxury' EVs To Come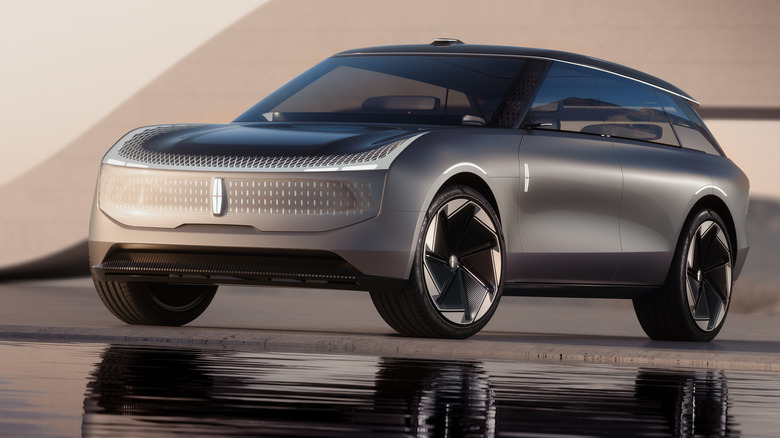 Lincoln
Lincoln has revealed its vision of full electrification, with the Lincoln Star Concept previewing just what we can expect from the purveyor of "American Luxury" in the next few years. The EV SUV is a nod to a full three all-electric vehicles that Lincoln plans to launch by 2025, the automaker said today, with a fourth due by 2026.
That'll be a big shift from Lincoln's line-up today, in which BEVs are conspicuous by their complete absence. While there are several plug-in hybrids in the showroom, so far the message for those wanting to cut tailpipe emissions altogether has been "wait and see."
Star Concept has star power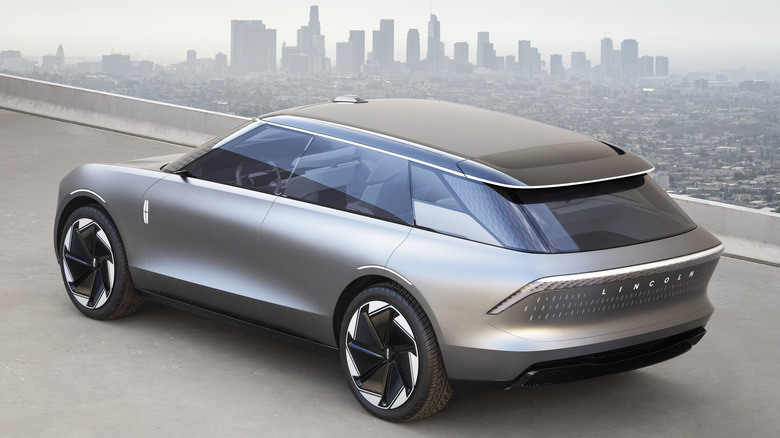 Lincoln
The Lincoln Star Concept isn't headed to production, the automaker is quick to point out, but it does give some heavy nods to what we can expect when those first BEVs arrive. Its main purpose is to show off the next generation of Quiet Flight DNA — Lincoln's branding for its aesthetic principles — and, in particular, a new fascia.
Gone is the traditional, chrome-edged grille. In its place is a symbolic nod to the cooling role of the old Lincoln face, but here reimagined as a dynamic light show. That includes mesh-style patterning around a light-up Lincoln star logo, with the LEDs continuing up around the slimline headlamps and onto the leading edge of the hood. The whole hood is a sheet of electrochromic dimming glass and lifts up, while the front slides out like a drawer, revealing a dual-level storage compartment.
From the side, meanwhile, aerodynamics have clearly been a key consideration. The windshield is sharply raked, leading into a long, sloping roofline that narrows to a tapered rear hatch. More accent lighting features, including in the roofline — emphasizing the "floating" conceit — and embedded in the wheel arches.
At the rear, there are echoes of the front fascia treatment. Similar patterning spans the full trunk, with the Lincoln name illuminated, and the tailgate clamshells open in two halves. That allows it to be used as comfortable seating for tailgating and similar. The automaker says it's all intended to be more modern than its current SUVs.
It's striking, but is it a Lincoln?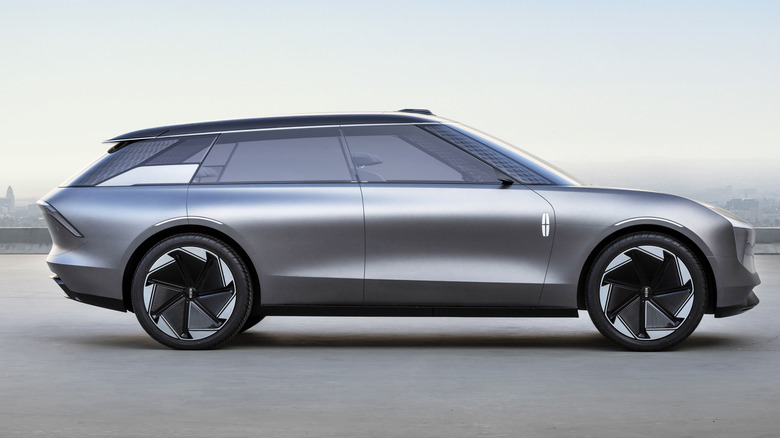 Lincoln
Modern certainly describes it, though a big question is whether it's sufficiently Lincoln-esque. The demands of aero slipperiness, all the more important when you're trying to maximize range from an EV, are arguably at odds with the automaker's current design language. That's built around oversized, upright grilles, slab-sided proportions, and a general sense of take-no-prisoners heft.
One of the challenges car designers have faced, then, in the shift to electrification, has been making their vehicles sufficiently distinct while still avoiding a disastrous impact on range. Lincoln isn't talking range numbers or, indeed, battery size at this stage, only suggesting that the Star Concept could be built atop its next-generation Lincoln Intelligence System architecture, and be offered in rear- and all-wheel drive forms.
Of course, the automotive industry isn't short on wild concept cars that — by the time they spawn production models — are so toned down and restrained as to be barely recognizable. Anything that the Star Concept inspires is likely to be a lot more mass-market friendly than this head-turning design exercise.
Inside is where the Lincoln concept gets interesting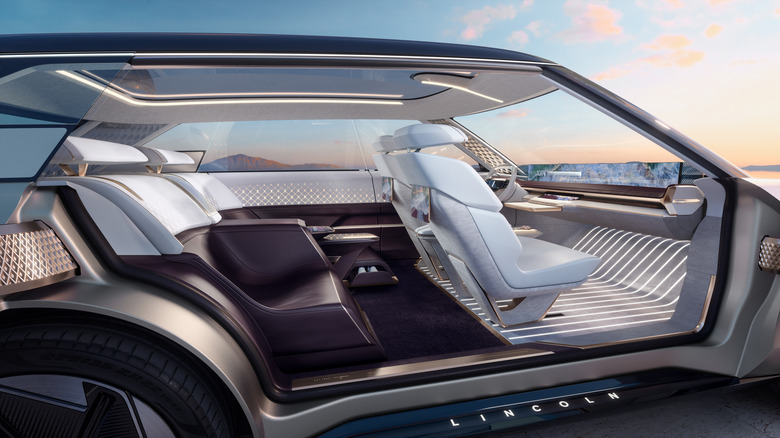 Lincoln
What will hopefully make it to production EVs is the Star Concept's interior. One of the advantages of electrification — and, Lincoln points out, its own platform specifically — is greater flexibility in how cabin space is used, not to mention a roomier interior altogether. For this concept SUV EV, it has used that for two super-luxurious rows.
Both rows get individual lounge seats, with leg rests and extended recline. There's a focus on individual storage, too, helping keep the cabin tidy: that includes places for electronic devices like phones and tablets, and comfort items such as slippers. A refrigerator sits between the back seats.
A full-width, curved display spans the dashboard, and there's a center console display which leads to the second row screens. The instrumentation is on a floating, wing-shaped instrument panel. Lincoln is envisaging non-traditional — and more sustainable — materials featuring, too, replacing the usual leather and chrome. There's also the use of new manufacturing techniques, like 3D metal printing for the A-pillar and D-pillar latticing.
Finally, there's the Lincoln Attaché, a "digital briefcase" which integrates into the rear coach door. It can be used to store and charge phones, tablets, and laptops, Lincoln says, leaving passengers to focus instead on the three "rejuvenation moods" — Coastal Morning, Mindful Vitality, and Evening Chill – which combine cabin lighting patterns, soundtracks, and even curated scents.
Lincoln's path to electric hasn't been smooth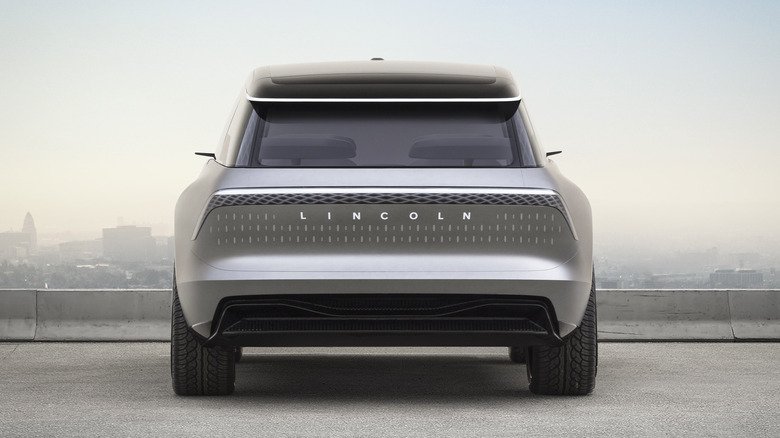 Lincoln
The reality is, mind, that Lincoln is playing catch-up in many ways on EVs. For a while it seemed the automaker would be among the first to enjoy the spoils of Ford's investment in Rivian, with early plans being for a Lincoln model based on the Rivian skateboard architecture. That project was later cancelled.
Instead, Lincoln will use its own platform, as it tries to translate the recent success it has seen of SUVs like the Navigator into something a little more eco-friendly. With a goal of making more than half of the automaker's global sales volume all-electric by midway through this decade, Lincoln will need to hit some home-runs with its first trio of EVs due over the next three years.