Should You Choose The 2023 Hyundai Santa Fe Calligraphy Over The Sante Fe Hybrid? An Honest Opinion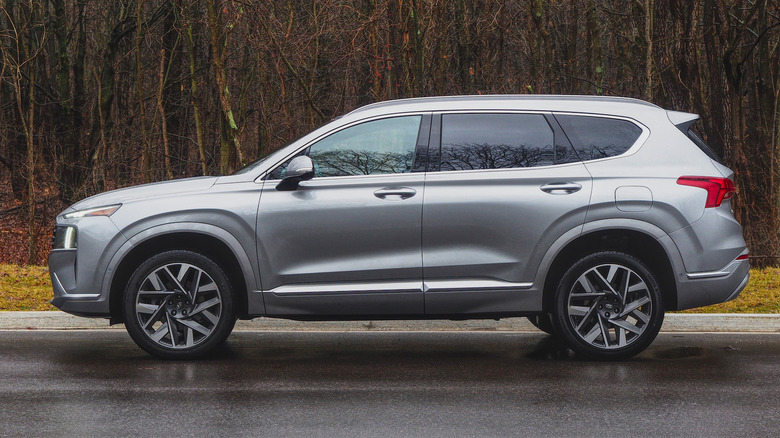 Chris Davies/SlashGear
When it comes to drivetrain options, few SUVs offer quite so much engine choice as the Hyundai Santa Fe. The five-seat, two-row family SUV slots in between the smaller Tucson and the larger, three-row Palisade in terms of size, but it's what's under the hood that's really interesting. On the one hand, there are two gas-only engines, including a potent turbocharged 2.5-liter in the 2023 Santa Fe Calligraphy.
However, Hyundai also offers both mild-hybrid and plug-in hybrid versions of the SUV. The PHEV is, unfortunately, only sold in select U.S. states at present, but the Santa Fe Hybrid sits alongside its gasoline sibling at all dealerships. As usual, the headline feature for adding in some electrification is economy: since the Santa Fe Hybrid only has a 1.6-liter engine, it can be more frugal with fuel. Dig a little deeper, though, and the decision weighs on more than just that one factor.
Gas-sipping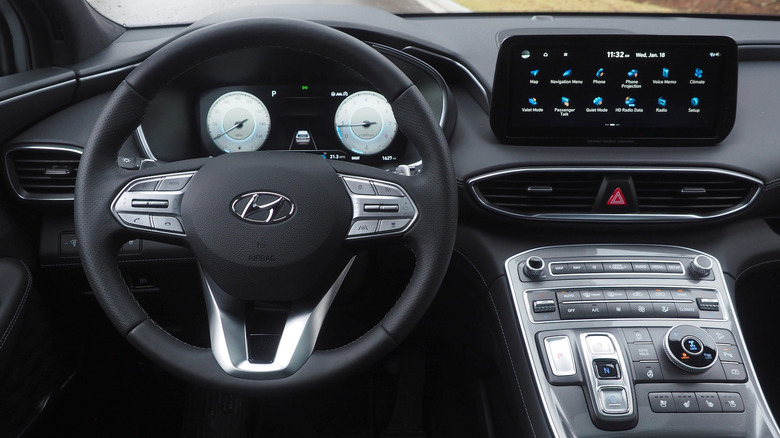 Chris Davies/SlashGear
With Hyundai's entry-level 2.5-liter inline-four gas engine in the Santa Fe SE, SEL, and XRT trims, you're looking at an official EPA economy rating of 25 mpg in the city, 28 mpg on the highway, and 26 mpg combined for the front-wheel drive SUV. Switch to Hyundai's HTRAC AWD, and that drops to 22 mpg city, 25 mpg highway, and 24 mpg combined.
The Limited and Calligraphy trims, with the turbocharged 2.5-liter, get an uptick in power but also in thirst. Then, you're looking at 22 mpg in the city, 28 mpg on the highway, and 25 mpg combined in front-wheel drive form, or 21 mpg city, 28 mpg highway, and 24 mpg combined when all-wheel drive.
Hyundai doesn't offer a front-wheel-drive Santa Fe Hybrid, only all-wheel drive, but even then it bests either of the gas-only engines. In Blue trim — the most economical — it'll do 36 mpg in the city, 31 mpg on the highway, and 34 mpg combined, according to the official EPA numbers. The SEL Premium and Limited trims dip slightly — to 33 mpg city, 30 mpg highway, and 32 mpg combined — but still comfortably outperform the non-hybrid SUV.
Like to tow? Your choice is clear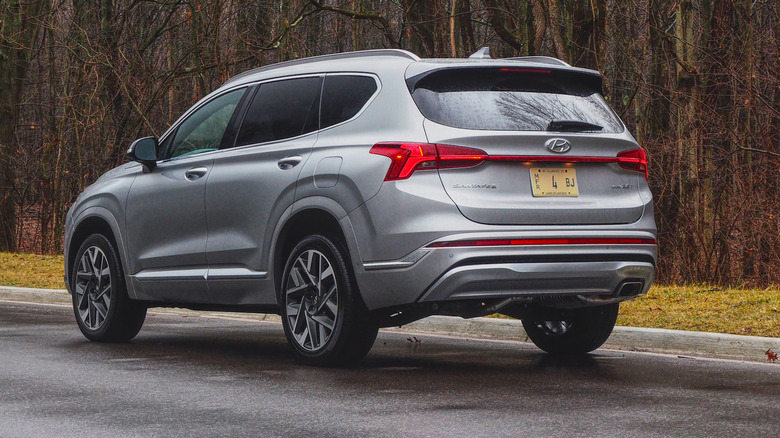 Chris Davies/SlashGear
Fuel economy isn't the only metric by which the typical family SUV is measured by, mind. While the cost of gas is a significant consideration for most drivers, there's also the question of how usable your new ride actually is. That includes factors like towing.
The gas-only Santa Fe has two tow ratings, depending on the engine under the hood. For the base-spec, naturally-aspirated 2.5-liter, that's 2,000 pounds if you're set up with trailer brakes, or 1,650 pounds without them. The 2023 Santa Fe Calligraphy, however, pushes its maximum rating to 3,500 pounds (with trailer brakes) thanks to the more powerful turbocharged engine.
For the Santa Fe Hybrid, meanwhile, there's just one tow rating: 2,000 pounds (with trailer brakes; 1,650 pounds without them), matching the base-engine regular SUV. In short, for maximum towing flexibility, you probably want the bigger, more potent gas engine.
Eager drivers have a choice to make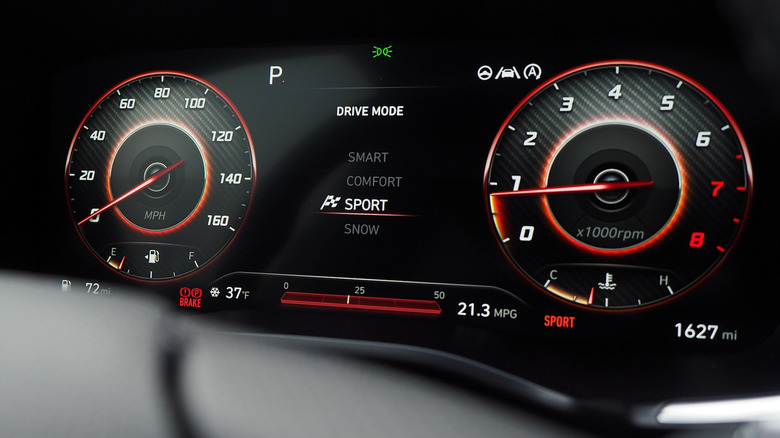 Chris Davies/SlashGear
The same holds if driving enthusiasm trumps fuel economy. The Santa Fe Hybrid may be greener, but it's also down in grunt: 226 horsepower from the gas and electric components combined. The non-electrified, turbocharged Santa Fe Calligraphy clocks in with 281 horsepower.
The Calligraphy is definitely perky, with plenty of power for zipping away from stop lights, as well as ample overtaking potential at highway speeds. Still, it's worth bearing in mind that hybrids tend to deliver their performance differently to gas-only cars. That's because of how electric motors operate.
The 1.6-liter gas engine in the Santa Fe Hybrid is responsible for 178 horsepower. The electric motor, meanwhile, brings 60 horses, but also 195 lb-ft of torque, and the latter is delivered as soon as you hit the accelerator. No waiting for the engine to get up to speed: peak torque arrives at 0 rpm, whereas the turbo Santa Fe doesn't hit its peak 311 lb-ft of torque until 1,700 rpm.
As a result, hybrid cars typically feel more aggressive from a standing start. The balance obviously tips somewhat when you're at speed, and there's no denying that the Santa Fe Calligraphy is more punchy overall, but for urban driving our money is probably on the hybrid for that sense of whippet-fast speed.