The Major Benefits Of The Toyota Highlander Hybrid Compared To Plug-In Hybrids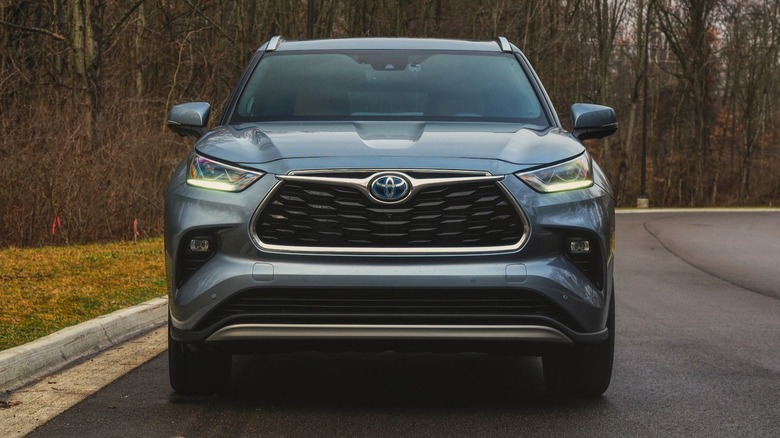 Chris Davies/SlashGear
Toyota's move to electrify its entire line-up continues, and if you need a three-row SUV the 2023 Highlander Hybrid could prove appealing. Like the segment-defining Prius before it, the latest mild-hybrid Highlander doesn't go overboard with its EV additions. The majority of your driving will be on gas power, yes, but for many owners that could be just what they're looking for.
Mild hybrids typically add one or more electric motors to the traditional gas engine in the vehicle. That's powered by a small battery, which itself is topped up when the driver slows or hits the brakes, or from spare engine power. In the case of the Highlander Hybrid, there are two or three electric motors — depending on whether it's a front-wheel drive or electric all-wheel drive configuration — with the gas and EV power blended seamlessly.
The downside to a mild hybrid is that, unlike a fully-electric car or a plug-in hybrid, the amount of time you'll ever be driving on electric power alone is minimal. Low-speed maneuvers, such as pulling away from stop lights or navigating your way around a parking lot, will likely see the green "EV" icon flash up on the Highlander Hybrid's dashboard, and there's even an "EV Mode" button which tells the SUV you want to use electric power alone.
Wild range on a full tank of gas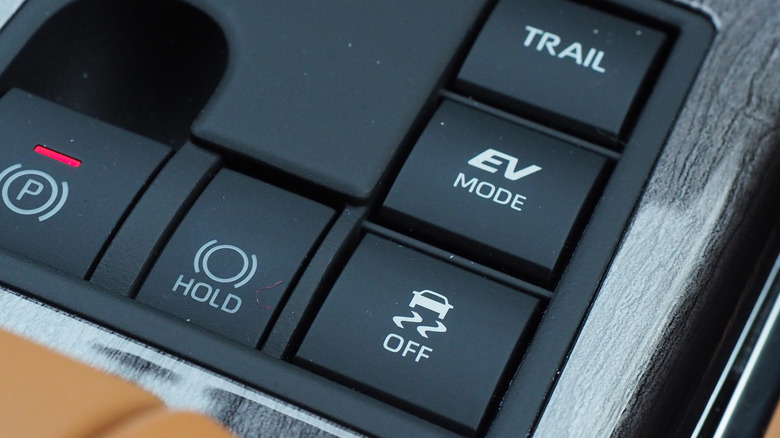 Chris Davies/SlashGear
Nonetheless, it'll only do so for short distances and low speeds, before the battery is depleted and the gas engine weighs in. That's by design, of course: a smaller battery means less weight and less bulk to accommodate. You don't have to think about plugging the Highlander Hybrid in to recharge it, either.
Considering many drivers still lack a home charger, or indeed a dedicated parking spot or garage to put an EV while it's plugged in, that primary reliance on gasoline could still be a significant advantage. However, there's no denying the distance benefits the Highlander Hybrid's drivetrain brings.
The regular Highlander is rated by the EPA as capable of driving between 430 and 447 miles on a full tank of gas, with its 2.4-liter turbocharged inline-four engine. A Highlander Hybrid, in contrast, can go between 598 and 616 miles — depending on whether it's front-wheel drive or all-wheel drive — on a full tank.
A three-row SUV benchmark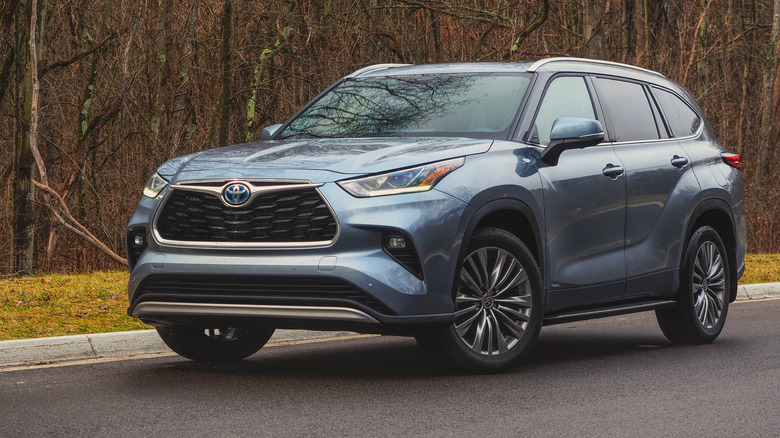 Chris Davies/SlashGear
There's no plug-in hybrid or fully electric three-row SUV that can compete. Even the 2023 Mitsubishi Outlander PHEV, which looks like it will set something of a benchmark for plug-in hybrids, only has 420 miles of total range when its gas and electric power are combined.
Now, the new Outlander PHEV does have a trick the Highlander Hybrid can't match: 38 miles of purely electric range on the Mitsubishi's batteries alone. That also should leave it eligible for U.S. federal tax incentives for electrified vehicles, too, something the mild-hybrid Toyota misses out on.
Nonetheless, as sweet spots go, it's hard to argue with the 2023 Highlander Hybrid. If you want the familiarity of a gas car, but with much-improved economy, and are looking for maximum range without having to worry about where you'll plug in, there's clearly still a place for — and plenty of appeal in — mild-hybrid technology.