Installing An EV Charging Station At Home Might Cost More Than You Think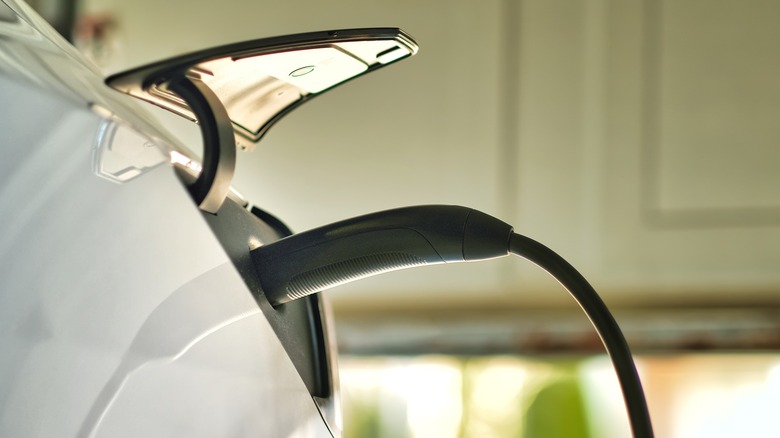 VisualArtStudio/Shutterstock
For EV owners, there is nothing more convenient than charging your vehicle right from your garage or yard — it's like having your own gas station minus spending money on gas and, of course, using gas. While it may look appealing to have your own at-home charging station if you're an EV car owner, it may be a good idea to first assess the costs you might incur when setting it up.
It is undeniable that EVs are a great option to cut how much you spend on fuel, but the cost of installing a home charging station is not as affordable as you may believe. Many EV owners are surprised to learn there are a number of things they need to spend money on, including equipment and materials, before they can get their home charging solution up and running. If you're thinking of investing in your own home EV charger, here are some things you need to know, including the different types of charging solutions and how much you may pay for them.
Types of charge stations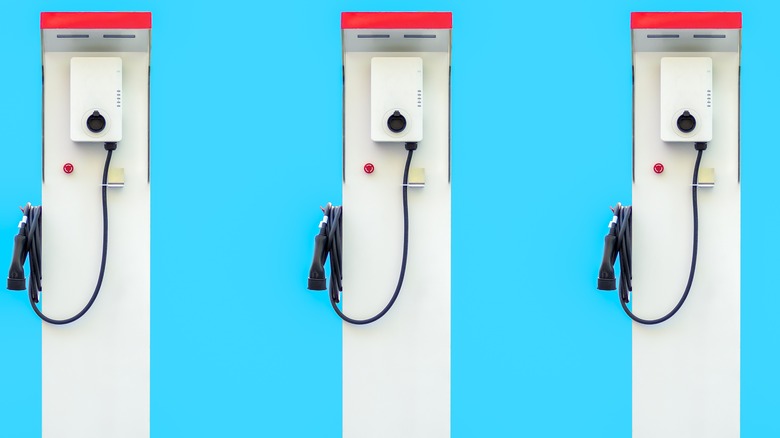 Sutthichai Somthong/Shutterstock
When it comes to home charging, EV owners use Level 1 or Level 2 charging stations. A Level 1 charging station is the most affordable way to charge your EV — it consists solely of the charge connector that comes with your EV and can go into any 110v outlet, according to the EPA. However, these stations are very slow and may take up to 24 hours to fully recharge your EV's battery. On top of that, you only get around four miles for every hour it charges. This is only an ideal setup if you don't drive a lot, but is an impractical choice for people who drive more than 50 miles a day.
Level 2 charging stations are what you will find in most homes; they typically cost around $800 to $2,000, depending on a number of factors. These systems plug into a 240v circuit and offer up to 60 miles of range per hour spent charging. With Level 2 EV chargers, you may also need to splurge on additional equipment for them to work properly. Level 3 charging stations are unlikely to be found in residences because of the high costs it takes to install them. Carvana reports that they may cost from $20,000 to $50,000 for equipment, with labor being an additional $50,000. If they are installed, it is likely to be an investment where owners could turn a profit rather than one used exclusively for home use.
EV home charger installation costs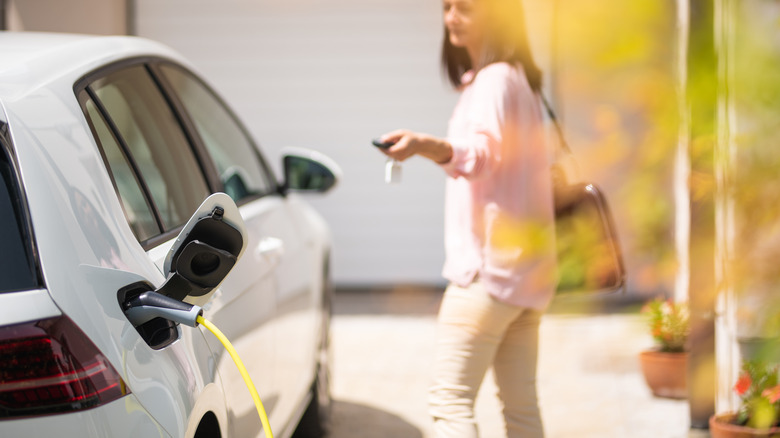 husjur02/Shutterstock
Installation costs can vary wildly depending on the kind of home you have and who you hire to install the system. Fixr estimates that EV owners can expect to pay $800 to more than $2,000 for a Level 2 installation. To figure out the cost, owners need to consider how old their home is, service panel capacity, the location of the service panel, and the kind of installation that's required (via Realtor). For example, older homes may only have two-prong outlets and would need to have three-prong outlets installed for a charging station to work.
You also have to decide on what type of charging equipment, otherwise known as electric vehicle service equipment (EVSEs), you want. There are different EVSEs available, including hardwired, plug-ins, smart chargers, and wall-mounted types. If you want your charging equipment to be wall-mounted, prepare to pay an additional $300 to $600 in installation costs, according to My EV.
Also, when the service panel or breaker box is far away from the station, you will pay more for an electrician to connect power to it. There are other factors to keep in mind, too. If your home needs to have electrical upgrades, the price increases based on what you need. Also, there may be permit fees to install a home charging station depending on where you live. Despite the initial costs of getting a charging station installed, reports indicate that EV owners prefer by far to use home charging stations over public charging stations (via Forbes), as they're more convenient than public stations.