Massive New Tesla Price Cut Slashes Cost Of Model 3 And Model Y By Thousands Of Dollars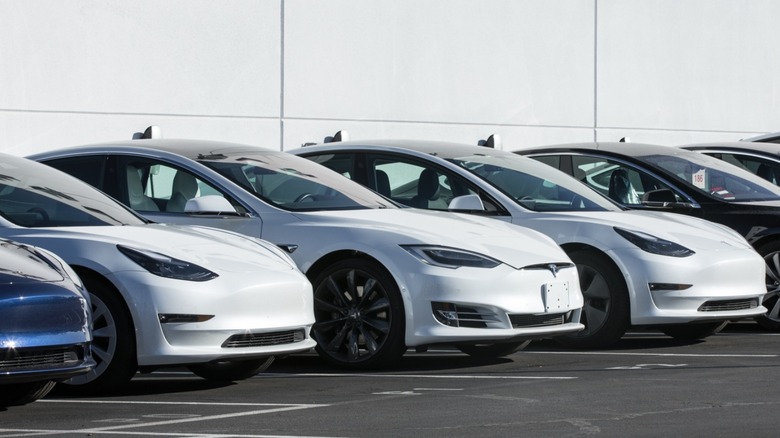 RYO Alexandre/Shutterstock
American EV maker, Tesla, has had an incredibly successful run of things lately, even earning top spot in luxury vehicle sales numbers for 2022. The competition is heating up, though, especially in the low-cost EV market. Vehicles like Chevrolet's Bolt EV in the low-end, and BMW's iX xDrive50 on the high-end deliver comparable range, as well as the fit and finish of an established vehicle manufacturer, all while costing less than their Tesla competition. 
Tesla's success is in no small part due to its charging network, early-mover's advantage, and execution of its all-electric platforms to develop vehicles that generally deliver excellent range and astonishing performance. With the competition heating up, and Tesla's recent move to open up its Supercharger network to other brands, it might be time for Tesla to adapt its strategy to the changing EV landscape.
On the other hand, federal clean vehicle tax credits becoming a little more complicated as of January 2023, a new price cut on Tesla's entire range may is sure to have potential buyers celebrating. 
Price cuts across the whole range bring Tesla costs back to sanity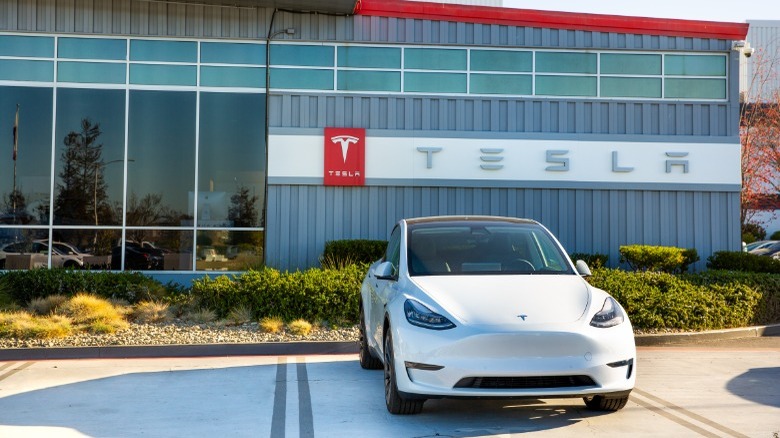 Valeriya Zankovych/Shutterstock
Recent price cuts across Tesla's range reduce prices for almost all of its vehicles by up to 20%. The model that sees the biggest price cut is the Tesla Model Y, which goes from $65,990 to $52,990 — a 20% decrease that brings the price down to just below the $55,000 MSRP threshold for the 2023 clean vehicle tax credit. That's for the Long Range version of Tesla's crossover; the Model Y Performance sees a cut from $69,990 to $56,990.
A similar story rings true for the Model 3 Performance, which comes in at $53,990 after the 14% price cut, down from $62,990. Tesla's most affordable car in the U.S., the Model 3 Rear Wheel Drive, is now $43,990, a reduction from $46,990.
The list of Tesla vehicles that can reasonably qualify for the $7,500 clean vehicle tax credit for 2023 now expands to include the Model 3, Model 3 Performance, and the Model Y. Before the price cut, only the Model 3 would have made it in under the $55,000 price limit. The Model Y Performance barely misses the mark for the tax credit, thanks to its new $56,990 MSRP. 
Tesla's cuts reverse Elon Musk's price bumps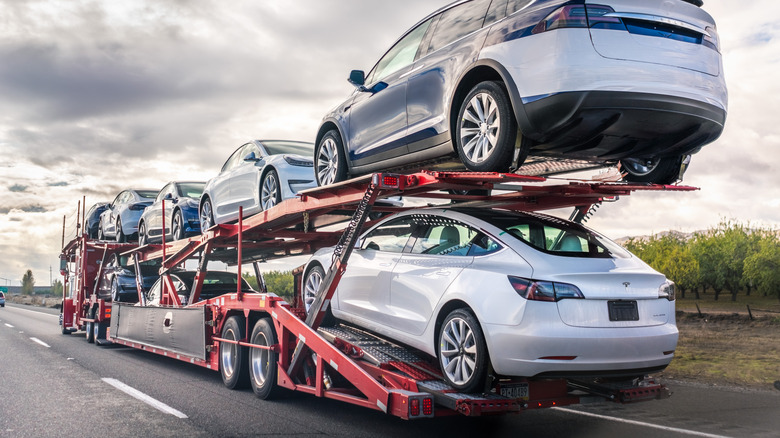 Sundry Photography/Shutterstock
It's worth noting that on two separate occasions in 2022, Tesla increased the price of several of its vehicles, making this price cut a little underwhelming to some, although the price cuts do bring some prices down lower than they were at the beginning of 2022. Tesla, unlike most of its competitors in the auto industry, sells directly to customers rather than through independent dealerships. Therefore, while we've seen so-called "market adjustments" implemented by third-party dealers on Tesla rivals amid car shortages and strong customer demand, Tesla's price changes are applied directly from the factory. 
Nonetheless, as we've seen in previous years, Tesla tends to finish up its quarters with a marked push to get the last orders out the door. Some recent buyers have claimed that they were pressured into closing the purchase of a new Tesla just before the price cuts kicked in, as reported by Asia Financial. The automaker's last-minute push at the end of the year saw it hit more than 1.3 million deliveries for 2022 as a whole, with over 405,000 Model 3 and Model Y delivered in Q4 2022 alone.