The 2023 Audi SQ7's MPG Is Exactly What You'd Expect From A V8 SUV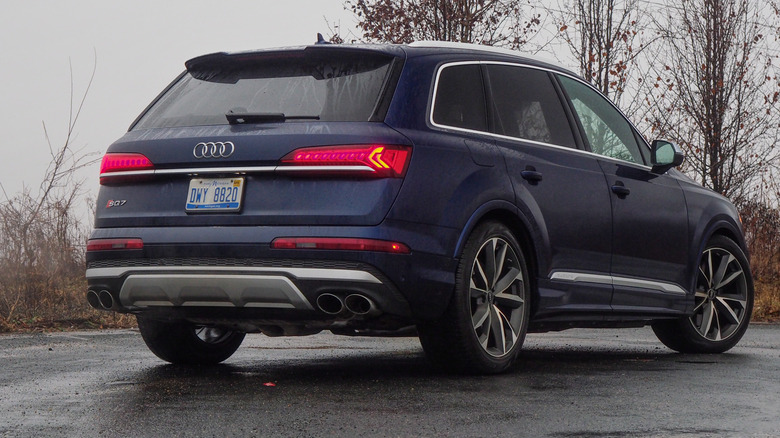 Chris Davies/SlashGear
Big engines are usually thirsty engines, and that's something buyers of the Audi SQ7 are just going to have to get used to in return for the speed and refinement of the beefy seven-seat SUV. One of Audi's fastest ways to transport the most people, the SQ7 certainly isn't short on horsepower from its 4.0-liter V8. With 500 horses and 568 lb-ft of torque to play with, 0-60 mph arrives in just 4.3 seconds.
On the flip side, though, you may find yourself slowing frequently in order to pull in at a gas station. A heavy car with a big engine and plenty of people on board adds up to just the sort of miles-per-gallon (mpg) rating you might expect.
Performance SUVs that tap V8 engines aren't exactly unusual. Despite the increase in all-electric models on the market, plenty of drivers still won't be satisfied unless they have eight beefy cylinders under the hood. However, some of Audi's rivals have added a little electrification as a strategy to bump up economy.
Hybrid helps, but it's no magic bullet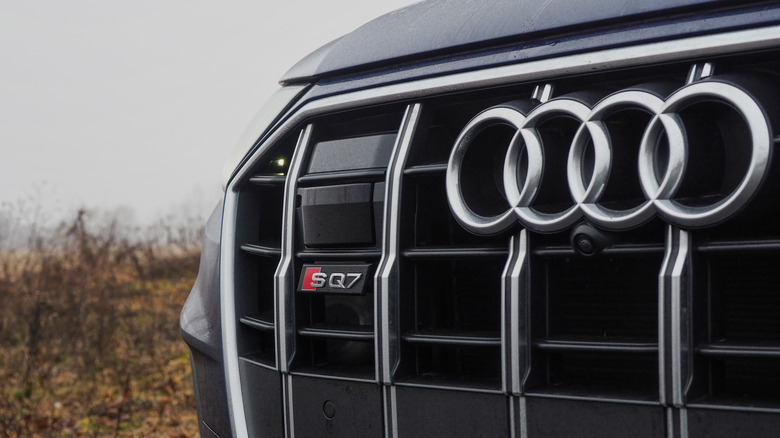 Chris Davies/SlashGear
The Mercedes-AMG GLE 63 S 4MATIC+ SUV, for example, pairs its 4.0-liter V8 gas engine with mild hybrid technology. An electric starter-generator can contribute power as well as recharge the SUV's small battery. Even then, though, the economy gains are still relatively minimal.
According to the EPA, the 2023 Audi SQ7 will do 14 mpg in the city, 20 mpg on the highway, and 17 mpg on the combined cycle. The AMG matches the combined and highway numbers, but the mild hybrid electrification helps lift the city rating to 15 mpg. Even so, the EPA suggests owners of each SUV will spend $9,250 more on fuel costs over five years, compared to the average new vehicle.
Then again, that looks positively frugal (or, well, nearly) compared to the BMW X5 M Competition. It's EPA-rated for 13 mpg in the city, 18 mpg on the highway, and 15 mpg combined, and owners can expect to spend $11,500 more in fuel costs over five years. Whether drivers of this sort of SUV will care about that is questionable, but it's a reminder that the transition to electric — and upcoming EVs like the 496 horsepower Audi SQ8 e-tron SUV — will bring economy benefits along with their instantaneous torque.