BMW's Color-Changing Concept Car Previews A Full Windshield Display Headed To Production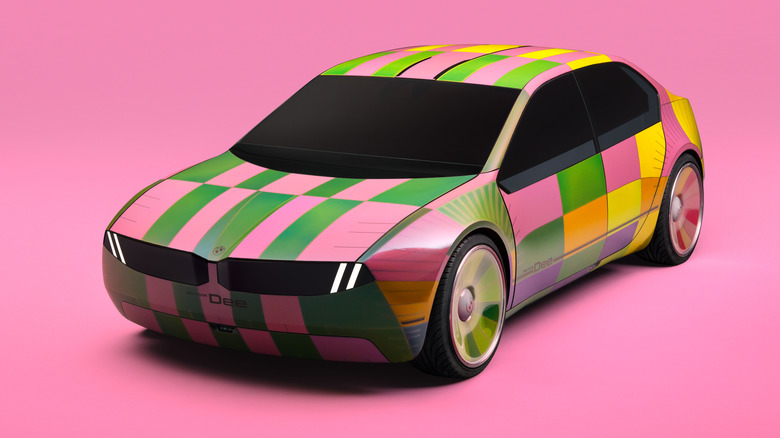 BMW
You can't accuse BMW's new CES 2023 concept car of being unambitious. Color E Ink bodywork, a fully digital windshield, and the ability to hold a conversation while projecting augmented reality graphics onto the road ahead check off all the "high-tech" boxes; the fact that the BMW i Vision Dee does all that while also being an eye-catching twist on the electric sports sedan feels like the best sort of teaser for a future we could see ourselves getting behind.
BMW i Vision Dee is the third of the automaker's most recent concept series. The i Vision Circular explored sustainability and luxury, a full EV with interior space that belied its relatively diminutive exterior dimensions. At the same time, the i Vision AMBY focused on two-wheeled transport, adding electrification to a futuristic bicycle for smarter urban travel.
This CES 2023 concept car, in contrast, feels more far-fetched than either of its predecessors, though BMW insists that some of its technology — like a full-width head-up display — is close to being production-ready. While the exterior design may get the most attention, it's the AI-powered smarts onboard that the automaker insists are more important.
Shout at the car, the car shouts back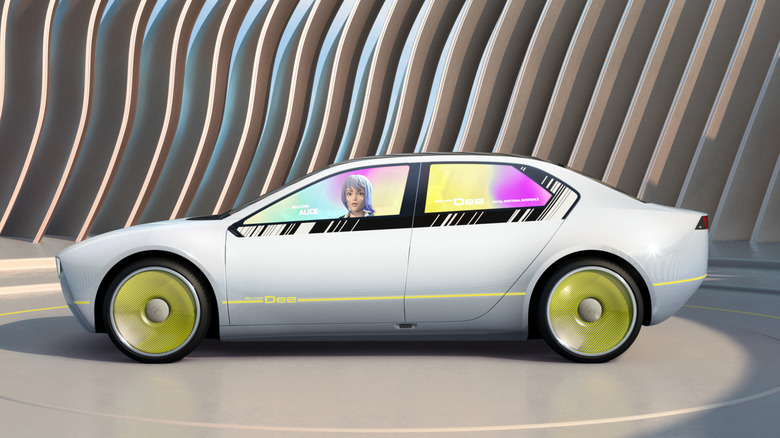 BMW
Cars you can talk to aren't new. Most vehicles have had some form of voice control system for multimedia and navigation for years, now; more recently, we've seen considerable improvements in usability and accuracy, in part from tapping the power of cloud processing so that more flexible commands can be recognized. At the same time, Google Assistant and Amazon Alexa have each made inroads into the dashboard.
For BMW, the focus isn't so much on getting the requests right, as building a bond between driver and vehicle. "It's not a competition to see who can pack in most features," Nikolai Glies, Vice President for Corporate, Finance, Sales, Product, Technology, and Design Communications at BMW Group explains. "Not everything that sounds cool actually makes sense in a car."
Lingering in the background is the industry-wide fear that electric vehicles simply won't have the same emotional appeal as their internal combustion predecessors. Dee, as a virtual personality that BMW says will be capable of expressing "joy, astonishment, or approval," might not flatter the ears in the same way that, say, a finely-tuned inline-six could. Still, it could certainly help distinguish a future electric car from the automaker from its EV rivals.
A full-windshield HUD with production promise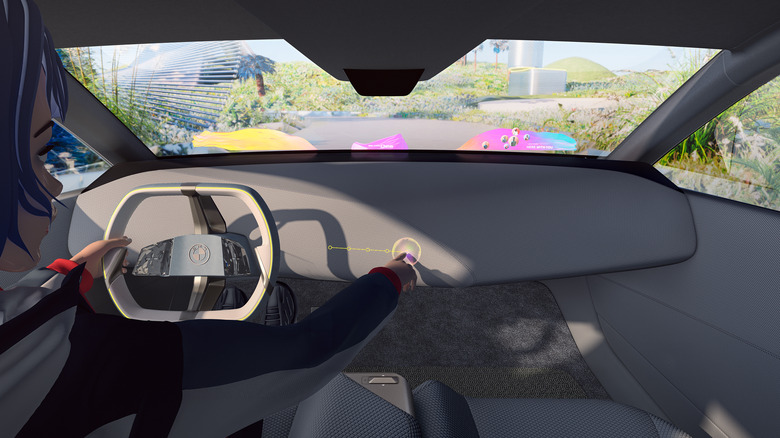 BMW
You can't do everything with voice alone, mind. On the outside, BMW has interwoven displays into the concept car's bodywork and windows. E-Ink panels in the front grille, the shoulder line, and the rear light cluster can show animated graphics, emulate "eyes" to indicate where Dee is "looking" outside, or even be used for more practical purposes. A parking permit that automatically displays when the car is stopped in a relevant location, for example.
In fact, the whole concept is wrapped in a new, color-changing e-paper. Rather than the monochrome of last year's iX Flow concept, this allows the i Vision Dee to change between 32 different colors, across 240 E Ink segments. The side windows, meanwhile, rely on individual projectors mounted in the roof lining of the cabin. That could display anything from ride-share details to animated avatars — to a welcome message as you approach the car.
Inside, though, it's the windshield that wows. BMW has implemented a full-width, pillar-to-pillar color head-up display (HUD), far larger than anything we've seen on current production cars. In fact, the automaker says, the windshield could well be the only display you need in a future vehicle.
How much real world do you really want?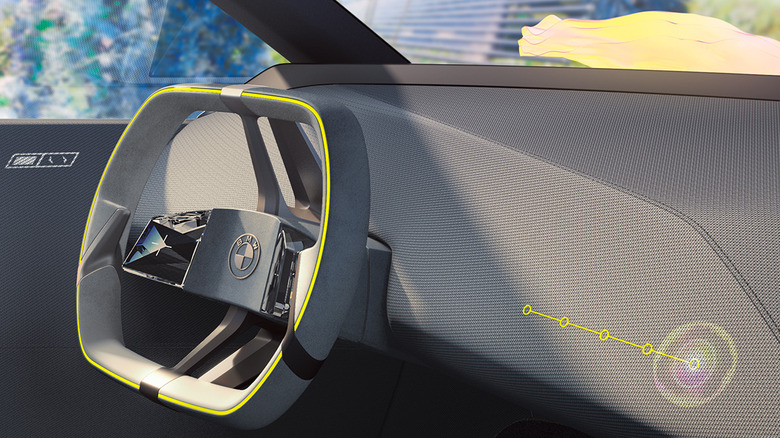 BMW
A touch-sensitive Mixed Reality Slider in the dashboard shifts through five levels of HUD content. At the most basic, that means a simple reflection of speed, range, and other driving metrics. However, it could step up through driving-related information like navigation, adding in communications and entertainment data, or even augmented reality projection. That way, drivers might see digital overlays on top of the real world ahead of them.
At its maximum setting, in fact, BMW doesn't even envisage the i Vision Dee moving. A fully virtual projection could turn the car into a full-sized driving simulator, with the VR experience taking over the dashboard entirely. The car could be used as a simulator or, more playfully, as a huge game console when you need to kill time. Or, BMW could use the system to deliver professional training virtually, beaming in advice from pro-instructors much as it currently offers track tuition days for buyers of its most potent M sports cars.
Driven to distraction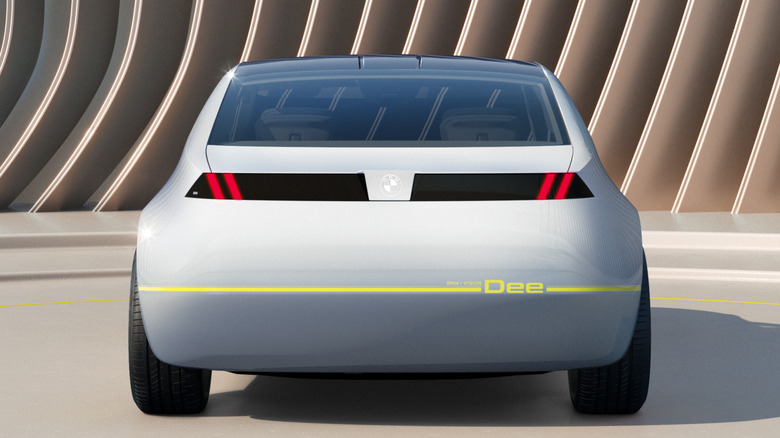 BMW
This is, of course, a concept car and a design study. BMW is saying very little about the actual hardware and software involved — Dee's motorized doors are controlled from an app by a nearby technician, while its dashboard UI runs on an animated loop — and only the basics about how, exactly, the architecture might work. Much of the AI is expected to run in the cloud, for example, but there'd still be some onboard processing so that a driver's experience of Dee wouldn't be entirely compromised should connectivity be lost.
There are also plenty of questions to be answered about just how much digital will be allowed when resolutely physical vehicles are traveling at anything up to Autobahn speeds. At its upper levels, the BMW Mixed Reality Slider promises to do video game-style alterations to the real world outside: turn other cars into dinosaurs, for example. That makes for a fun demo, but it's hard to see safety regulators being so amused.
BMW's stance is that the driver is in control of what they see, and how immersive it is. Some of the features, the automaker's execs point out, aren't intended to be used while the vehicle is in motion; they're meant instead as a calming distraction when you're stuck in gridlock or parked up completely. Safety zones — operating much in the same way that low-emission zones in urban areas do now — could also impose a certain level of "reality," it's suggested. The priority, much as has always been for HUDs in general, is to keep a driver's eyes on the road ahead, rather than on displays and controls elsewhere in the car.
Forget AI, let's talk details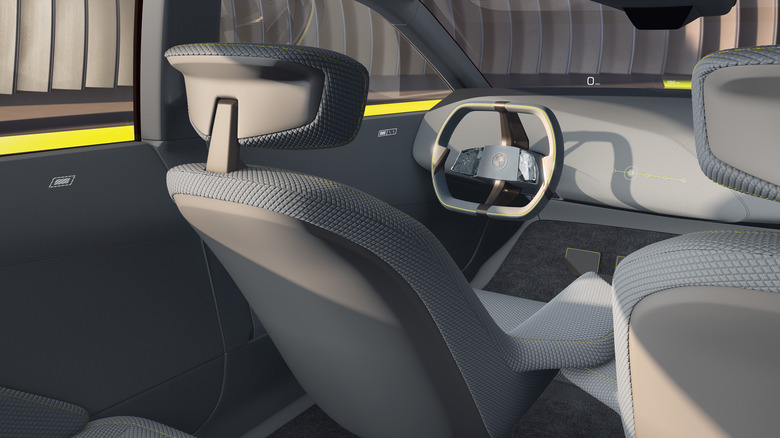 BMW
For all BMW is excited about its vision of the "Digital Emotional Experience," what lingers about the CES 2023 concept is some of the detailing on the exterior and in the cabin. i Vision Dee's grille feels positively restrained compared to what we've seen on current BMW production cars and is likely to be far less divisive as a result. The design study's combination of smooth surfacing with fewer creases and slashes also feels like it previews a less ostentatious future for the car company.
It's inside, though, where things feel most effective. BMW says that the full-width head-up display is headed to its future production vehicles from 2025, part of its upcoming Neue Klasse platform. Arguably just as compelling are BMW's "Shy Tech" touches, its hidden swathes of illuminated, touch-sensitive controls that hide behind fabric.
The modern car dashboard still generally feels like a tech-first place. Physical interfaces may have been offset — or even largely replaced — by touchscreen versions, but the end result of controls dominating has stayed the same. Even if you can turn off a touchscreen, it's still a black slab in the center console. BMW's vision of buttons that hide more surreptitiously, and move so that they're within closer reach, feel softer and more human-friendly in contrast.
Not autonomous, but tech that applies nonetheless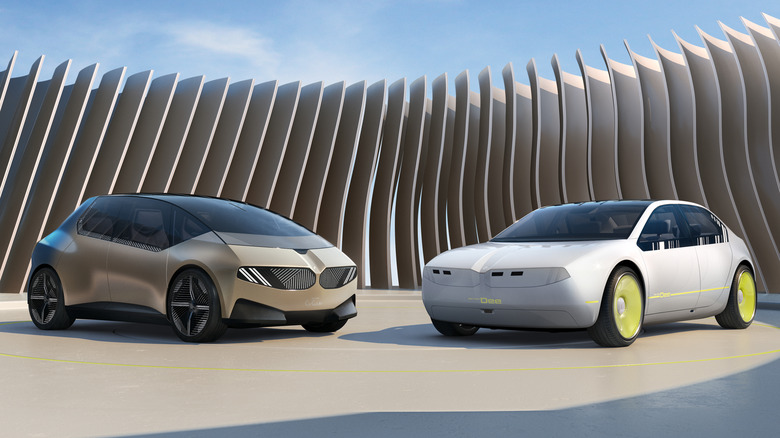 BMW
Conspicuous by its absence here is much discussion of autonomous driving. Where CES concept cars typically prefer to lean on the vehicle doing the driving, BMW isn't positioning that as an element of the i Vision Dee.
However, that doesn't mean that elements from the design study's approach aren't relevant for vehicles that — some of the time, at least — operate themselves. Shy Tech controls which intelligently move within reach regardless of whether you're sat upright at the wheel, or with your seat reclined while you let the autopilot handle the highway, are a good example of that.
Can we hope for a sleek, three-box sedan from the Neue Klasse? Given the general push toward SUVs and crossovers that we've seen across the auto industry, the format BMW chose for the i Vision Dee feels a little like teasing. Still, the car-maker has shown more commitment to sedans than many of its rivals, and it's worth remembering that of the current all-electric "i" range, two of the three models — the i4 and i7 — are in fact sedans. Full details on just what will usher in the next generation of BMW's electrification are yet to be shared, but you'll forgive us for remaining hopeful.