Here's What You Need To Know Before Buying A Used Fisker Karma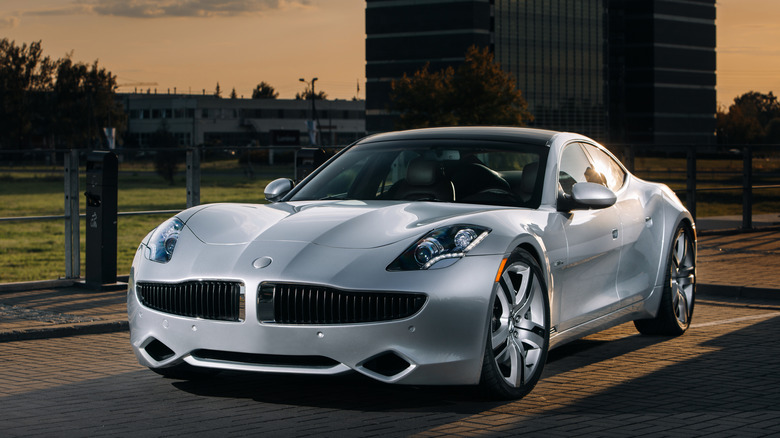 BoJack/Shutterstock
When it first launched in 2011, the Fisker Karma was praised for its styling and technologically advanced (at the time) series hybrid drivetrain. With a starting price of $96,895, it was not at all meant to be the everyman's car like a Toyota Prius, Chevy Volt, or any other lower-priced environmentally-friendly vehicle from the era. It was a luxury sedan first and foremost, just one that got incredible fuel economy and threw down a respectable amount of horsepower and torque from its two electric motors driving the rear wheels. 
According to Car and Driver, the Fisker had a long (and expensive) development and was delayed multiple times, a story that's quite common among today's EVs. The Karma was only made for two model years and while the brand didn't take off like say Tesla, the Karma was popular enough in places like Hollywood where it pays to at least look the part of being environmentally conscious. Over a decade later, the new car sheen has worn off and prices have dropped quite a bit, making the Fisker Karma a potential bargain for anyone willing to dip their toes into the hybrid lifestyle but who wants something a little flashier than a Prius.
What is the Fisker Karma?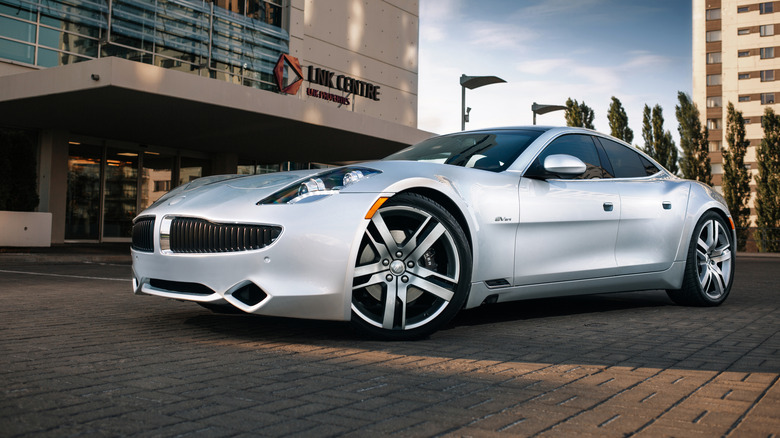 BoJack/Shutterstock
It wouldn't be exactly fair to compare a Karma to a used Tesla Model S, as the Karma is only a hybrid compared to Tesla's commitment to fully electric vehicles. While it's driven by electric motors, those motors get their energy through an inverter connected to a Chevy-sourced 2-liter EcoTec motor that acts as a generator, not unlike the motor found in several cars made by General Motors at the time. Properly energized, the dual electric motors put out 402 horsepower and a fairly stout 949-foot pounds of torque.
If you're looking to buy a Fisker Karma in 2022, there are a few things you should take into consideration. When the car was new, it would get roughly 50 miles of electric range before the generator kicked in. A decade or so after the fact, that range may be significantly lower as the battery will have degraded over time. 
According to MotorTrend, the original warranty that covered the battery only lasted 60 months. That means that you will be responsible for replacing the potentially expensive hybrid battery if it goes belly up. Fortunately, given the luxury status of the car when it was new, existing examples for sale tend to be lower mileage, meaning that there is the possibility that the battery still has some life left in it if the car was kept out of extreme temperatures and inclement weather.
What to watch out for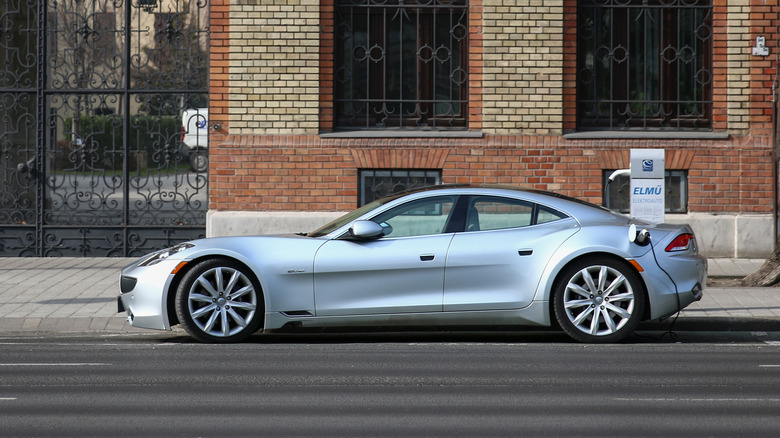 Varga Jozsef Zoltan/Shutterstock
As with most older luxury cars, 2012 and 2013 Karmas have fallen in price rather precipitously. According to Edmunds, most Karmas tend to be priced between $30,000 and $40,000, making it a fairly attractive deal for a 400-plus horsepower luxury sedan if potential battery replacement down the line doesn't scare you. As with the purchase of any used car, especially one as packed with technology as the Karma, you should make sure the seller is reputable. If you are able, take it to a local mechanic or shop that specializes in EVs and hybrids to give the car a look before you buy it. 
With less than 2,500 Karmas ever leaving the factory, it's a relatively rare car compared to the literal millions of other hybrids you could buy. If you can get your hands on a mechanically well-sorted Fisker Karma with a healthy battery, you might have one of the most unique hybrids that were ever made, certainly one of the better-looking ones.