The 5 Most Expensive Cars In Joe Rogan's Collection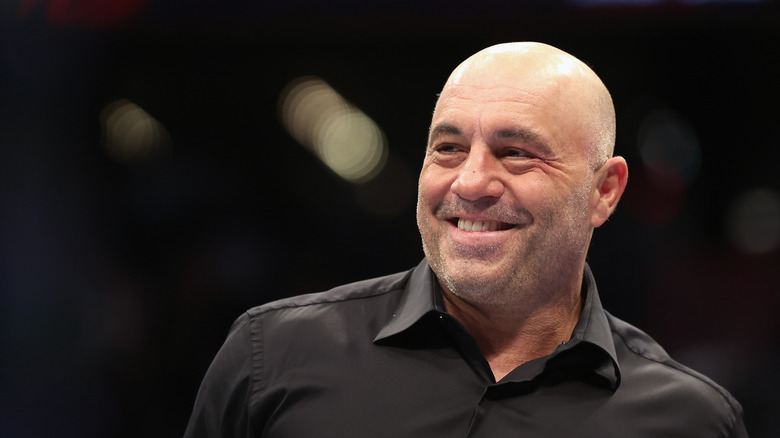 Christian Petersen/Getty Images
Joe Rogan is many things to many people. Some know him for his popular podcast experience, others as a standup comedian. In contrast, some probably recognize him as a commentator for mixed martial arts and Ultimate Fighting Championship (UFC) matches. Some may even remember when he was still rather unknown. hosting the reality TV show "Fear Factor" on NBC in the early 2000s. The show was (in)famous for making contestants face their worst nightmares, with one of the challenges usually consisting of eating truly disgusting things.
Rogan also loves cars, even though he evidently doesn't know "all the ins and outs" of how they actually work (via JRELibrary). His taste leans toward American muscle, but he has a few Porsches in his collection too. He prefers modified cars over straight originals, taking the best of the past and fusing it with today's tech. In fact, several of the most expensive cars in his collection can be classified as a RestoMod, restored or at least heavily modified in some way.
In January 2021, Gunther Werks, the American restomod company, posted on Instagram that it was making one of its very limited edition (only 25 were made) 993 Porsche 911s for Rogan. According to Drive Safe & Fast, a 993 costs $565,000 and his sits atop the list of most expensive cars in Rogan's collection.
Porsche tops the list
This restomoded German sports car has an entire carbon fiber body that keeps the curb weight to a svelte 2,677 pounds. Under the hood, a 4.0-liter naturally aspirated flat-six that produces 430hp at a redline of 7,800 rpm and 330lbs-feet of torque. According to Gunther Werks, they started with the "original crankcase" and rebuilt everything, leaving no moving part untouched. The engine is mated to a rebuilt yet original Getrag G50 6-speed manual transmission with "bespoke custom ratios." Rogan's 993 is painted midnight black and has an exposed carbon fiber center stripe with solar red accents. The car even has a "Built for Joe Rogan" badge.
Next comes yet another modified Porsche, this one a 2007 997 Mark I GT3 RS that he bought and immediately sent to Alex Ross at SharkWerks.
While the car pictured above isn't Rogan's, his looks very similar. With a price tag north of $300,000 (via The Sun), SharkWerks took the stock Porsche and boosted the original engine some 85 hp. With an approximate curb weight of some 3,100 pounds (via The Drive), the flat-six 3.9-liter can kick out 502 hp at 8,800 rpm and surely goes faster than the top speed of a standard GT3 RS's 193 mph. SharkWerks did a noselift to the front of the car, added some lightweight HRE P40 wheels, and several other modifications for good measure (via SharkWerks). According to Rogan, it's the "greatest car I've ever owned in my life, without a doubt" (via The Drive).
Going off road and flexing some muscle
An off-roader called the ICON BR, courtesy of restomod company ICON in Los Angeles, California, also makes the list. The starting base price on ICON's website for this model is $245,000, but Rogan's BR (#41) is anything but standard.
The 1971 Ford Bronco has a matte silver paint and is powered by a big, 5.0-liter aluminum Coyote engine mated to an Aisin-Warner AX15 transmission 5-speed manual transmission. It comes with Ranger trim that must be aligned by hand and takes a day and a half to finish. The architectural glass used on the car pairs perfectly with its paint scheme. Dynatrac axels, nitrogen-charged shocks, and Brembo sports brakes explicitly engineered for this vehicle are some of the other features that round out this custom Bronco (via ICON). Owner Jonathan Ward said, "If I could afford one of my trucks, I would probably configure it like this one."
Next, is a 1965 Corvette Stingray restomod created by RK Motors in Charlotte, North Carolina. This car, featured on an episode of "Jay Leno's Garage," is estimated to have set Rogan back some $125,000 (via Motorious).
Joe Rogan's 1965 Chevrolet Corvette Stingray Restomod – Jay Leno's Garagehttps://t.co/UsemSZNkl2 pic.twitter.com/btGlMaUfB1

— ABL Limousine (@abllimousine) September 1, 2015
Rogan's Stingray has a modern LS1 V8 engine under the hood (via Motorious) and is paired with a Magnuson supercharger that kicks out 425hp. It has a tube chassis, independent front/rear suspension, and a Corvette Grand Sport braking system (via Medium). The black interior was completely redone with a Hurst cue ball shifter that Rogan loves (via "Jay Leno's Garage").