SteelSeries Arctis Nova 7 Wireless Review: Solid Gaming Acoustics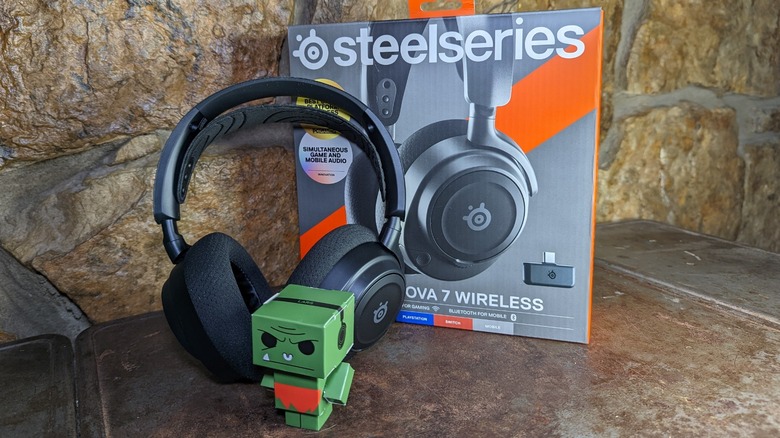 Justin Owen/SlashGear
For more than two decades, SteelSeries of Denmark has been bringing products to market geared specifically toward gamers. The company was born, according to the official website, out of a need for products that solved problems only gamers faced, as they were different from typical computer users. Their second product was a headset and the catalog has been growing ever since.
SteelSeries offers a range of headsets for gaming that range in price from $49.99 to $349.99, with several price points in between. They come in wired and wireless with specific accommodations for connectivity to Xbox, Playstation, Switch, Mac, or PC. Some of them work with multiple consoles while others are more specific. Shopping for an Arctis product requires a small bit of research to avoid having to return incompatible equipment. As a full-service computer accessory manufacturer, SteelSeries also offers a broad selection of gaming mice, keyboards, and controllers, also with a similar price spread among models. But, for today, we are looking at the Arctis Nova 7 Wireless headset only.
We were provided a pair of SteelSeries Arctis Nova 7 headphones by SteelSeries for the purpose of this review.
Specifications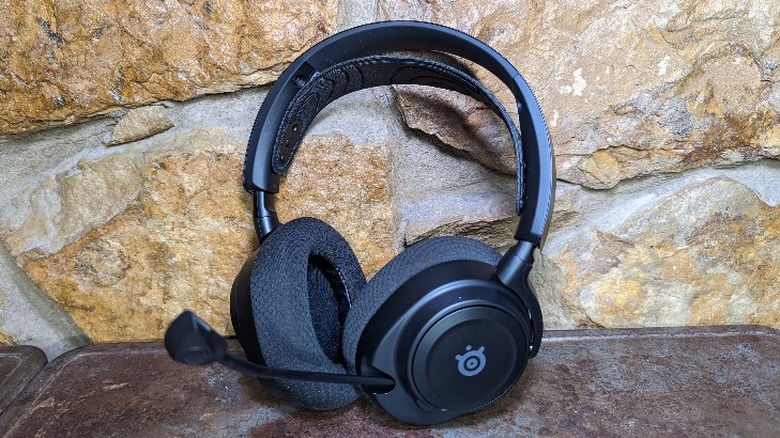 Justin Owen/SlashGear
The SteelSeries Arctis Nova 7 Wireless headset is an over-ear design. It can be connected in three ways via Bluetooth v5.0, ⅛ inch wired phono cable, or using its included 2.4 GHz wireless dongle connected to a USB port. It also includes a retractable microphone, connected by a flexible arm that stows inside the left side. 
The microphone is also a bi-directional noise-canceling type and, due to its flexible mount, is easily positioned to the most comfortable or effective position and its sensitivity rating is listed as -28dBV/Ps per the manufacturer. Speakers are 36 ohms with a sensitivity of 93dBSPL @ 1kHz/1mW. Stated battery life is 36 hours when working exclusively with a 2.4 GHz wireless connection, but is reduced to 26 when using combined wireless and Bluetooth. Charging only requires 15 minutes for approximately 6 hours of use.
These headphones include a physical volume dial, power, and Bluetooth buttons, a dial for adjusting ChatMix, and a push-in/out style button to microphone muting. Included in the box are two USB cables, one for charging and the other for connecting the dongle, a ⅛ inch audio cable, a wireless dongle, and a fun little fold-up cardboard Minecraft-like figure — as you'll see above and below.
The band also features a flexible strap that can be adjusted for comfort with multiple mounting pegs at either end. Finally, the suggested retail price at time of writing is $179.99 and is available from most major retailers of electronics, gaming, and computer gear.
An important specification to consider is connectivity. There are three varieties depending on which platform you use, PC, Xbox, and PlayStation. My review unit works with PlayStation and PC, but Xbox uses a different wireless technology, so you won't be taking these between consoles if you own multiple platforms.
First impressions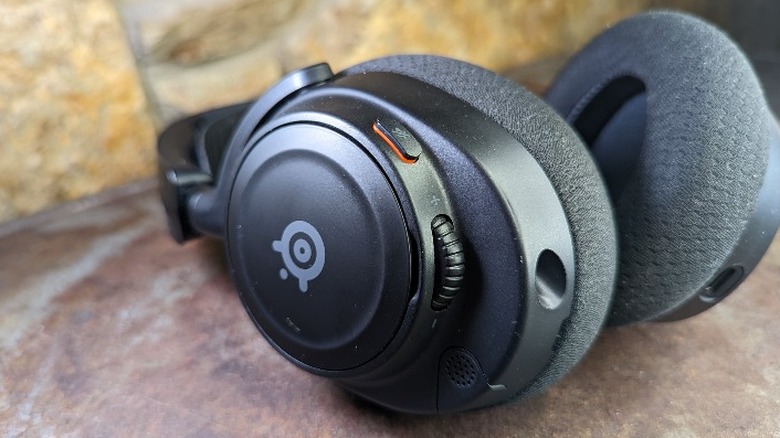 Justin Owen/SlashGear
The Arctis Nova 7 comes in modern and attractive packaging — pulling away from the recent accessories packaging trend in which overly heavy-duty presentation boxes are the norm. Taking them out of the box reveals a sleek and minimalist design that feels sturdy and well-built but with a slight bit of heft, signifying its construction of quality materials.
This headset offers adjustments for size in two ways. The aforementioned band can be removed and repositioned on the pegs, but speakers are also extendable on both sides. This can be a weak point in some headphones, as this is where the mechanism to adjust it wears out or loosens up, and it won't stay in place after using it for several months. 
I was pleased by the feel on the Arctis as it is tight enough that it doesn't feel like it would wear out quickly, yet loose enough to be easy to manipulate. Furthermore, rather than being a flat piece that slides up into the headband, these are somewhat rod-shaped and appear to offer a good deal of rigidity, resisting breaking from careless use or inadvertently dropping on the floor.
The speakers of the Arctis Nova 7 swivel for proper fitment on heads of differing shapes while also allowing the headphones to be stored flat. It does not have any hinges to allow them to be folded up for storage, but that is probably a good thing as those can be weak points prone to breaking. 
These headphones appear to be built to last. The cushions are thick and plush, completely encompassing the ear without being too tight or uncomfortable. My review unit came with cloth AirWeave cushions, but SteelSeries offers optional replacements in faux leather or velour and booth speakers have a removable outward-facing disc on the side. They are held on with magnets and serve no purpose outside of their aesthetics. They can be purchased in different colors and patterns with a matching flexible headband from the official website for $34.99 if you are into that sort of thing.
Hearing the sound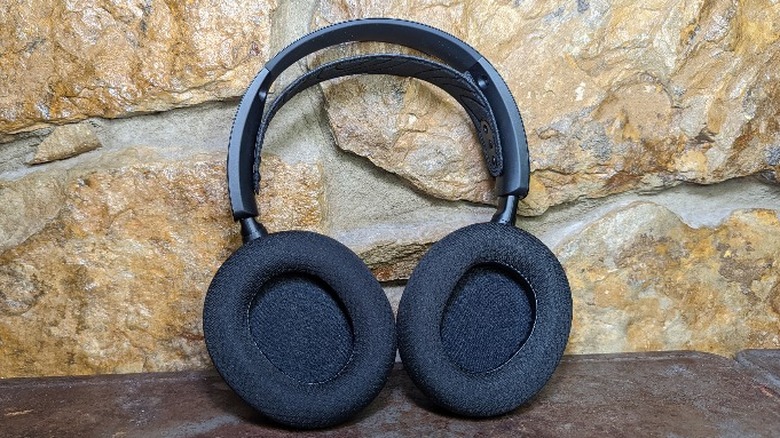 Justin Owen/SlashGear
No matter what bells and whistles headphones have or how fancy and appealing the looks are, the sound is what matters. Headset pricing varies wildly from dollar store bargains to $55,000 Sennheiser Orpheus. While SteelSeries Arctis Nova 7 will not require significant collateral to complete a purchaser, they are inching toward the higher side of decent headphones.
SteelSeries products have been all about gaming from the beginning, but their headphones can, of course, be used for anything from audiobooks to banjo medleys, but gaming is what they do best. I started out using them to casually listen to music while working and found the sound to be crisp and clear. The noise canceling seemed to be effective as my sometimes busy household was almost completely blocked out, even while listening at moderate volumes. The range and sound are excellent, with clear reproduction of sounds and excellent stereo separation.
Listening to a broad selection of music, including Miles Davis, Ice Cube, and King Gizzard and the Lizard Wizard, I found that these headphones do a good job of authentically recreating the sounds of the various instruments and voices. For example, with Johnny Cash's rendition of the Nine Inch Nails classic song Hurt, there was no disappointment throughout this haunting and somber piece that utilizes a delicate mix of acoustic guitar and tender vocals. 
Once we get to the extremes, however — especially the low end of bass — we see some weakness. These headphones weren't made for Aphex Twin.
Experiencing the sound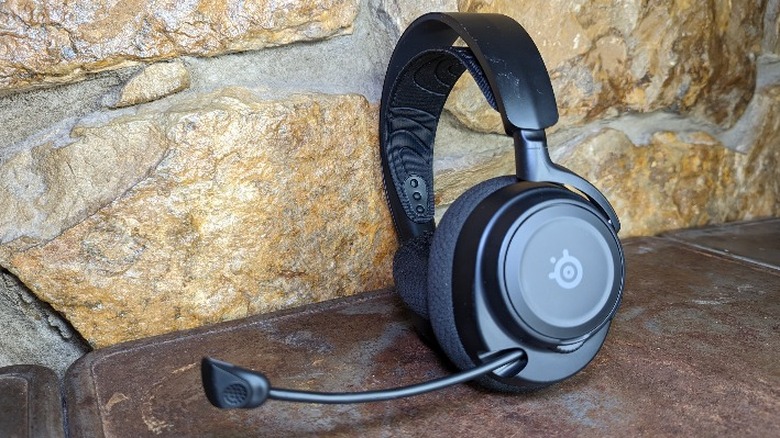 Justin Owen/SlashGear
While the lack of punch on the low end can be a bit disappointing while listening to some hip-hop or EDM, the gaming experience is another story. The Arctis Nova 7 excels during gameplay and any missing bass response is hardly noticeable. The intense sonic landscape of Counter-Strike: Global Offensive comes alive. 
The intense cacophony of sounds often created during gameplay is sharp, with especially good handling of audio meant to surround the player, moving from front to back. Game designers spend a lot of time making realistic sounds for things like weapons and footfalls, and having good headphones enhances the gaming experience exponentially. 
While no headphone can honestly simulate the feel of a pressurized cabin, the sounds from Microsoft Flight Simulator, such as that distinct thud of landing gear retraction, are handled quite well as the instructions from air traffic control and the buzz from the Rolls-Royce turbofans sound as real as possible while sitting stationary on the ground.
Playing games and having good sound is nice, but many games these days are online with interactive gameplay, and having a good microphone is paramount for the best experience. With Arctis Nova 7, this is also done quite well. The microphone sensitivity seems to have just about the right sensitivity to pick up your own voice at moderate to low levels while weeding out background noise and voices in the room. 
The presence of a push-type mute button that is easily found by touch alone is a nice feature to prevent inadvertent slips from being broadcast to the internet to be memorialized for all of eternity. Sound both in and out is crisp and clear when it comes to voice — important when you're looking to use these headphones for multiplayer chat. 
Used in conjunction with the downloadable SteelSeries software, you can make use of the volume dial located on the right speaker to adjust the volume mix between the game and chat, giving you more control over volume to make sure games are loud enough without having various chatter from drowning out important in-game sounds.
Final thoughts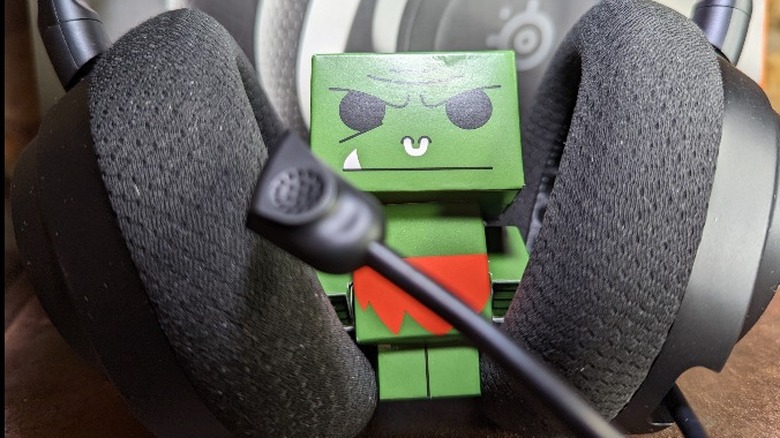 Justin Owen/SlashGear
I personally have no other experience with other SteelSeries products. However, this headset has left a generally good impression on me. It is clearly constructed of quality materials and performs well. The sound reproduction is commensurate with the price and I found that I had an overall comfortable time with the headphones on, regardless of audio output. 
Whether they are worth the cost really has to do with how much you want to invest in your gaming apparatus. For the "hardcore" gamers with the best machines and yards of monitors, this would likely be a good addition. For occasional game players whose genuine interests lie elsewhere, they may feel a bit costly. Although they would also work well for a home studio producer making youtube videos.
I would recommend this headset as a smart purchase. The price matches the value and the product does what its creator suggests it's meant to do. So, if you have some disposable income and want a good set of headphones under $200, Arctis Nova 7 wireless is a solid choice.