2023 Volvo S60 T8 Recharge Review: Plug-In Hybrid Packs Punch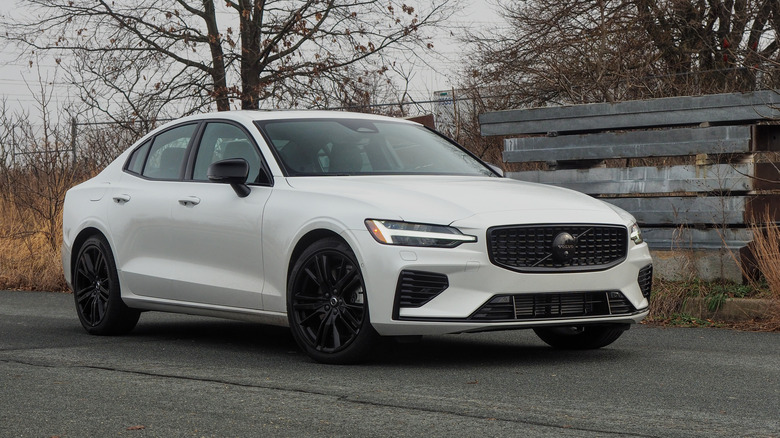 Chris Davies/SlashGear
There is something to be said about ignoring the status quo. These days with the new car market what it is in the U.S., picking a sedan rather than an SUV or a crossover is arguably an act of automotive defiance. After all, with so-called utility vehicles still ascendent — and hardly lacking in the sort of luxury features once associated with the most prestigious of three-box sedans — it's hardly difficult to see which way the winds are blowing.
All the same, as cars like the 2023 Volvo S60 Recharge demonstrates, there are more reasons than simply obstinacy to avoid a truck, no matter how lavish. Whether it's the silhouette that appeals, the inevitable driving dynamics advantages of a sleeker vehicle with a lower center of gravity, or this Recharge's useful addition of plug-in hybrid electrification, Volvo's smallest and most affordable sedan in the U.S. feels far from old-fashioned.
Sleek amid a sea of SUVs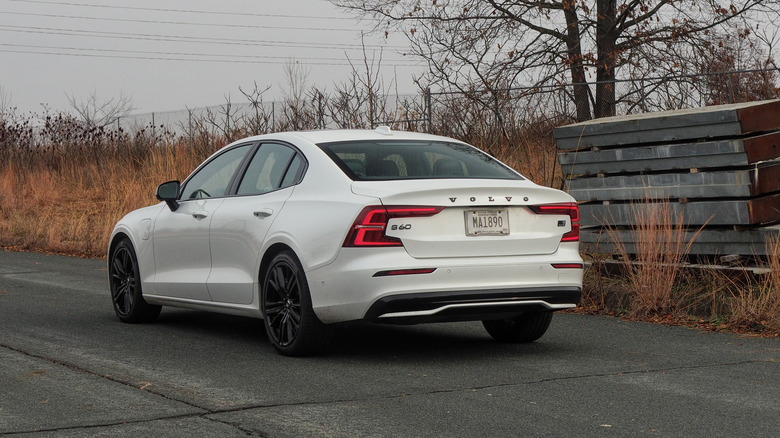 Chris Davies/SlashGear
The latest-generation S60 has been around since 2019, but it's still a handsome-looking car. That's doubly so in this faintly-ominous Black Edition form, a $1,945 upgrade that swaps the regular grille badging for a gloss black version, throws on special 19-inch wheels, and generally leaves the whole thing looking particularly moody. It's only available with Onyx Black and Crystal White paint, mind.
At the front, Volvo's now-familiar Thor's hammer headlamps continue to look crisp. The S60 borrows plenty of the larger S90's detailing, too, adding a little extra gravitas to the whole affair. Distinctive rear lights help, and while the Volvo isn't as striking — or, for that matter, as divisive — as, say, a Genesis G70, it has a taut elegance that pairs nicely with this more youthful trim package.
Unsurprisingly, Volvo has paired that style with plenty of safety tech. Features include rear cross-traffic with auto braking, forward cross-traffic alerts, collision warnings, blind-spot alerts, and lane-keeping assistance.
Gas plus electric equals fun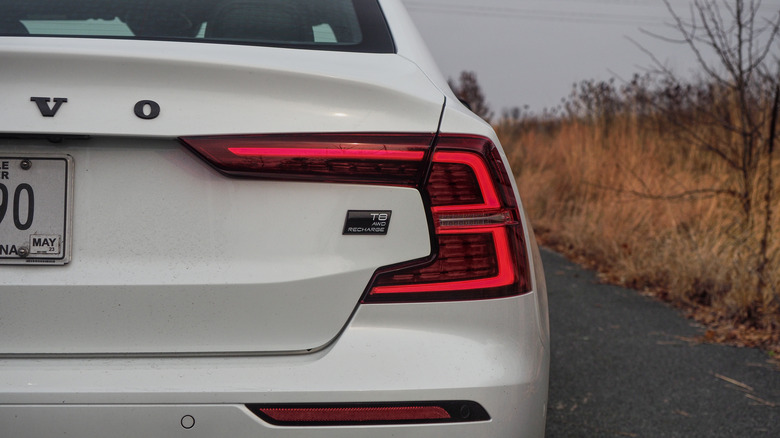 Chris Davies/SlashGear
As for what's propelling it, Volvo's journey to first simplify and then oust internal combustion altogether continues. The S60 range offers a choice of two powertrains, the entry-level T5 packing a turbocharged mild-hybrid 2.0-liter four-cylinder with 252 horsepower. It's an electrified update to the "you can have anything as long as it's an inline-four" strategy begun by the Drive-E back in 2014.
This S60 Recharge T8 pairs a boosted version of the 2.0-liter turbo with a 143-horsepower electric motor, for a total of 455 horses and 523 lb-ft of torque. 0-60 mph arrives in a healthy 4.3 seconds, the same as for the flagship S60 Polestar Engineered.
The T8 drivetrain gets up to 40 miles of electric-only range from a full charge of its 18.8 kWh battery. An 8-speed transmission is standard, and the Recharge gets what Volvo refers to as eAWD or electric all-wheel drive: it relies on the electric motor to power the rear wheels, while the gas engine runs the front. It's rated to tow up to 2,000 pounds.
A Google-fied dashboard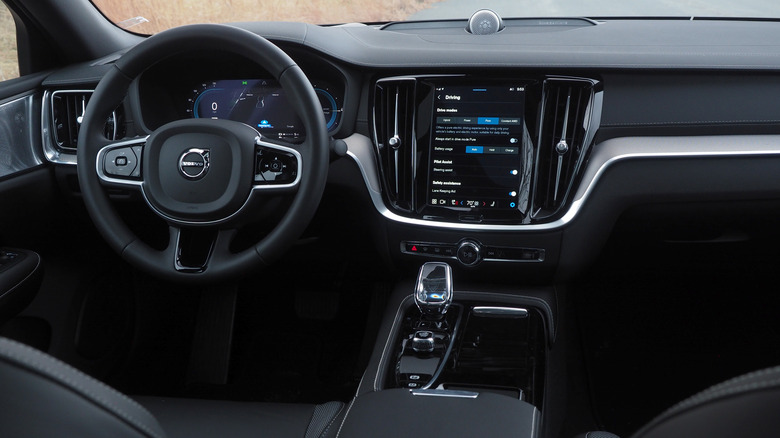 Chris Davies/SlashGear
The cheapest T8 trim is the Core, from $52,345 (plus $1,095 destination). The S60 Recharge T8 Ultimate Black Edition you see here, meanwhile, starts at $59,740 (plus destination). All versions of the S60 get a standard panoramic moonroof, keyless entry, dual-zone climate control with an air purifier, 360-degree camera, leather seats with front-row power, adaptive cruise control, Harman Kardon Sound, and Google-powered infotainment. The latter runs on a 9-inch central touchscreen, with the driver getting a 12.3-inch digital display.
As with other Volvo models using the new system, it's generally an improvement. Having Google Maps is a real boon over the third-party navigation most cars settle on, and the Google Assistant voice control is capable, too. Volvo's iconography feels a little weedy, though, especially compared to what Polestar is doing with the same underlying software.
The Ultimate package upgrades the power front seats, adds heating to them, throws in a head-up display, and upgrades the standard adaptive cruise control to Volvo's Pilot Assist. That's a hands-on system that follows the lane as well as keeping pace with the car ahead. Volvo's excellent Bowers and Wilkins Premium Sound package is pricey — but worth it — at $3,200 extra.
The $750 Climate Package, meanwhile, throws in rear seat heating, a heated steering wheel, and high-pressure headlamp cleaners. Stepping up to the Polestar Engineered, meanwhile, gets you a specially-tuned chassis, Brembo brakes, and unique 19-inch wheels.
Cosseting when you want it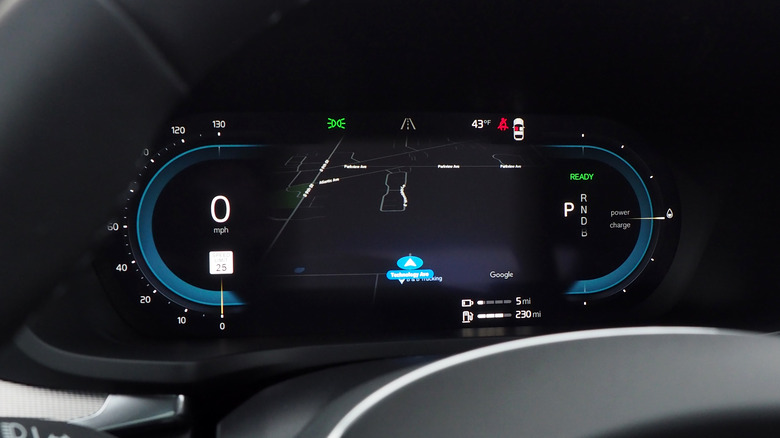 Chris Davies/SlashGear
No more power, though, and there's quite frankly plenty to like about how the regular T8 drives. By default you start in either Pure electric-only or Hybrid mode, the S60 doing a solid impersonation of a sleek electrified limo. Light steering, a syrupy transmission that hides its shifts nicely with its PHEV tech, and a willingness to remain in Pure mode even if you're fairly heavy-footed with the accelerator make for a pleasingly hushed and easy ride.
Not all that long ago, Volvo used to have a sparkling little drive mode dial in the center console. Now, you'll have to get your glitter kicks from the Orrefors crystal shift knob and go dipping into the settings to find the different powertrain configurations. The one you're probably looking for — alongside Constant AWD — is Power.
That way, you get both the grunt of the gas and the electric halves, all of the time. The S60 will also attempt to top up the battery using the gas engine as a generator, when you're not pushing hard, just to make sure you always have a charge for an impromptu stab of the accelerator.
Power rouses the PHEV's charm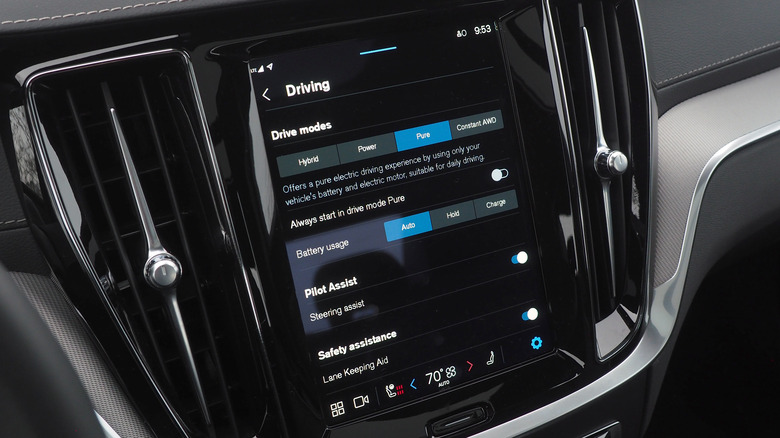 Chris Davies/SlashGear
You'll be tempted, too. There's a pleasing thrum when you switch into Power mode, and a generous — but not intrusive — soundtrack from the engine. Volvo's quoted 0-60 dash time seems a little conservative, too, with the S60 doing point-and-squirt blasts with unexpectedly addictive ease.
It's a little reminiscent, in fact, of the Polestar 1. That shouldn't come as much of a surprise, really, given the connection between Volvo and Polestar. The now-discontinued plug-in hybrid coupe is obviously more potent — it also had a $155k sticker price — and true torque vectoring to play with, though that doesn't leave the S60 a laggard in the corners.
Both have that "sporty grand tourer" feel, rather than — in the S60's case — being an outright sports sedan as you might traditionally think of it. All the same, there's a welcome balance here between performance without excruciating running costs. Volvo quotes 74 MPGe in hybrid mode, and even on gas alone, you're looking at an EPA rating of 31 mpg.
When it comes to charging, there's support for up to Level 2 chargers though — like with most plug-in hybrids — no DC fast charging support. Volvo, probably correctly, figures that most S60 T8 Recharge owners will be topping up their car when at home or at the office.
2023 Volvo S60 T8 Recharge Verdict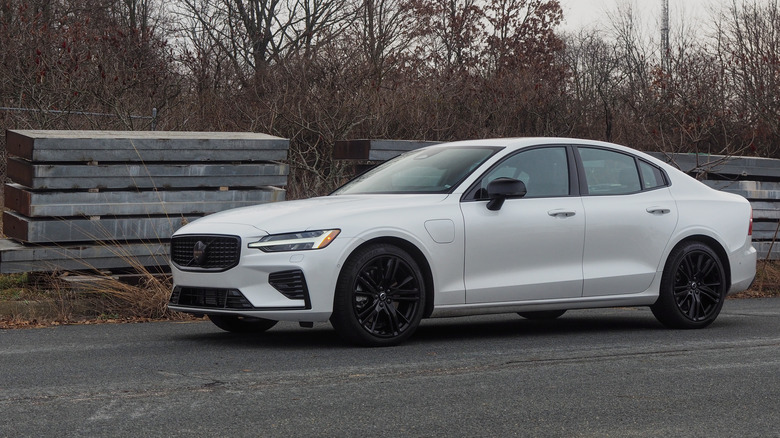 Chris Davies/SlashGear
If you're convinced by a plug-in hybrid and unwilling to compromise on a sedan, your options are fairly slim. BMW's 2023 330e xDrive starts at $45,300, undercutting the cheapest S60 T8 Recharge by $7,000. With just 288 horsepower and 20 miles of electric-only range, though, you'd be forgiven for being underwhelmed.
Want more excitement? Then you're looking at things like Porsche's Panamera E-Hybrid and the exceedingly rare Karma GS-6. I'd hardly dissuade you from trying either, but then again with pricing around the six-figure region, it's hard to call them direct competitors to the S60.
Eventually, of course, Volvo plans to go all-electric. We've seen the first stages of that with the XC40 Recharge and C40 Recharge, and indeed the upcoming EX90. Unsurprisingly the automaker is starting with SUVs for that journey, targeting a 50/50 split of global sales for pure EVs and hybrids by the middle of the decade. With its self-imposed "fully electric" deadline of 2030, it doesn't seem unreasonable to predict a fair few years wait before we get an S60 BEV.
That leaves us with the 2023 Volvo S60 T8 Recharge to tide us over, and it's more than just a placeholder for green ambitions. Handsome, refined, punching above its weight in comfort, and as capable at going fast in a straight line as it is wafting in electric isolation, it's a reminder that regardless of auto industry trends — whether toward SUVs, or BEVs, or both — there's something to be said for a plug-in hybrid sedan. Make the most of it while you still can.