Volvo's EX90 Electric SUV Could Charm Its Way To The Top: First Look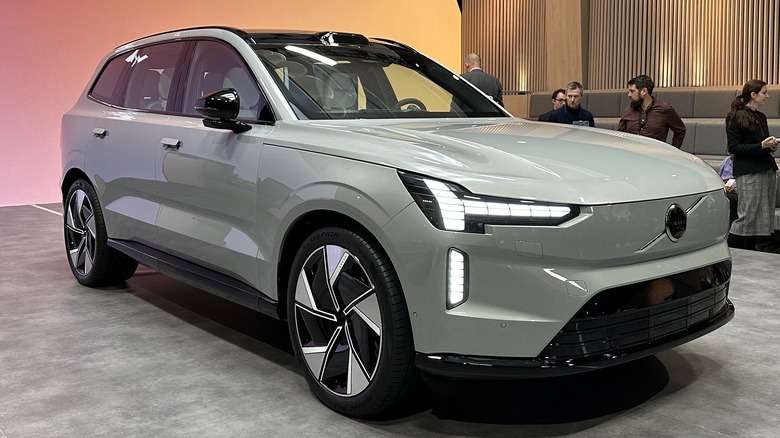 Steven Ewing/SlashGear
Volvo's next big thing is the 2024 EX90, a fully electric three-row SUV that'll start around $80,000 when it hits the road in 2024. "There are no gimmicks in the EX90," Volvo Cars CEO Jim Rowan told members of the media following the SUV's unveiling in Sweden on Wednesday. "All the technology that's there is there for a reason."
And with things like LiDAR integration, a new NVIDIA core processor and the ability to support future autonomous driving, technology is definitely at the forefront of what makes the EX90 tick. Oh, and it looks pretty darn great, too.
Every EX90 will come standard with a LiDAR sensor sourced from Luminar, which in addition to readying the EV SUV for a hands-free future, improves upon Volvo's existing suite of driver-assistance technologies. The LiDAR sensors can 'see' up to 250 meters — about 820 feet — ahead of the EX90, and can do so in direct sunlight or the dead of night. This gives the EX90 more time to alert drivers about obstacles in their path, increasing notification time by as much as 9 seconds. That might not sound like much time, but stop what you're doing right now and count to 9. Now imagine having that much time to react before hitting a deer, or worse, a neighbor kid. This is a huge benefit for safety.
Semi-autonomy but without the confusion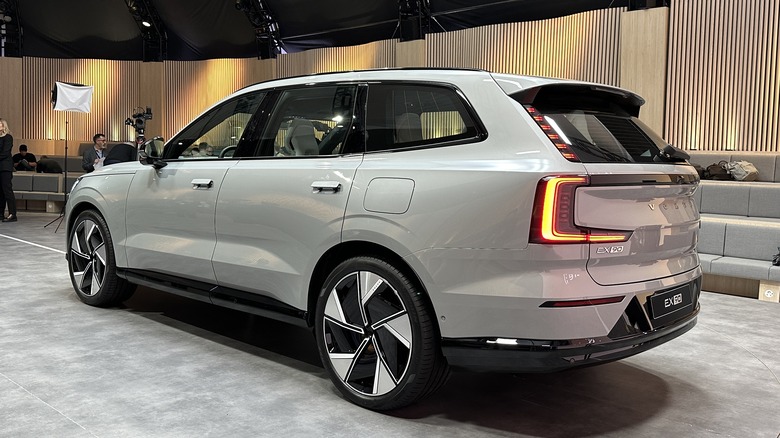 Steven Ewing/SlashGear
Beyond the LiDAR tech — which comes courtesy of Volvo investment Luminar — the EX90 is fitted with dozens of cameras and sensors that bolster existing driving aids. You'll be able to we operate the EX90 hands-free on pre-mapped highways, and it can execute lane changes without the driver needing to grab the wheel, sort of like General Motors' excellent Super Cruise system. That said, Volvo is reluctant to classify the EX90's tech as Level 2 or Level 3 autonomy, or even the increasingly common "Level 2 Plus" term used by companies like BMW.
"You hear all this stuff about autonomous driving Level 1, 2, 3, 4 ... we think it's very, very confusing for customers," Rowan said. "There's two levels of autonomous driving: Your hands on the steering wheel or your hands off the steering wheel. It's as simple as that." (Well, until you get government regulators involved.)
Attention to detail inside and out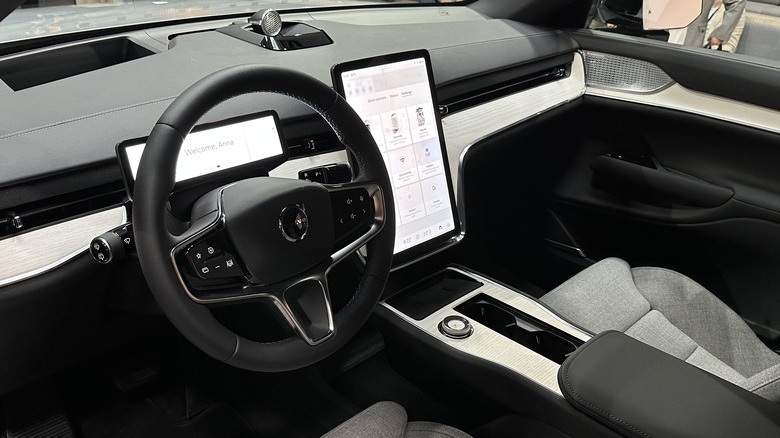 Steven Ewing/SlashGear
Still, the longer I looked at the EX90, the less the LiDAR bump stood out. Instead, I pored over things like the segmented "Thor's Hammer" headlights that split to reveal larger low- and high-beam bulbs. I also totally dig this show car's 22-inch wheels, which have aerodynamic inserts that cover the center bolts. Page said the EX90's smaller 20- and 21-inch options will have aero designs, as well.
Volvo's been absolutely killing it with interior design in recent years, and the EX90 takes the company's theme of elegant Swedish minimalism to the next level. The cabin is clean and modern, and recycled materials make up the bulk of the upholstery. You'd be a fool not to spec the wool fabric, but no matter which way you order an EX90, no leather is used. The lovely natural wood surfaces have backlit diamond illumination which I imagine looks great at night, and the requisite Swedish flag is still found in the metal dash trim.
Fit and finish to suit the price tag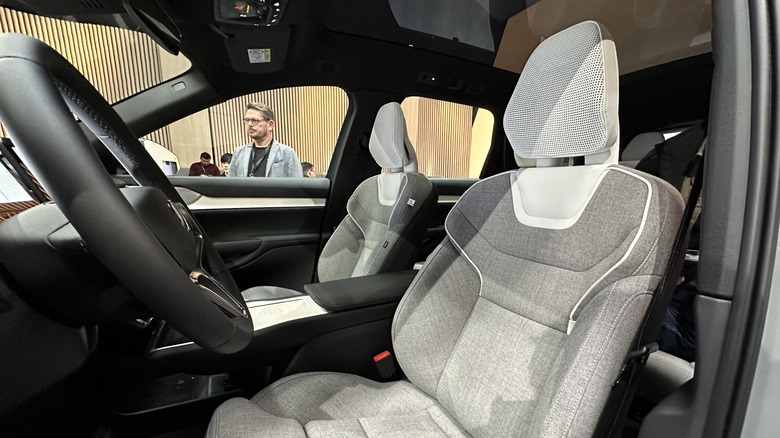 Steven Ewing/SlashGear
The highlight of the interior is Volvo's 15-inch, portrait-oriented display, which runs a newer version of the company's Android Automotive OS. Volvo says the new OS has significantly faster processing speeds, all thanks to the NVIDIA core, which is good, since past examples of this software have been known to lag, especially on startup.
As you'd expect, everything inside the EX90 looks and feels fantastic. Even in this early show car, there's a level of fit and finish that really sells its $80,000 price tag. Everything that looks like metal is metal, and beautiful bits of glass are used on things like the entertainment dial on the center console. Speaking of which, Page said that while the EX90's cabin is largely free of physical buttons, keeping this controller on the console was crucial. "We've done a lot of consumer research," he said. "With things like volume control, it's important to still have a rotary."
Seven seats only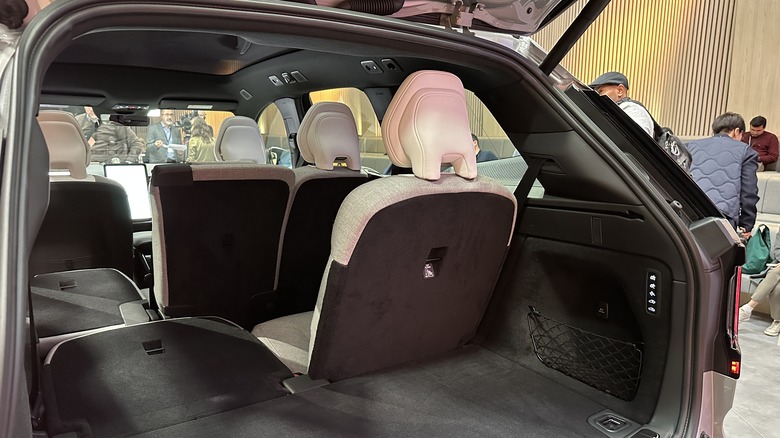 Steven Ewing/SlashGear
Volvo will only offer the EX90 with a seven-seat configuration, unlike its platform-mate, the Polestar 3, which has five seats. That's also built on the new SPA2 architecture, though Polestar insisted when it unveiled its SUV last month that the two models would be distinct in driving feel to suit their respective audiences. Polestar — backed by Volvo and Volvo-owner Geely — puts its emphasis on performance electrification, and plans to launch the Polestar 3, its third and arguably most important model, in late 2023. It'll be priced similarly to the EX90, albeit without the same degree of family-friendly flexibility that the third row of seats brings.
Both the second and third row of seats in the EX90 fold flat, and Volvo even has a handy little cargo guide embossed into the top of the D-pillar labeled "Will It Fit?" This shows the dimensions of the EX90's cargo area compared to commonly transported things like a stroller, golf clubs, floor lamp and more. That makes it perfect for Ikea runs — and that was Volvo's joke, not mine, I swear.
The XC90, meanwhile, will remain on sale alongside the EX90, for the time being at least. That seems like a wise decision, even given Volvo's ambitions for full electrification. Initially, the "well equipped" configuration that the EX90 will arrive as will put it firmly in the premium segment. The current XC90 — available both as a gas-only and as a plug-in hybrid — starts from a far more attainable $56,000.
Not a cheap EV, but an appealing one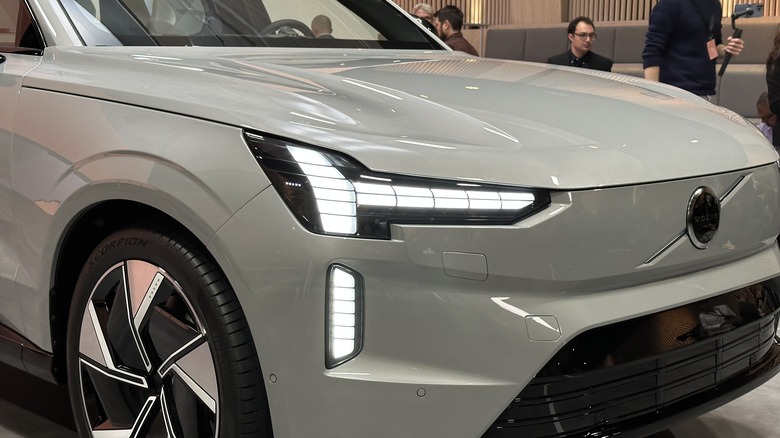 Steven Ewing/SlashGear
When it arrives in 2024, the Volvo EX90 will be available with a 111-kilowatt-hour battery pack and dual-motor setup, giving the SUV all-wheel drive and an estimated driving range of about 300 miles. With a maximum charging speed of 250 kilowatts, Volvo says the EX90 should be able to go from a 10% to 80% state of charge in about 30 minutes, and the SUV supports bi-directional charging, so you can use the EV to power appliances or even top up the batteries of your friend's EV if they forgot to plug in overnight. An optional bi-directional charger can turn the electric SUV into a whole-home battery for use during outages.
Volvo declined to comment about the possibility of offering a less-expensive, single-motor EX90, though the company did end Wednesday's event by teasing a smaller electric SUV, expected to debut in 2023. By 2030, all new Volvos will be electric. And yes, the next generation of cars will likely have LiDAR bumps, too.