Elon Musk Threatens To Make A New Phone If Google And Apple Ban Twitter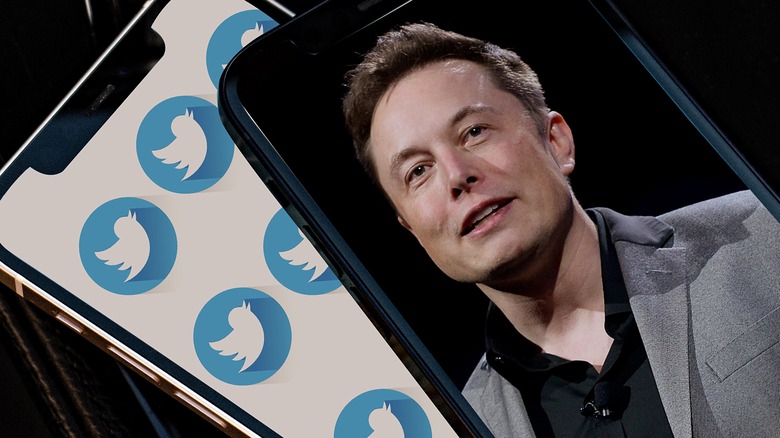 kavi designs/Shutterstock
Elon Musk will make his own smartphone, if things at Twitter worsen to an extent that Apple and Google kick it offer their respective mobile platforms, or so the social network's new owner has promised. Musk's smartphone daydream came as response to a tweet by conservative political commentator Liz Wheeler, in which she talked about a hypothetical — but not entirely implausible — scenario where Google and Apple have decided to boot Twitter off the Play Store and App Store, respectively.
Wheeler argued that "the man builds rockets to Mars, a silly little smartphone should be easy," and predicted that, should Musk make a phone, half of the smartphone users in the U.S. would switch to it owing to the snooping-happy nature of iPhones and Android phones. 
If Apple & Google boot Twitter from their app stores, @elonmusk should produce his own smartphone. Half the country would happily ditch the biased, snooping iPhone & Android. The man builds rockets to Mars, a silly little smartphone should be easy, right?

— Liz Wheeler (@Liz_Wheeler) November 25, 2022
The idea of a Musk-made phone that Wheeler is talking about isn't "just another smartphone" running an Android folk. As is clear from the disdain for Google and Apple in the tweet, such a phone would also need to run its own operating system, free from the handiwork of the two tech giants. 
That's easier said than done. Just ask Microsoft, the world's second most valuable company after Apple, which created the Windows Phone platform and failed spectacularly. Musk himself has opined in the not-too-distant past that "smartwatches & phones are yesterday's technology," and that the Neuralink brain-human interface was the future. Neuralink, another Musk-owned venture, is yet to demonstrate its tech working on human subjects.
What might a tELONphone offer?
Bloomberg/Getty Images
Clearly, Elon Musk isn't afraid of a challenge. In response to Wheeler's tweet, Musk replied that "I certainly hope it does not come to that, but, yes, if there is no other choice, I will make an alternative phone." That's a big "if" of course, because it won't be an easy decision for Apple or Google to kick one of the world's biggest social media platforms off their respective app stores.
As for the reason why would they do it in the first place, there is fear that Musk's "free speech absolutist" approach could turn Twitter into a free speech utopia — or a cesspool of hate and toxicity — depending on the person you're asking. Since taking the helm at Twitter, Musk has welcomed back controversial figures like Donald Trump, and has publicly expressed disdain for permanent bans.
I certainly hope it does not come to that, but, yes, if there is no other choice, I will make an alternative phone

— Elon Musk (@elonmusk) November 25, 2022
If bad actors start posting objectionable content that turns Twitter into a vitriolic online space like Parler, there's definitely a chance that Twitter might be kicked off the App Store and Play Store for policy violations. Right now, Twitter appears to be heading into that direction, ever since Musk took over as the platform's new CEO.
As for what a Musk-made phone might look like, the outspoken billionaire hasn't been forthcoming. Still, with SpaceX Starlink at his command — and features like Apple's satellite-based Emergency SOS making headlines this year — along with a fondness for crypto currencies, Musk could also call upon some battery wizardry borrowed from Tesla EVs. Nonetheless, as plenty of big companies (and billionaires) have previously discovered — yes, Amazon Fire Phone, we're looking at you – making a smartphone that can eclipse iPhone and Android is far easier said than done.