Why The Amazon Fire Phone Was A Complete Flop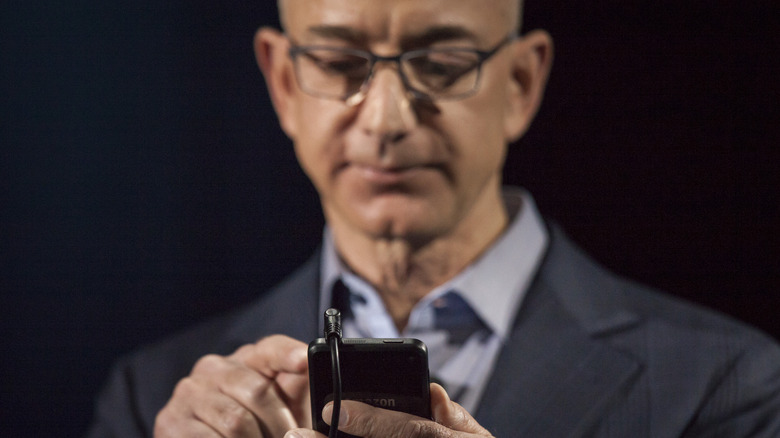 David Ryder/Getty Images
The 2014 release of the Amazon Fire Phone was the retail monolith's first foray into the smartphone business. It came with a 4.7-inch LCD, 13-Megapixel main camera, and ran on its own Android-based Fire OS operating system. Amazon's first smartphone even came with a unique feature known as "Dynamic Perspective," a function that not only gave its display a unique 3D depth effect, it also allowed users to navigate the phone using motion-based gestures. 
It had a couple of Amazon-exclusive features as well, such as a dedicated Firefly button, which scans and identifies objects, and Mayday, a built-in help desk that provides round-the-clock customer support, according to Techradar. Other highlights include an HD resolution display, a Snapdragon 800 chipset, 2GBs of RAM, and a hefty 2,400mAh battery capacity. With a phone that had a lot more going on in it than the average flagship phone at the time, some might be wondering what could have possibly gone so wrong.
The Price Is Not Right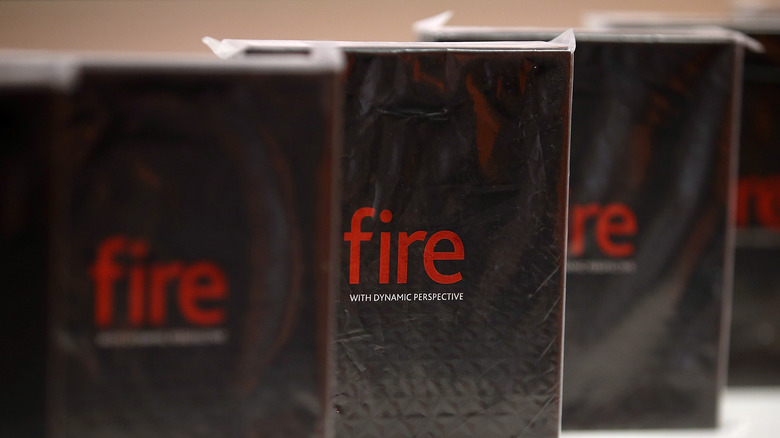 Justin Sullivan/Getty Images
Well, it turned out that a lot did go wrong with the Amazon Fire Phone — starting with its price and exclusivity alone. The Fire Phone was launched as an AT&T exclusive, coming in at $199 for its 32GB version, and $299 for its 64GB variant, along with a two-year contract with the carrier. Its off-contract price was priced at $650, which was on par with competing flagships at the time, if not a bit higher. The thing is, it didn't offer more than competing models, like the iPhone 5S or the Samsung Galaxy S5, especially given its price. 
Amazon Senior Vice President David Limp admitted the company wasn't able to price the Fire Phone correctly, explaining that the company "mismatched expectations" of consumers expecting better value from it, according to Fortune. Amazon's first phone went from having a $199 on-contract price tag, to having it slashed all the way down to just $0.99. To make matters worse, the Fire Phone even received poor reviews on Amazon's website, with customers citing issues such as having limited app support and heating issues, among others.
It Came With Technical Difficulties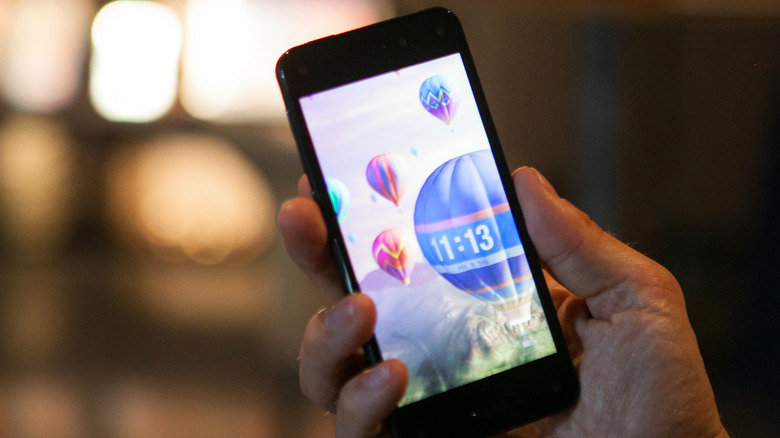 Bloomberg/Getty Images
Pricing aside, the Amazon Fire Phone also had a slew of technical issues from a consumer's point of view, in both the hardware and software departments. One of its biggest standout features, the Dynamic Perspective, didn't exactly work as flawlessly as intended, making the whole experience of navigating the phone more cumbersome than convenient, according to PCMag. Furthermore, its Fire OS app support is severely limited, and not having access to Google Play's plethora of apps only hampered its capabilities, not to mention its built-in Firefly or X-Ray apps didn't exactly offer anything that Android doesn't already have an equivalent to. 
At a competitive price that rivals other flagships, the Amazon Fire Phone simply didn't justify its price-to-value ratio, especially with its selling points appearing more gimmicky than industry-leading. It didn't help that phone's interface was basically designed to integrate with Amazon's own services, limiting its user's choices, while also forcing them to become captured market in the process. The result is Amazon losing out on over $80 million worth in unsold units (via Fortune). Overall, Amazon's first handset served as a failed attempt at establishing its own ecosystem within the highly competitive smartphone sphere, one that's further highlighted by the large volume of Fire Phones that didn't leave the shelf.