Here's How Fast The Alfa Romeo Giulia Really Is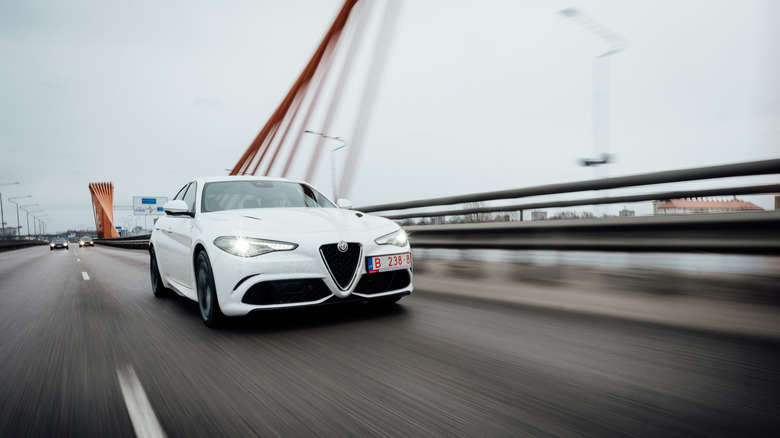 Karlis Dambrans/Shutterstock
The Alfa Romeo name strikes a different chord depending on who you ask. Enthusiasts will rave about styling and how Alfas look like no other vehicle on the road. On the other hand, it's hard to deny the brand's historical reputation of shoddy build quality and unreliability: Two main reasons why Alfas depreciate more than comparable German or American cars.
However, the inner circles love Alfas for their speed and handling dynamics. These two features signal, conversely, that you can't go wrong with an Alfa if you want a fast, sharp-handling car. And when it comes to speed, the Alfa Romeo Giulia and the hotrod Giulia Quadrifoglio are willing partners. According to Alfa Romeo, the Giulia starts at under $50,000 and offers a 2.0-liter turbocharged four-cylinder gas engine with 280 horsepower and 306 lb-ft of torque. Equipped with a near-perfect 50:50 weight distribution and an eight-speed automatic gearbox, the base Giulia rockets from zero to 60 mph in 5.1 seconds (AWD), and boasts a 149 mph top speed.
How fast is the Alfa Romeo Giulia Quadrifoglio?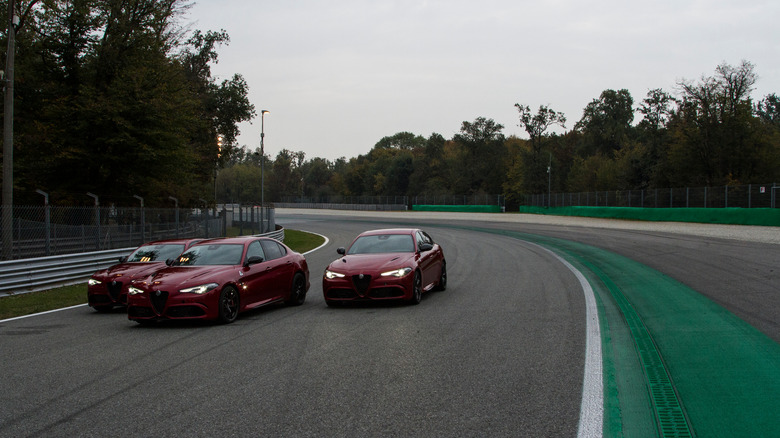 Mattia Di Falco/Shutterstock
If the base Alfa Romeo Giulia is a bit too tame, then the Quadrifoglio variant will satiate your need for speed and has the numbers to prove it. It has a twin-turbocharged 2.9-liter V6 engine that pumps 505 horsepower and 443 lb-ft of torque exclusively to the rear wheels. Alfa Romeo claims zero to 60 mph in 3.8 seconds and a 191 mph top speed. Contrary to popular belief, the Quadrifoglio's twin-turbo V6 is not a Ferrari engine. According to Driving, Alfa Romeo poached the head of gasoline engines at Ferrari to create the Quagrifoglio's turbo V6. To clarify, the Giulia Quagrifoglio has a V6 engine designed by an ex-Ferrari engineer and NOT a Ferrari-built engine. Spread the word.
But the Alfa Romeo Giulia Quadrifoglio is not just about straight-line grunt and intoxicating exhaust notes. It has an active torque vectoring rear differential, adaptive damping suspension, and a carbon fiber driveshaft to handle like a dream without penalizing ride comfort. Car and Driver said the potent combination of a raucous twin-turbo V6, race-inspired underpinnings, and the Giulia Quadrifoglio's magnificent steering gives it an edge over the iconic BMW M3, high praise for an Italian-bred sport-luxury sedan. However, it costs $81,855 before options, but the Alfa Romeo Giulia Quadrifoglio is the real deal in terms of speed and a grin-inducing, fun-to-drive demeanor.
Alfa Romeo Giulia GTA and GTAm: Faster than lightning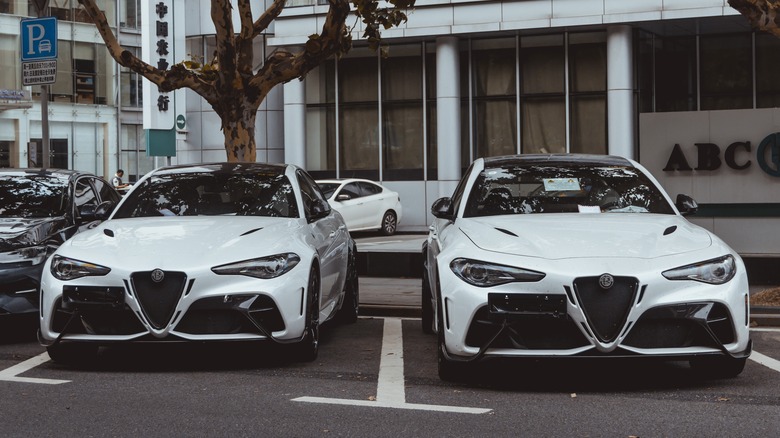 Sport car hub/Shutterstock
Alfa Romeo unveiled two limited-edition variants of the Giulia Quadrifoglio in 2020: Giulia GTA and GTAm. Both come with many carbon fiber body pieces to shed 220 pounds over the standard car, but the GTAm is lighter with excluded rear seats, carbon fiber front seats, and Lexan plastic rear windows. With a focus on reducing weight and further improving on-road and racetrack performance, the hardcore Giulia GTA and GTAm combine to commemorate the 110th anniversary of the Alfa Romeo brand.
As a bonus, the Giulia GTA and GTAm produce more power. Alfa tinkered with the twin-turbo V6 and squeezed out 540 horsepower, 35 more horses than before. Only 500 units will exist, and Alfa Romeo fulfilled all 500 build slots by the end of September 2021. The rarity of these cars and Alfa's insistence on remaining tight-lipped about the performance numbers have made the GTA and GTAm the "unicorns" of Italian sport sedans. But in the YouTube video by Motorsport Magazine above, the Giulia GTAm rushed from zero to 60 mph in under four seconds and rocketed past 155 mph in 20 seconds — in gloomy, mildly damp conditions, nonetheless. Additionally, it achieved these spectacles while sounding like no other sedan on Earth.