The Reason Why Alfa Romeos Depreciate More Than Almost Any Car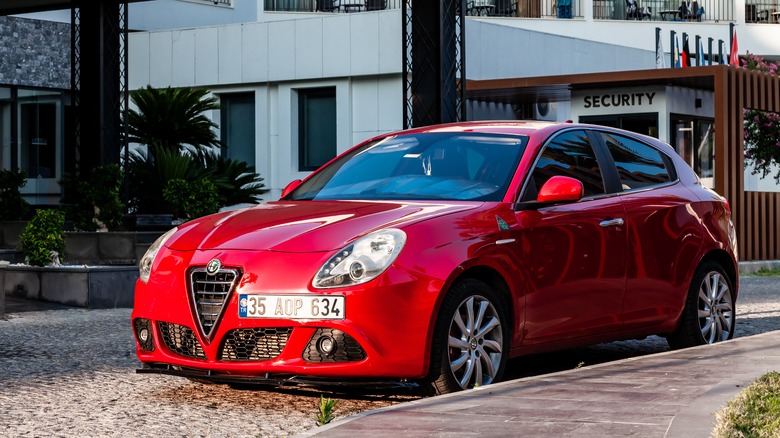 Aleksandr Kondratov/Shutterstock
Italian automaker Alfa Romeo has longstanding love-and-hate relationships with enthusiasts worldwide. It could have something to do with the gorgeous Italian-bred styling of Alfa Romeo vehicles, but it mainly involves the baptism of fire that all drivers encounter from time to time: breakdowns. Jeremy Clarkson of the old "Top Gear" famously said that you must own an Alfa to be considered a real petrolhead. Clarkson also said "Alfa builds a car to be as good as a car can be. Briefly."
When they work, Alfas feel like no other vehicle on the road. But the highs are accompanied by crashing lows that lead to expensive repair bills, severe downtimes, and general heartache. You deal with troubles or flaws more in an Alfa than in any other car brand, and this reputation severely affects how Alfas depreciate over time. Car and Driver summed it up with its long-term test of the Alfa Romeo Giulia Quadrifolgio, a car that is worthy of affection but has trouble keeping out of the workshop.
Unreliable reputation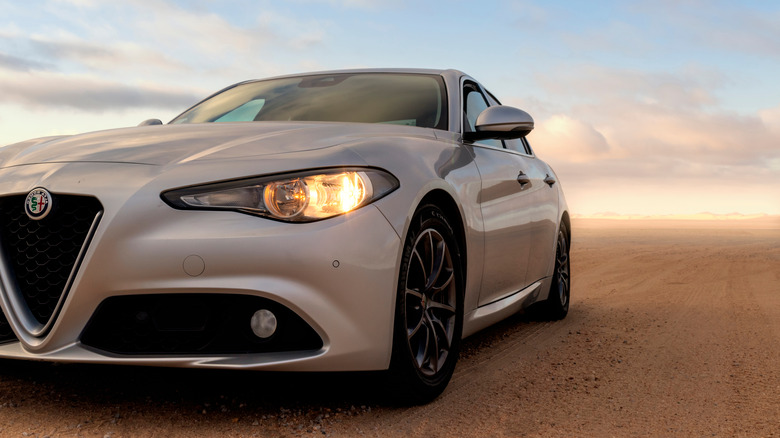 Yulia Lakeienko/Shutterstock
Car and Driver said the publication has a long history of highlighting the discrepancies that come standard in a new Alfa Romeo from the 1980s and 1990s. Issues like faulty electronics and subpar build quality are commonplace in a new Alfa despite glowing reviews about engine performance, styling, and driving feel. When the Giulia Quadrifoglio arrived in 2015, it beat the BMW M3, Mercedes-AMG C63 S, and the Cadillac ATS-V in Car and Driver's 2017 comparison test, and they named it to the 2018 list of the 10 best cars.
They immediately ordered a Giulia Quadrifolgio in their long-term test fleet, a fully-loaded car with carbon fiber Sparco racing seats and carbon ceramic brakes. But after 2,400 miles, the check engine light came on, and a "service electronic throttle control" warning lit the dash. The warning lights disappeared and then the "service electronic throttle control" light came back again at 4,100 miles. When the vehicle came in for service at 10,000 miles, it stayed at the dealership for 31 days to have its differential replaced. "Rarely have we hoped for a car in our possession to succeed more than we did for this Alfa," said Daniel Pund of Car and Driver. "And rarely have we been more consistently disappointed."
Solid depreciation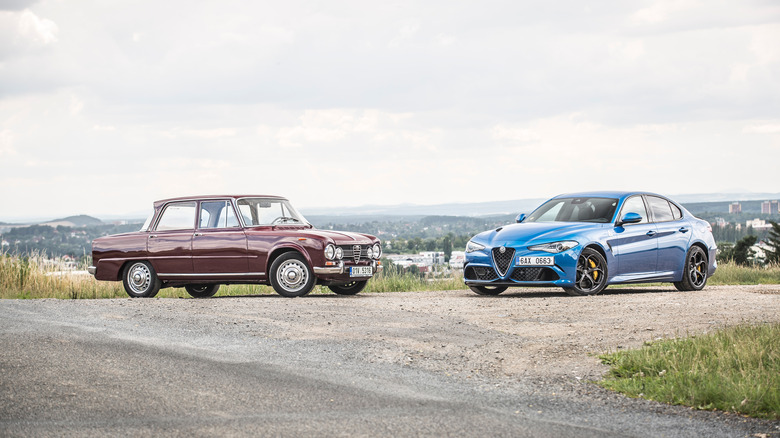 MM.f/Shutterstock
According to Car Edge, the Giulia depreciates an average of 44% after five years, while the gorgeous Stelvio SUV is no better, with a 43% depreciation in five years. Your Great Car adds Alfa Romeos are luxury cars and are costlier to maintain than a Toyota or Honda, not to mention they have a higher base price when bought new.
We don't blame you if you still want an Alfa despite its faults. Equipped with a twin-turbocharged 2.9-liter V6 engine that generates 505 horsepower and 443 lb-ft of torque, the Giulia Quadrifoglio rushes to 60 mph from a dead stop in 3.6 seconds and finishes the quarter-mile in 11.8 seconds at 122 mph. It also looks the business and is one of the prettiest modern Alfa sedans ever made.
But we reckon the heartache is not worth the trouble for a car that spends 80 days in service in 14 months of ownership (and depreciates faster than a falling piano on a hill). We're hoping the age of electrification will finally rid Alfa of its unreliability gremlins.