2016 Cadillac ATS-V First-Drive - BMW baiting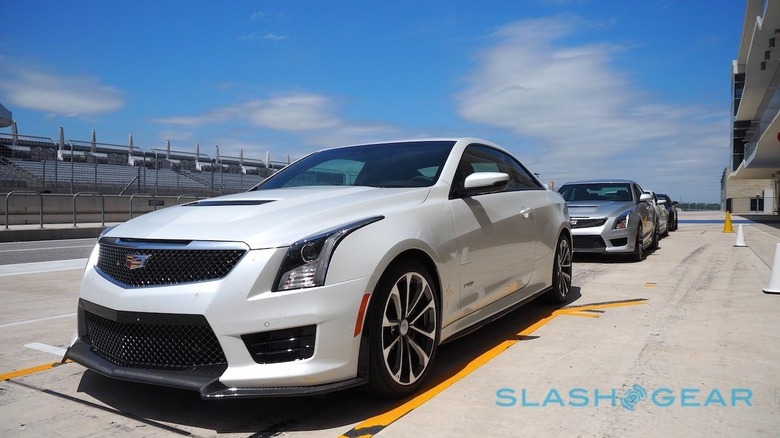 The 2016 Cadillac ATS-V is not your grandpa's Caddy. Neither is it the BMW M3 or M4, despite the team responsible for the sedan and coupe duo admitting that the Bavarians were the primary target. V-Series has been Cadillac's sledgehammer retort to German Autobahn-bruisers since 2004, and the ATS-V is the third generation of car to wear the badge. It's straightforward in principle: take an existing Caddy, put it on a diet, slam a beefy engine under the hood, and market it as American power. Now, for the first time, the V-Series line is splitting, and it's doing so in a mighty interesting way.
First we'll get the ATS-V in sedan and coupe forms; that'll be followed by the third-gen CTS-V, an "express jet" of "mind-boggling power and performance" as – with no shortage of showmanship – Cadillac's Dave Leone, executive chief engineer of GM Global Performance Luxury Cars describes it.
Speaking to some of Cadillac's team, in fact, there were questions quietly voiced whether the CTS-V would simply be too monstrous for most drivers, what with its 640 HP V8 good for 200+ mph. You might be forgiven for wondering if the ATS-V is a diluted experience as a result – V-Series Lite, perhaps – intended to give the badge but in a more manageable package.
Dismiss such doubts.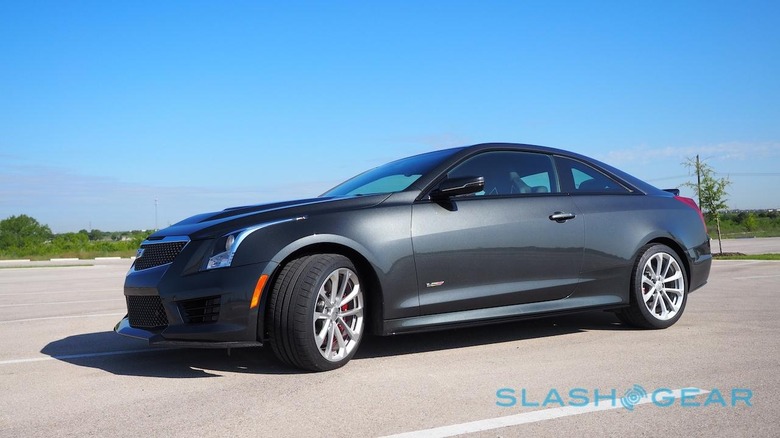 The ATS-V may have a V6 not a V8, but it's a 3.6-liter, twin-turbo V6 mustering 464 horsepower and 445 lb-ft of torque. That's actually more horsepower than Cadillac originally promised, with the engineers having discovered their tuning was better than expected at the cars' debut late last year at the LA Auto Show.
All that power is pushed to the rear wheels through either a 6-speed manual or an 8-speed automatic transmission, with Cadillac claiming a 3.8 second 0-60 mph run and a 189 mph top speed. And, though there's already a 3.6-liter V6 in the ATS line-up, the V-Series switches out the normal parts for titanium con rods, a forced crank, and new valve-train.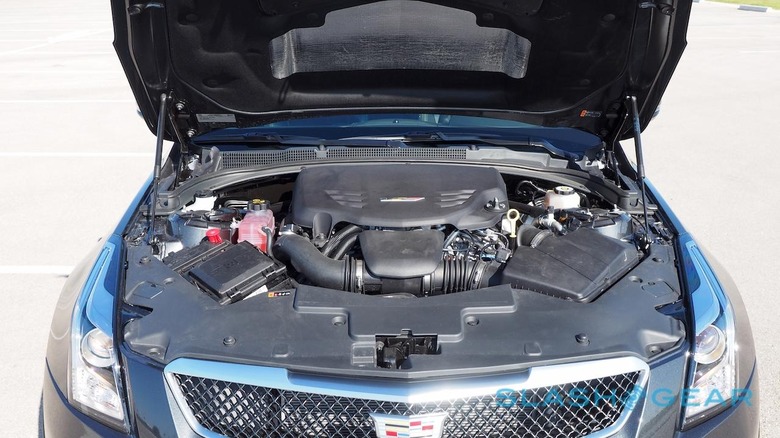 The regular ATS is a solid luxury sports sedan or coupe in regular form, but a bigger engine wouldn't have been enough to take on the M3's of the world. Neither would it have been workable just to craft the most extreme, potent ATS possible, sacrificing comfort and usability along the way.
Instead, you have what Leone calls a "bi-modal car", one which is usable both as a daily driver and a track machine. To achieve it, Cadillac has had to pay attention both to mechanics and the software, and the combined result is astonishing.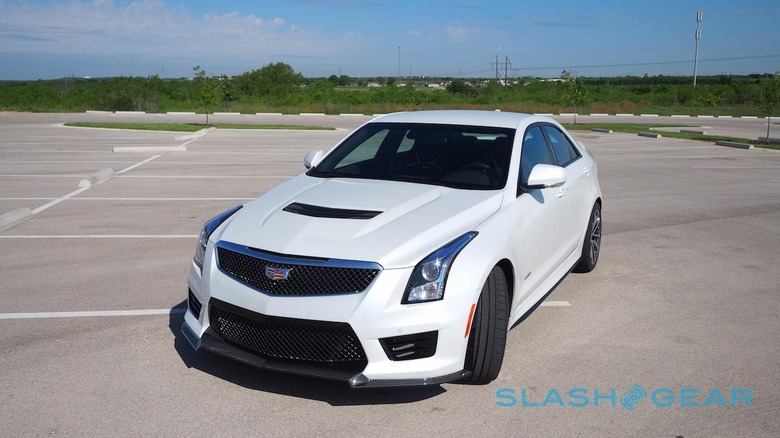 Just about everything has gone on a diet or been refined, Cadillac suggesting that each component or design detail has had to earn its place in the name of improving performance. In fact, you could well accuse the V-Series engineers of being obsessional about it: every rotating component has been made lighter so as to cut inertia, for instance, while the exhaust valves are now hollow, and the turbocharger path has been made shorter so that there's less air inside to potentially compress and add lag.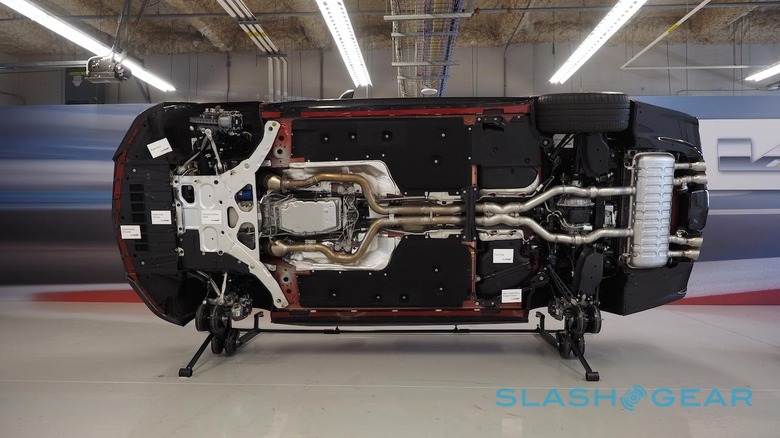 The regular car has been given a structural work-over, with a new under-panel, rear suspension support brace, new engine bracing, and even different glues used in the name of making things stiffer. New suspension bushings help there, too, and Cadillac swapped out some with ball joints to make them more responsive.
Overall, the engineers say torsional stiffness is up 30-percent over a normal ATS, but the changes don't end there. Cadillac has installed its third-generation Magnetic Ride Control suspension system, which relies on clever fluid-filled chambers that can vary their rigidity according to electrical charge.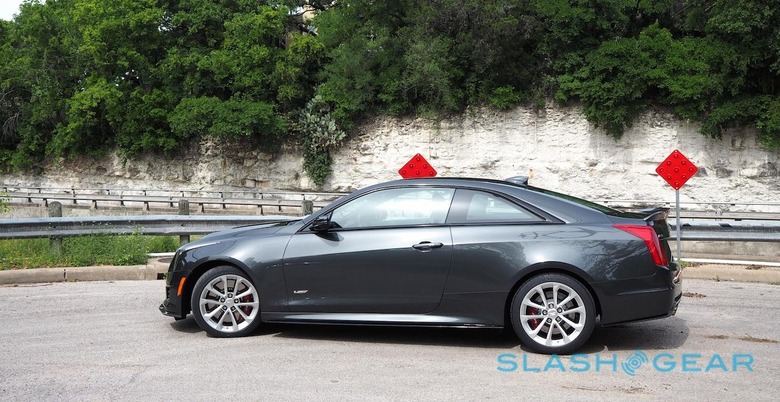 Thanks to a bevy of sensors and the accompanying processing, Magneride v.3 can make suspension adjustments in one inch of traveled road at 60 mph, versus the three inches the last-gem tech required. It now offers 40-percent more maximum dampening than the old system, getting the wheels back to the road surface quicker.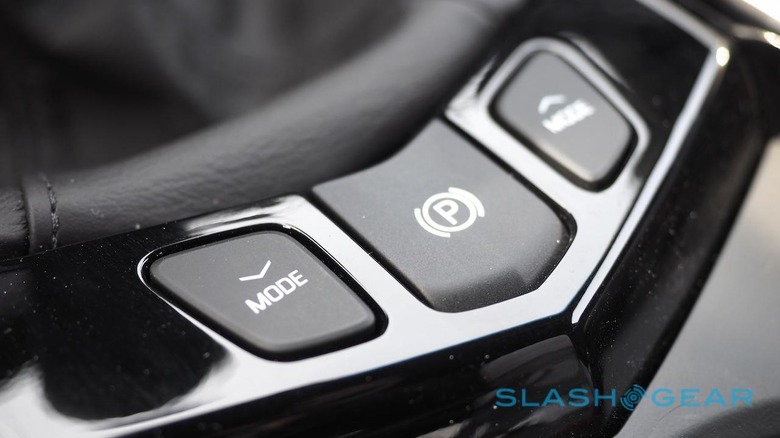 It works with the same Performance Traction Management system that can be found in Chevrolet's Corvette Z06, with four core drive modes – Touring, Race, Track, and Snow – along with five levels of track adjustment that, in the top two settings at least, switch off any lingering electronic nannying and leave you to your own devices (and fate).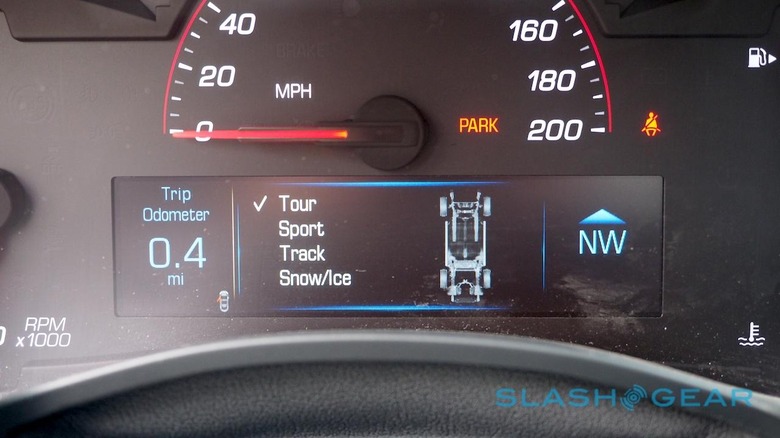 The enemy of a performance car – beyond speed cameras and over-zealous highway police – is heat, and Cadillac has left nothing to chance there. Every grille and vent has a purpose, and in fact the engineers had to get creative to accommodate every heat-exchanger they wanted to install.
So, there are eight heat-exchangers in total, along with an 850W cooling fan. Each of the "grillettes" – the lower side grilles – has an intercooler, linked with the main cooler for the engine. The auto transmission alone gets two coolers, one in the traditional place behind the grille, and another mounted flat on the underside, near the front, the only spot Caddy had left.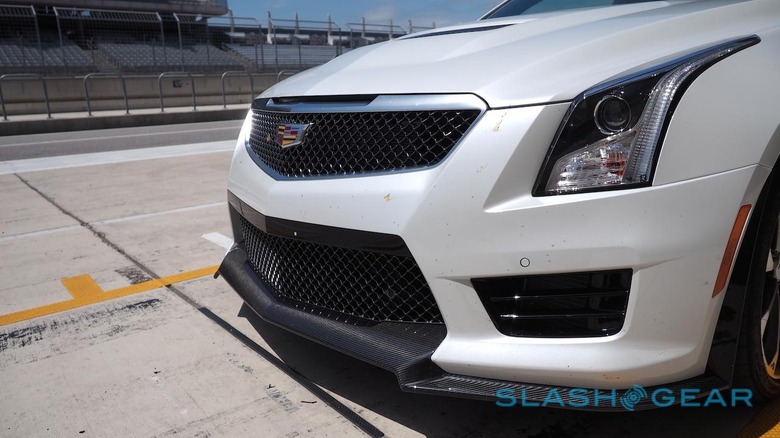 Even the grille mesh has been pared back, allowing more air to be sucked through. The standard Electronic Limited-Slip Differential – more on which in a moment – is linked into the same fluid system as the transmission, so that heat from the diff can get the gearbox up to temperature more quickly. Louvers top and bottom balance airflow, while ducts deflect cooling air to the six-piston Brembo brakes.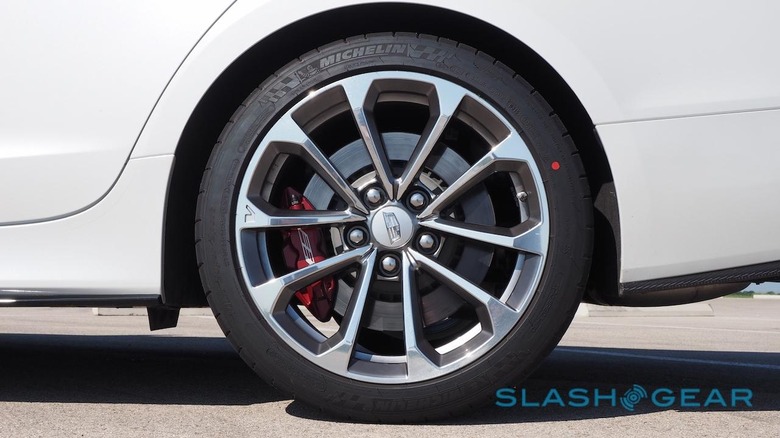 If there's a takeaway from all the tech, it's how usable it all feels, and how it contributes to what Cadillac calls the perception of the performance. The new ATS-V looks the part, too, clearly recognizable as an ATS but with much of the bodywork new and relying on lightweight materials like carbon fiber. The entire hood is made of it, and if you tick the option box for the Carbon Fiber Package you get a lightweight and redesigned front splitter, rear wing, and other components.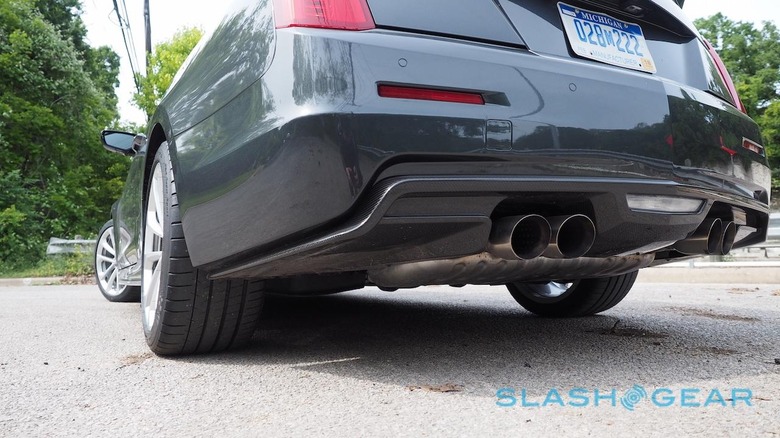 Just as there are two body styles, so Cadillac offers sedan and coupe with a choice of transmission. The ATS-V's best performance record was set in the automatic car, in fact, an 8-speed with a torque-converter rather than the more fashionable dual-clutch system that some rivals use (and which is conspicuously absent from GM's parts-bin). It's a $2,000 option, but earns its keep by virtue of its eagerness to keep the engine spinning in its sweet spot.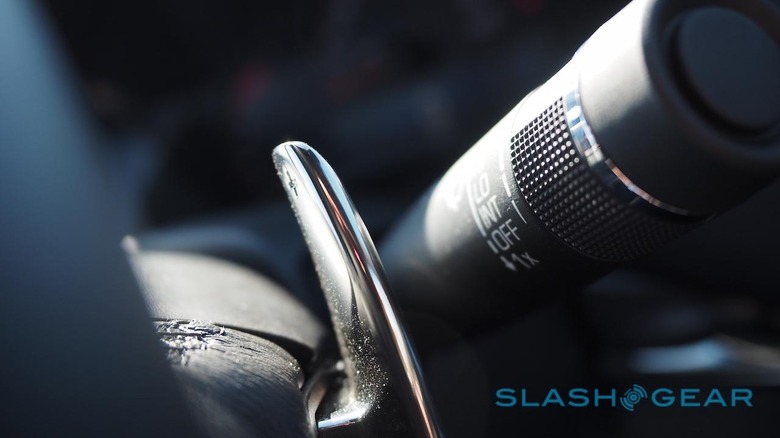 That's not to say the 6-speed manual is an underwhelming cousin. Cadillac has paired it with a somewhat lighter clutch than the meaty pedal in the current CTS-V, along with automatic rev matching for downchanges and a clever no-lift shift system that – once you've retrained your brain to suit – allows you to keep your right foot buried while still slamming in the clutch and jabbing the stubby, precise shifter to the next gear. There's launch control, too, which puts the car in charge of avoiding wheelspin.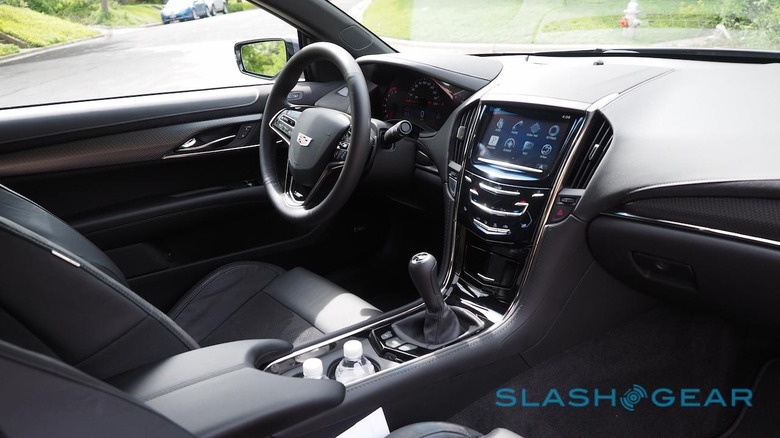 Although Cadillac had promised a trip to the challenging Circuit of the Americas (COTA) to show just what that all that added up to on the track, my first curiosity was whether the claims of a racer just tame enough for everyday use were accurate.
Turns out, if you're prowling suburbia the ATS-V is a surprisingly cosseting way to do it. The automatic slicks through its changes smoothly, while the nicely-weighted clutch meant the manual was no great hardship, even in sporadic traffic. There's no auto start/stop, but in Touring mode the engine was quiet enough at the lights that I second-guessed that. Driven sensibly, the EPA says you should see 16/24/18 mpg (city/highway/combined) from the automatic, or 17/23/19 mpg from the manual.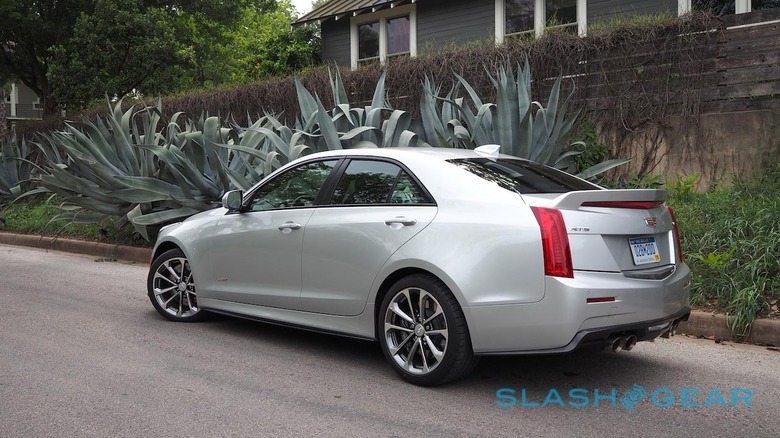 As for the Magnetic Ride Control, that ironed out some of the more poorly-maintained road surfaces Austin had to offer, and left me tensing for a harsh clatter over speed bumps that never actually came. In fact, my only real concern after a few blocks of nosing through residential streets was keeping the low carbon fiber spoiler out of harm's way, though Cadillac has sensibly integrated dipped radar sensors that ping out a warning should you be risking your expensive bottom lip.
It's not the only gadgetry in the cabin, which comes with the same attention to detail that Cadillac – raising its game significantly from the ELR onwards – is now capable of. Leather, sueded microfiber, Alcantara, wood, and real carbon-fiber grace the dashboard, doors, and seats, hand-stitched and beautiful to the touch; only the glossy black plastic of the center console, apparently keen to preserve every greasy fingerprint it can get, spoils the show, though I'd not argue with a more expansive LCD in the driver binnacle rather than the comparatively small panel fitted.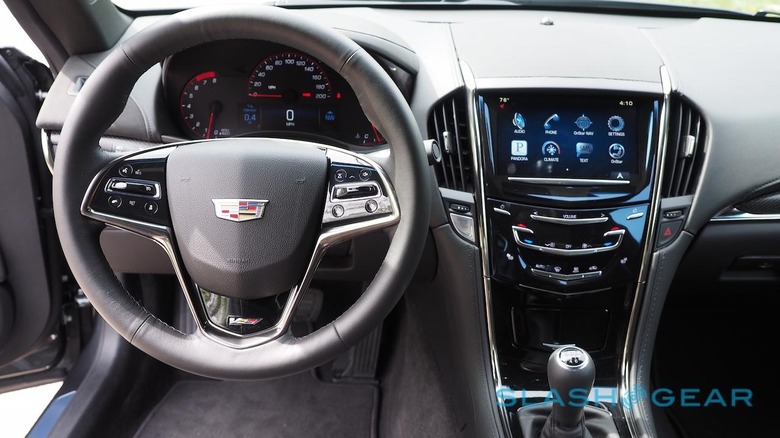 The center console touch-panel motors open to reveal a wireless charging pad for your smartphone, pleasingly compatible with both the Qi and Powermat standards, along with USB and aux-in inputs for the CUE infotainment system. Cadillac's homegrown software may not have made too many friends among reviewers, but at least it's faster on the 2016 ATS-V, helping cut down on the treacly, unresponsive feeling previous cars have exhibited.
Standard is 4G, with a WiFi hotspot feature sharing the AT&T LTE between up to seven devices. If your wallet stretches to it, Cadillac will gladly fit the usual aids and assists from the regular ATS, too, like automatic parking, but unlike the Germans a lot of the tech is standard, such as keyless entry and a reversing camera.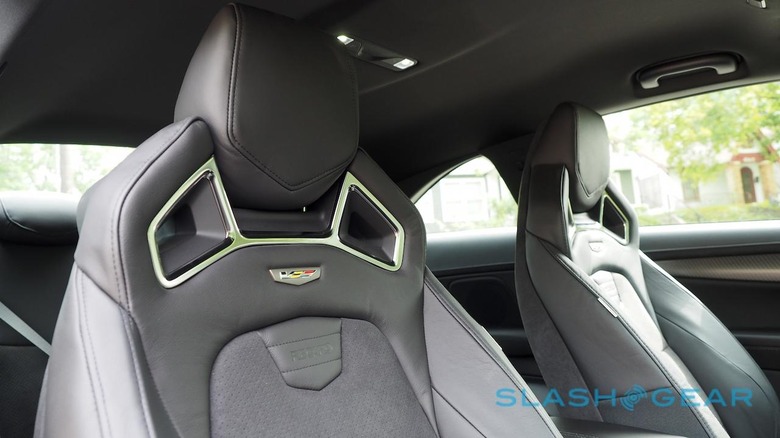 One thing worth paying extra for is the Recaro sports seats, co-developed by the two firms and which both look and feel great. 16-way adjustment could've been a recipe for ergonomic disaster, had Cadillac taken the easy route and scattershot a spray of buttons along the side, but instead you get a straightforward knob and control pad that, thanks to on-screen graphics in the center stack, makes it easy to understand which bolster you're adjusting.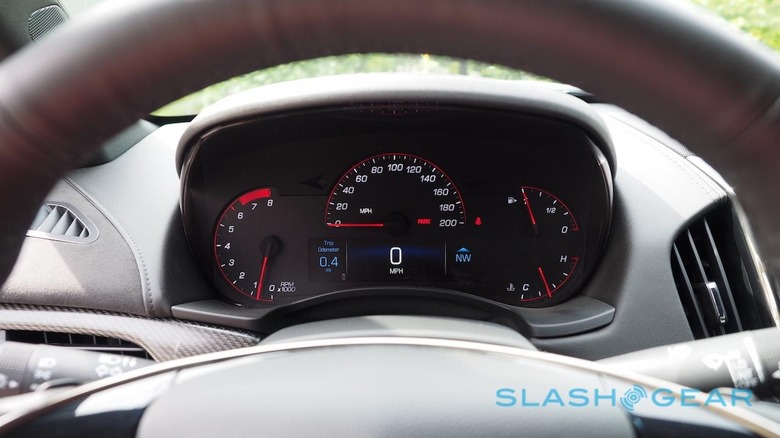 There's only so much time you can spend mimicking the school run, however, and things got far more interesting on the track. Actually, I had an unexpected sneak-preview on the drive there, with Cadillac's Leone as co-pilot.
Having been in the midst of a demo of the drive mode system, and how the full-throttle flaps in the exhaust kick in most throatily when the ATS-V is set to Track – aided with some Bose tuning that massages unrewarding frequencies in the cabin and emphasizes more pleasant ones – the instruction to take a highway on-ramp came a little later than expected.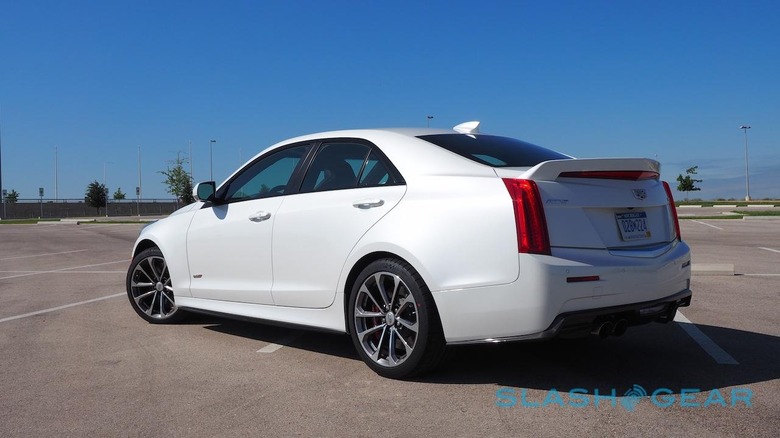 I yanked the wheel, the Cadillac instantly turning in accordingly, and unwittingly roused the dragon that is Performance Algorithm Shift. That watches driving style to figure out when you might be in track conditions or simply feeling more aggressive, tautening up the steering and suspension, along with holding lower gears for longer, as a result. As we surged onto one of Austin's thankfully 85mph-limited roads, Leone insisted his direction was inadvertently tardy, though I'm still not entirely convinced.
Things climbed to a whole other level once we reached COTA, however. It's a wily course, with sharp hairpin bends that demand you shed more speed than you might initially guess, together with some long straights that give more potent vehicles an opportunity to show off their acceleration.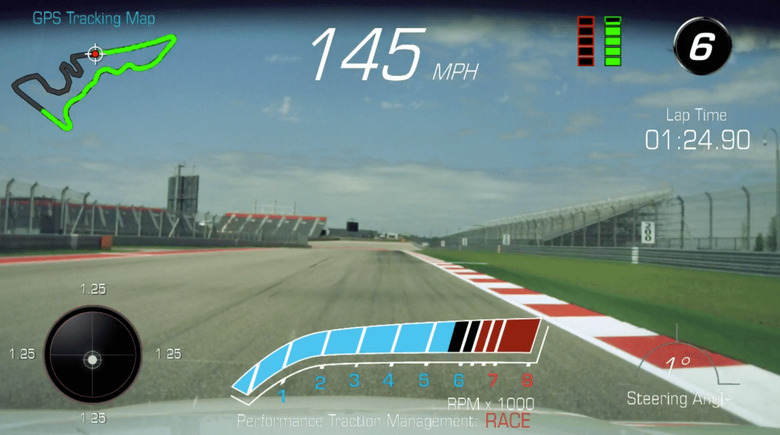 Having driven it before in the all-wheel drive Audi S3, and been surprised at quite how tricky some of the corners could be, I started out a little tentative in the RWD Cadillac. What you quickly realize, however, is that while the ATS-V is undoubtedly quick in a straight line, it's astonishingly adept in the turns, too.
No body roll, no protesting. Thanks to the Electronic Limited-Slip Diff, the ATS-V can funnel more power to the inside wheels, something that improves traction and stability both when you're out racing and when you're making lane-change maneuvers (or last-minute onramp hooning).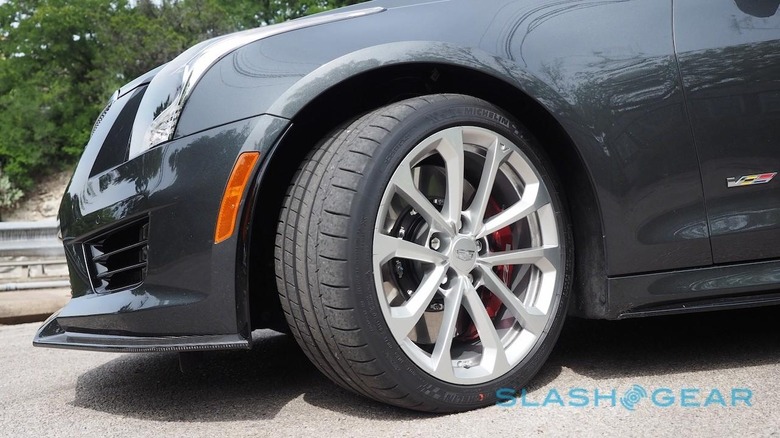 I love driving but I'm no track star, and what became clear is that the ATS-V prefers to flatter you than fight you. Take a corner a little faster than is maybe wise, and though the back end can start to flutter out, it's readily corrected. Jab the throttle and you can feel the Caddy hunker down and grip, the Michelin Pilot Supersport tires developed especially for the car delivering on their promise of suiting both road and track.
Snapping through gear changes with the polished rifle-shot paddles leaves you feeling connected, but really the automatic transmission is more than capable of picking the right gear. If the ATS-V was ever left wrong-footed it was because I goofed rather than the car, though the surfeit of power was invariably enough to get me back on line.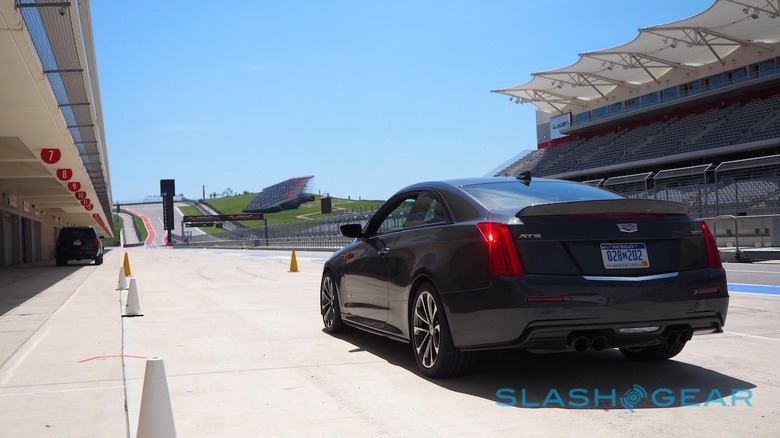 As for the manual, no-lift shift proved to be astonishing, particularly on the COTA's longest straight where ramming through the cogs meant 135+ mph arrived with ridiculous ease. Thankfully the brakes refused to protest, hauling up the roughly 3,700 pound car in a manner both predictable and impressive (as you might expect when they're borrowed from the outgoing CTS-V, which is considerably heavier).
Cadillac had brought along professional driver Sylvain Champoux, and it seemed churlish not to invite him to take me for a lap or three, not to mention a good opportunity to test out the ATS-V's Performance Data Recorder. Borrowed from the Corvette, the $1,300 option includes a 720p camera hidden behind the rear-view mirror that feeds its footage – along with telemetry like speed, engine speed, G-force, gear, and even GPS-located position on a track – to an SD card in the glovebox.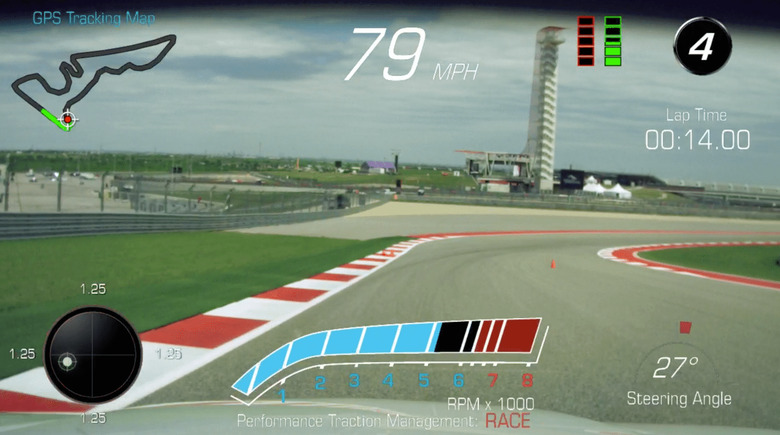 Controlled by the touchscreen, PDR offers four different levels of data overlay – from pure video through to all the metrics it's capable of capturing – and comparison tools in Cadillac's downloadable app. Usefully, all ATS-V cars are pre-wired for the system, so retrofitting is a dealership option.
Champoux did just what I'd hoped he would: shut off all the nannying and allowed his own abilities plus those of the car to take me on my fastest lap yet. COTA was still set up with more aggressive curbs from its last professional race, but we were able to cut through them nonetheless, the Caddy's clever magnetorheological suspension communicating a ripple through to the cabin rather than the jolting shudder we should've felt.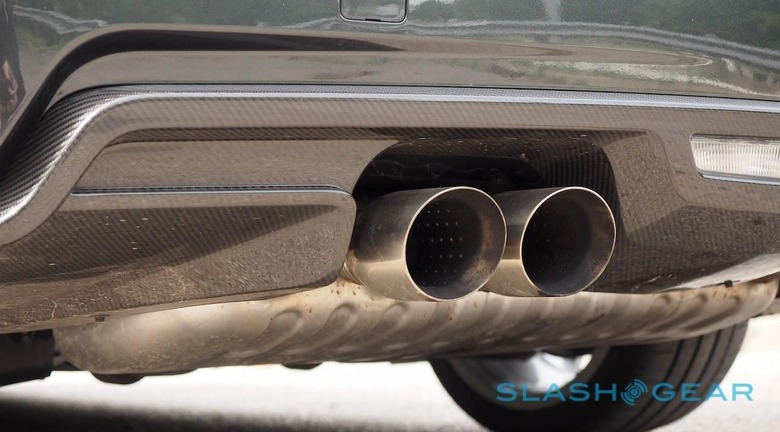 Cadillac's goals with the ATS-V are simultaneously ambitious and humble. On the one hand, V-Series cars have always occupied a relatively small niche; sales targets are correspondingly conservative, though Cadillac execs wouldn't be drawn on exactly how many the company hopes to sell.
At the same time, however, the hope is that the ATS-V will lower the barrier to entry for V-Series, bringing more advocates to the brand, and giving its performance arm a little extra street cred.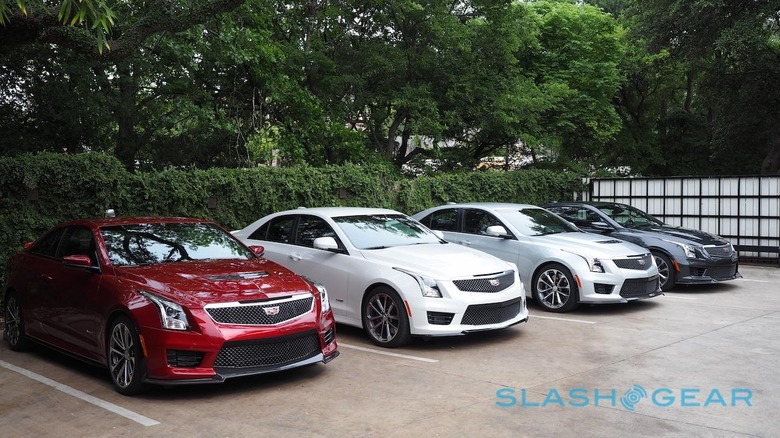 The clear competitors are BMW's M3 and M4, which Cadillac admits it used as a benchmark. The ATS-V is certainly more powerful, as well as out-performing Audi's RS5, though the Mercedes-AMG C63 keeps its position in the horsepower and torque poll.
That Cadillac has built a car worthy of consideration against the German all-star line up is hugely impressive. That it does so while keeping a distinct personality is similarly a milestone for the firm, and testament to the V-Series division.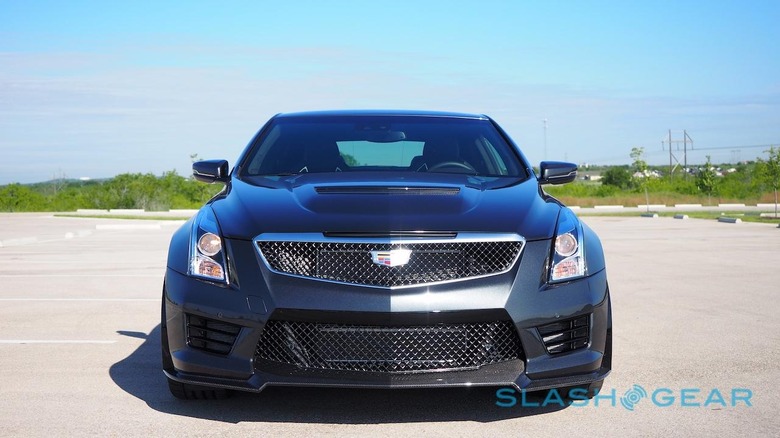 Arguably the bigger challenge than the actual cars from BMW, Mercedes-Benz, and the others is badge perception. The cachet of an M3 keyfob, even if you'll pay more than the ATS-V's $61,460 starting price (or from $63,660 for the coupe) to match the specifications, is vast. In contrast, though the American car may clearly differentiate itself from stablemates by virtue of aggressive styling, come Spring when deliveries begin you'll still more than likely find yourself having to explain to friends and strangers alike why you went for the Cadillac.
Some will balk at that. Others, almost certainly a smaller percentage, will rise to the opportunity to have something different. And, whether they justify with their love of American muscle, or through loyalty to the home team, or simply with a shrug, they'll at least know they're driving the best V-Series all-rounder so far, and the insider's pick from Cadillac's line-up.