The Cadillac CTS-V is a 200mph slap at BMW
What's been holding Cadillac back, president Johan de Nysschen said today, is its absence of a small crossover and an entry-level luxury model, then proceeding to reveal a 200 mph super-sedan. The 2016 Cadillac CTS-V may not fill either of the increasingly obvious gaps in the GM luxe-marque's line-up – though cars to address both needs, among others, will come before 2020 the company insists – but it does do something arguably more interesting from a driving perspective, in taking the power fight directly to BMW's M and Mercedes-Benz's AMG ranges.
The big number for Cadillac is 200 mph, faster than either of its German rivals can squeeze from their competing cars. To achieve it, the CTS-V turns to a 6.2-liter V8 engine with a supercharger, mustering 640 HP and 630 lb-ft of torque.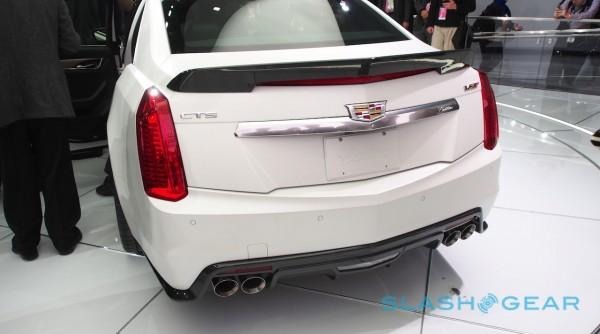 That's channeled through an eight-speed automatic gearbox with manual override through the paddles. As we saw with the ATS-V announced back in LA a few months ago, that eschews a dual-clutch system, relying "Performance Algorithm Shifting" that Cadillac claims will deliver both the speed of a DCT but the smoothness of a conventional torque converter.
Power isn't the only thing Cadillac is throwing at the market, however. It's also playing on its rivals' reputations for nickel and diming drivers who want to equip, say, a BMW M5 for the track.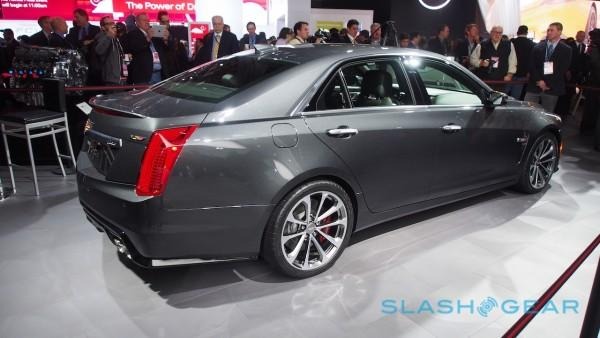 Whereas specifying race-ready brakes for the M5 would be a $9k tick on the options list, de Nysschen pointed out, every CTS-V will come with a top-spec Brembo system. That comprises two-piece 15.3-inch-diameter front rotors with staggered six-piston calipers, and 14.3-inch-diamter rear rotors with four-piston calipers.
There's also Magnetic Ride Control, upgraded for 40-percent faster damper response, while the chassis has been stiffened by 25-percent.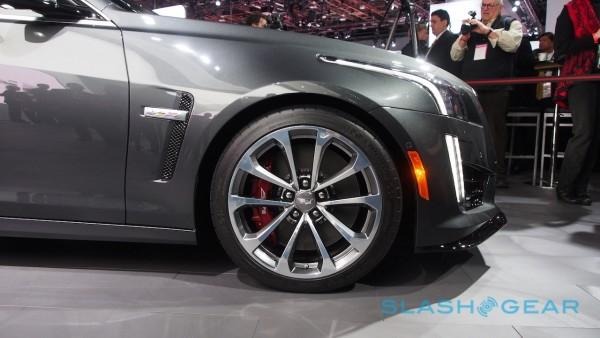 Curb weight is kept light with plenty of carbon fiber – the hood as standard, but the hood vent, front splitter, rear spoiler, and rear diffuser can all be had in the glitzy material – though pair the color and the carbon in the wrong way (or, conversely, the right way depending on how your tastes skew) and the CTS-V starts to look pretty lairy.
Cadillac's white car, for instance, very clearly broadcasts its power. The metallic grey version of the CTS-V, meanwhile, is a lot more discrete.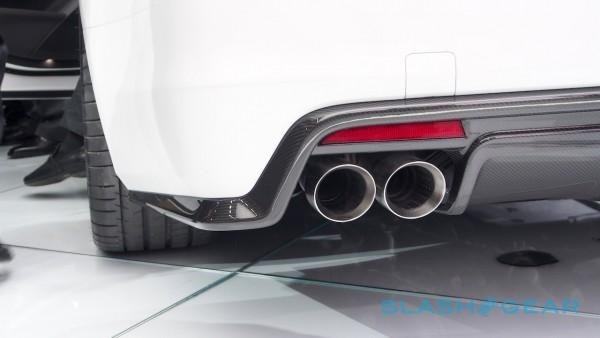 Among the tech is Cadillac's CUE infotainment system, front and rear cameras to help avoid crunching your expensive splitters on the curb, and automatic park-assist for parallel and perpendicular spots. Guessing that many CTS-V cars will end up on the track, Cadillac has borrowed the Performance Data Recorder system – effectively a camera that overlays driving telemetry – from the Corvette C7.
Cadillac has certainly been ambitious with the CTS-V, and is clearly counting on its "V" range of performance-focused variants to help rebuild its reputation for a more interesting breed of luxury. Big sales will more than likely have to wait until that compact crossover and sub-ATS luxury sedan arrive, but those swayed by the idea of 200 mph and an American badge will be able to grab the CTS-V keys from summer 2015.