Twitter's Safety Team Tried To Warn Musk About Blue's Disastrous Relaunch, But He Didn't Listen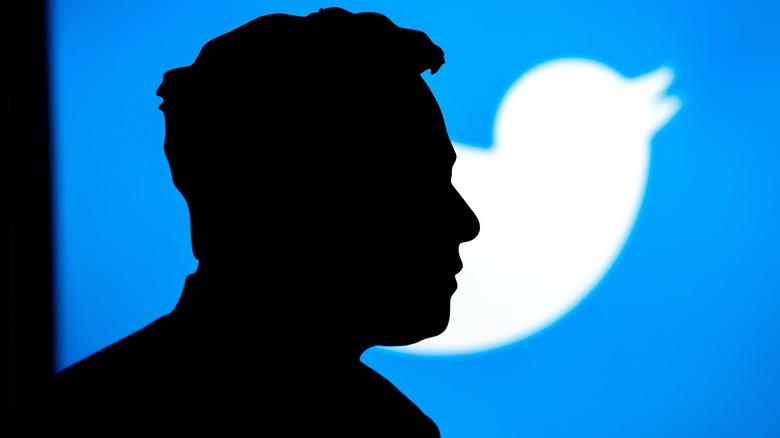 kovop58/Shutterstock
If you've been following the saga of Elon Musk's acquisition of Twitter, you probably know that the last two weeks have been filled with chaos and strife. With thousands of employees laid off with no warning, entire departments closed down, and advertisers pulling out of their previous deals, Twitter is pretty much on fire right now — and not in a good way. Musk's focus has been largely focused on revamping Twitter Blue. It didn't go well, and it seems that Musk had been more than adequately warned before deciding to go through with the plans.
Twitter Blue, the subscription plan that costs $8 a month, and the verification checkmark that some users received before Musk ever took over, are two separate topics — but Musk made them very intertwined. Early on, Musk decided that being verified on Twitter should come as a perk for the Blue subscribers. The billionaire even vowed to remove the old, "corrupt" legacy verification checkmarks over time, and this started happening fast; people who bought Blue couldn't get their previously-verified status back.
One might think it's a sensible idea to lock the coolest perks behind a paywall if one wants to make money, but unfortunately, these decisions led to disaster. High-profile accounts were being impersonated en masse by unaffiliated people who spent $8 in order to get verified and do some Twitter trolling. Even though Musk changed the rules for parody accounts in a tweet, it was too little, too late. The damage was already done, and it could have been prevented.
Musk ignored all warnings
Taylor Hill/Getty Images
Seeing as Twitter Blue started selling verification right away, it didn't take long for the situation to dissolve into chaos. Plenty of people and companies have been affected by users making "verified" accounts in order to pretend to be someone else, and it was easy enough to fall for. While Nintendo of America allegedly tweeting a picture of Super Mario making a rude gesture is mostly funny, for some, the tweets have been downright cruel. As reported by the Washington Post, a pharmaceutical giant called Eli Lilly saw the value of its stocks plummet after someone impersonated it on Twitter and said that insulin is now free. It took Twitter six hours to remove the tweet. All of this can be traced back to decisions made by the new management with Musk at the helm.
The Verge has gotten ahold of inside information coming from Twitter employees, both current and former. According to these reports, Musk had been informed days before the actual launch that the current strategy for Blue was not going to work. Twitter's Trust and Safety team prepared a list of warnings, some marked as critical. One such critical warning reads: "Motivated scammers/bad actors could be willing to pay ... to leverage increased amplification to achieve their ends where their upside exceeds the cost." Another warning included the "impersonation of world leaders, advertisers, brand partners, election officials, and other high-profile individuals."
Ultimately, the rollout of Twitter Blue had to be stopped and no one knows what's going to happen to it now. One thing is for sure — these types of stunts are not going to help Musk recover advertiser trust, and according to inside sources, many have already pulled out of their advertisement deals with Twitter.