Why So Many Porsche Fans Don't Like The 924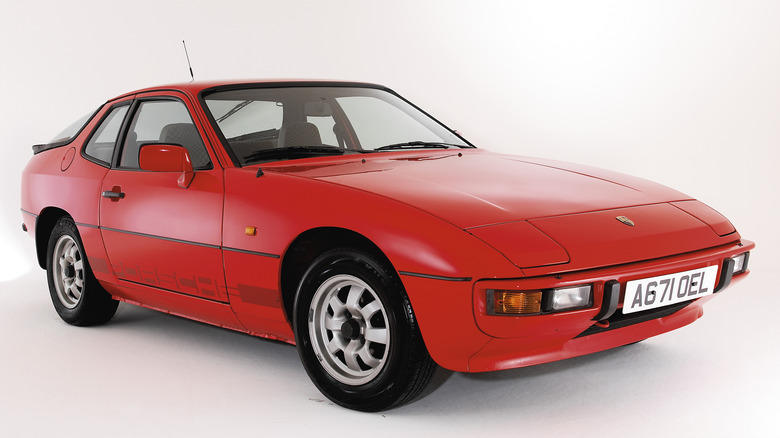 Heritage Images/Getty Images
Like it or hate it, Porsche is one of the most celebrated car brands to ever exist. From the Porsche 356 of the 1950s, to the cutting-edge EV Porsche Taycan, it's hard to overstate the nameplate's impact on both automotive culture and technology as a whole. One of the crown jewels of Porsche is the venerable 911 sports car. Depending on who you talk to, the Porsche 911 is a mythical "Perfect Car." Its rear engine design makes it a formidable track opponent, and dozens of motorsports wins across virtually every area of the sport show that the 911 knows what it's doing in the world of speed and maneuverability.
It's a safe bet to say that Porsche has its share of excellent cars. Even more mass-market cars like the Porsche Cayenne SUV have a strong fan base. While it's hard to say that Porsche has any "budget" options, the lower-priced Porsche Boxster offers mid-engine thrills for anyone who doesn't want to be seen in a Pontiac Fiero or shell out the cash for a supercar. One such Porsche, however, has a few detractors. It's the ugly duckling among Porsche's pond of swans. The model is the Porsche 924, a car that started as a Volkswagen and ended up getting promoted to join the Porsche lineup.
Betrayed by the badge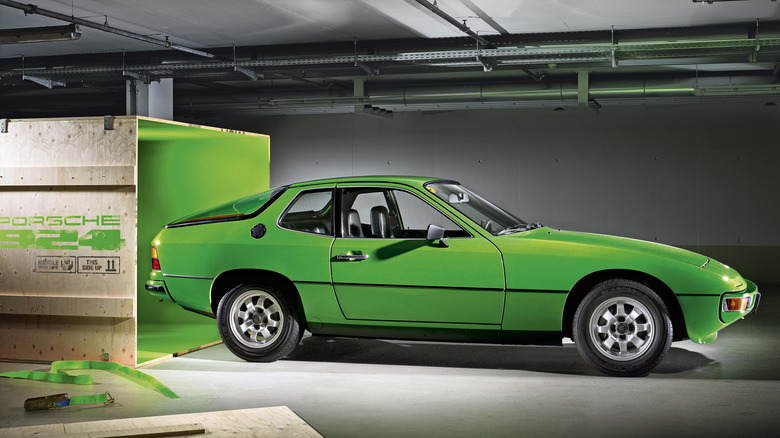 Porsche
Much like other well-known high-end German automakers like BMW and Mercedes-Benz, it's hard to say that any of Porsche's cars were truly "bad" like the Zastava Yugo. The Porsche 924, when it was introduced in 1976, didn't really look like other Porsches from the past. It was designed to be a successor to the Porsche 914. But instead of the classically good looking 911, the 924 looked more like a kit car with pop up headlights than anything Porsche would normally have put its name on. In a move seen as heretical to the Porsche-faithful, the 924's Audi-sourced engine was in the front of the car. That powerplant produced a scant 125 horsepower (via Porsche). The 924 was intended to be Porsche's entry level car, but it had an MSRP of $16,770 (over $64,000 today). In a world of lower-priced sports cars from Datsun and the last remnants of the muscle car generation, a bizarre looking front-engine Porsche with an Audi engine was a hard sell.
To some, the 924 was a Porsche in name only, as it featured many parts from parent company Volkswagen and shared essentially nothing from previous Porsche models. It looked more like a direct-to-video sequel than a summer blockbuster. Eventually Porsche redeemed itself somewhat in 1986 and started using a Porsche-developed engine in new models. By then, the car had been around for a decade and Porsche had better things to do, like make another version of the 911.
Porsche 924s aren't dismal cars, but it was betrayed by its own nameplate. Fans were expecting a mini-911 and got a Volkswagen instead.