The Mitsubishi FTO Is A Classic JDM Sports Car You Can Actually Afford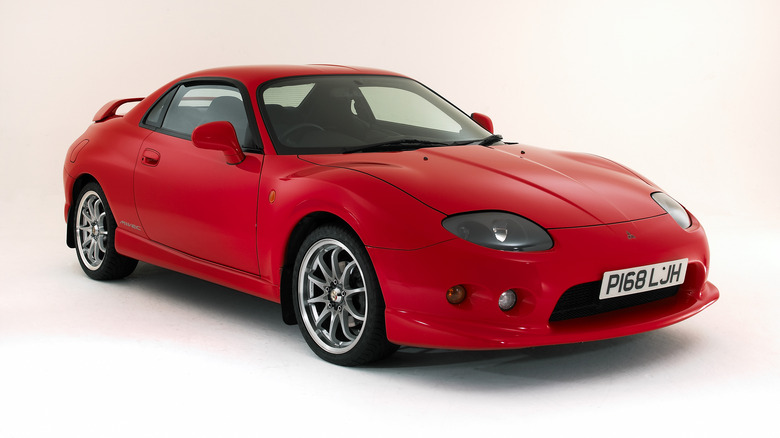 Heritage Images/Getty Images
The Mitsubishi brand is now content with selling ordinary, yet fuel-efficient compact cars like the Mirage and stylish crossover SUVs like the Outlander, but it wasn't always this way. In the 1970s, Mitsubishi introduced the Galant Coupe FTO — a two-door fastback coupe based on the first-gen Galant saloon. It was the first Mitsubishi production car to wear the FTO (Fresco Turismo Omologato) badge and entered production from 1971 to 1975.
However, the more famous Mitsubishi vehicle to carry the FTO brand is the FTO sports car produced from 1994 to 2000. It was among the rare JDM classics that kids in the mid-1990s went gaga over in the original "Gran Turismo" game on the PlayStation 1. It also played a starring role as Jackie Chan's weapon of choice in the epic 1995 racing movie "Thunderbolt." In that movie, the baddie drove a Nissan R32 GT-R, but the humble Mitsubishi stood up quite nicely against Godzilla in an all-or-nothing car chase.
Mitsubishi FTO: JDM hero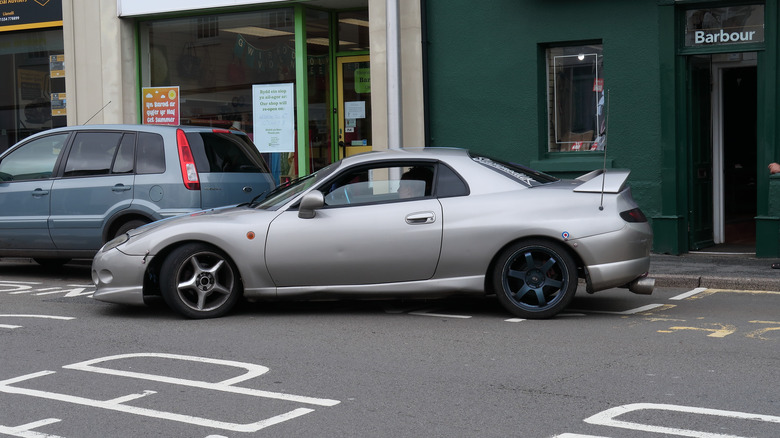 James Hime/Shutterstock
Mitsubishi had a rebellious streak with the Galant VR-4 (Motor Trend's Import Car of The Year winner in 1989), Lancer Evolution, and the GTO/3000GT grand-touring sports car. Slotting between the almighty 3000GT and the Eclipse was the FTO — a front-wheel drive sports coupe originally planned to be strictly a Japan-only model. Available in three engine choices, the FTO is not as popular as its Evolution and Eclipse siblings, but that makes it doubly desirable, since only a dedicated number of enthusiasts are familiar with Mitsubishi's quirky coupe.
First launched in Japan in 1994, the Mitsubishi FTO came in three flavors. According to AutoSpeed, the base FTO GS had a 1.8-liter four-cylinder engine with 16 valves and single overhead camshafts (SOHC), pumping out 123 horsepower. It had a standard five-speed manual gearbox and an optional four-speed INVECS-II automatic transmission, derived from German automaker Porsche's Tiptronic gearbox (per Motor Biscuit). The gearbox behaves like a proper automatic in standard mode, but the driver can switch to manual mode and select gears manually without a foot-driven clutch.
V6 power available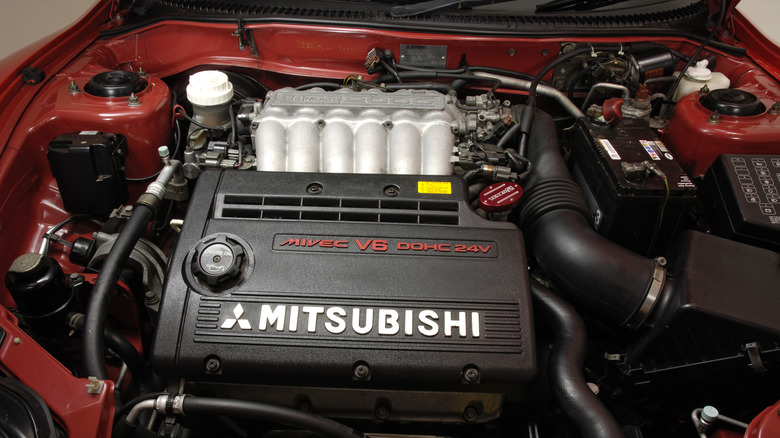 Heritage Images/Getty Images
Meanwhile, the mid-tier FTO GR has a 2.0-liter V6 engine with double overhead camshafts (DOHC), suitable for 168 horsepower, while spinning to a heady 7,000 rpm. However, the most badass Mitsubishi FTO is the range-topping GPX. It has the same 2.0-liter V6 mill as the GR. Still, it came with the brand's MIVEC variable valve timing technology to boost the output at 197 horsepower, a considerable number for a 1990s hero car (per AutoSpeed). It went from 0-60 mph in 6.6 seconds, not bad for a sports car of the era (via automobile-catalog.com) The FTO GPX also had bigger brakes, two-piston front calipers, new 16-inch wheels, updated side air dams, and a rear spoiler.
The Mitsubishi FTO won the Japan Car of the Year award in its 1994 debut. Mitsubishi created a limited-edition FTO GPX to celebrate the award and released 207 units of the commemorative FTO GPX from 1994 to 1995 (per Motor Biscuit). Mitsubishi FTO models manufactured from 1997 to 2000 received a moderate facelift (via SMC). It got a redesigned front bumper, a front splitter, and a larger rear wing. If you fancy a piece of Mitsubishi nostalgia, the FTO is an affordable JDM car worth considering, but prices are rising fast. Prepare to spend upwards of $9,000 to import a Mitsubishi FTO in the U.S. Also, remember that Mitsubishi FTOs manufactured from 1994 to 1997 are eligible under the 25-year rule as of 2022.