This Gold Galaxy S21 Is The Most Luxurious New Android You Can Buy
Each successive generation of smartphones — tricked out with the latest bleeding-edge features — comes with an exponentially higher price tag. For instance, Samsung's latest top-of-the-line Galaxy S22 Ultra (available in seven fashionable colors) clocks in at a staggering MSRP of $1,399.99 (via Samsung). Apple's best of the best iPhone 14 Pro — available in only four colors — will set you back an even larger $1,599 (via Apple). Sure, you can find a plethora of deals, whether by hook, crook, or trade-in, from an endless number of phone providers that'll knock that cost down to something that resembles reasonable. Still, that's a lot of moolah for a gadget you're probably going to break the screen of six months in, and will become obsolete faster than a celebrity romance.
That same $1,400 can buy you a decent PC gaming laptop, a massive 75" big screen television with a thumping sound bar and subwoofer, or a lot of groceries ... if practicality floats your boat in this overinflated day and age we find ourselves in today.
If money is no object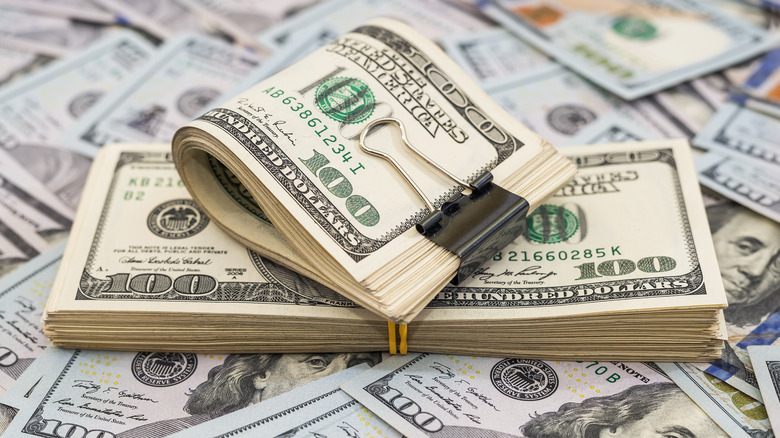 TaniaKitura/Shutterstock
But maybe you're one of the lucky ones born with the athletic prowess to become a pro athlete, have the sultry pipes to make it as a pop star, have access to a trust fund, or invested well in cryptocurrency. If so, you can probably afford to take your smartphone to, as Eugene Struthers would say, "a whole 'nutha level."
From the folks who brought you the most expensive PlayStation 3 console ever made comes another piece of wallet-crushing goodness: the most expensive Samsung Galaxy S21 ever made. For a mere $9,742.87 (at today's conversion rate), you too can have this "ultra unique edition" from Stuart Hughes; adorned in 24 carat gold, with an inlay of carbon and crocodile leather, finished off with hand-engraved gold flourishes along the bottom.
If 24 carat gold doesn't tickle your fancy, you can order it with 18 carat rose gold or platinum. It even comes with a "unique" wooden box and Certificate of Authenticity to wow and amaze your friends. This Samsung Galaxy S21 is the 512GB, unlocked model, so it should work on every network around the globe.
But is it really the most expensive Samsung in the galaxy? Apparently, there's a large enough market for these blinged-out baubles that not one, but three different companies (Stuart Hughes, Caviar, and Aurum Edition) make ultra expensive versions of everyday items. With so many options available, you'll have to decide what "luxurious" really means to you.