The 22CT Gold PlayStation 3 Supreme Is One Of The Most Expensive Consoles Ever Made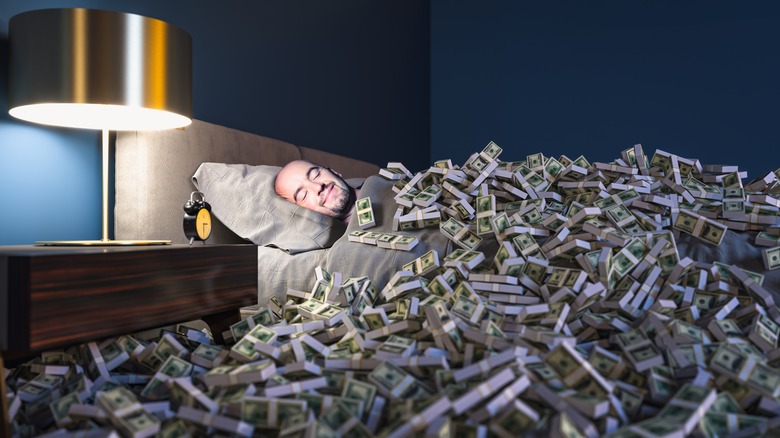 gualtiero boffi/Shutterstock
Over its lifecycle, the PS3 came in the original "fat" version, the "slim," and finally, the "super slim" model. And during that time, Sony made numerous versions with different colors, logos, or special editions based on its vast catalog of games. Some were offered for sale to the public, while others were giveaways at certain events.
For instance, there was the satin silver version available in Japan, the Biohazard 5 Resident Evil Edition console (also only available in Japan), and the red PS3 that was first released in Japan but then offered to the United Kingdom as well. For a charity auction, a one-off Metal Gear Solid 4 console was made with a laser-cut stainless cover and a "digital camouflage" paint job (signed by Hideo Kojima).
To be clear, in this case, we're not talking about the gold-platted PlayStation 3 Slim that Computer Choppers (who appear to no longer be in business) was champing at the bit to sell back in 2009. Sure, it was dipped in 24-karat gold and came with a matching controller and custom logos made from your choice of fancy materials (chrome, black chrome, 24kt gold, white gold, rose gold, platinum diamonds, etc.). Supposedly only five of these were made, so at $5,000 a pop, the price was at least somewhat "reasonable."
But none of these hold a candle to the 2009 PlayStation 3 Supreme, customized by the fine purveyors of perfectly unaffordable goods: Stuart Hughes and Goldstriker International.
Show them the money!
These folks claim it took "twelve weeks of unambiguous workmanship" to create each one of these ultra-expensive extravagances. The group only made three and sold them for £199,995 (roughly $320,000). But that was back when the pound sterling was worth more. This "l33t" console was honed from 56 ounces of solid 22-karat gold, and both sides of the disc tray slot were bedazzled with an astounding 58 individually set, flawless, half-karat diamonds totaling 26 carats in weight.
Twenty-two karat gold is only 92% pure, so it's not like it was decked with the good stuff (24kt), but as of this writing, it's still $1,518.40 an ounce. After some quick math, that adds up to $85,030.40 worth of gold. The value of a flawless half-carat diamond is a bit harder to nail down because of the exacting nature of diamond grading. But, if these beauties are genuinely "flawless," each one might be worth as much as $3,820 or as little as $450. Breaking out the calculator again, the 58 half-carat diamonds alone could be worth $221,560.
Combining the gold and diamonds, you have a high-end worth of this supreme PS3, sitting at $306,590.40. On the other end of the scale, it might only be worth $111,130.40. At today's exchange rates, that same £199,995 would equate to about $226,110.
Big gamble on such an opulent object that could potentially become an obsolete doorstop. Diamonds might be a girl's best friend, but the same probably can't be said for a gamer.