Elon Musk Reveals Exactly Why He's Buying Twitter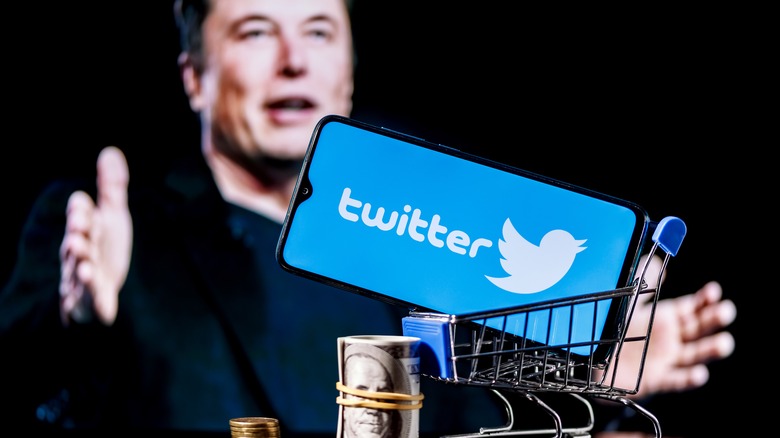 Sergei Elagin/Shutterstock
After months of back and forths, U-Turns, and memes, the Elon Musk/Twitter saga seems to be finally drawing to a close. The world's richest man has until the end of this week to finally close the Twitter deal. Otherwise, the ongoing court case between Musk and the platform's current board kicks back up. However, it's unlikely things will be going back to court as everything seems to suggest that the takeover is on the cusp of completion. 
Musk has some big plans for the platform, including expanding what users are allowed to say and laying off most of Twitter's staff. Earlier today, Musk took to the platform to give more detail on why he purchased the platform and what some of his plans for it are. In an open letter to "Twitter Advertisers," Musk stressed the importance of a platform where "a wide range of beliefs can be debated in a healthy manner without resorting to violence." He sees Twitter as a "common digital town square" and claims there is a danger that social media could split into echo chambers catering to different political extremes, which could go on to "further divide society."
The billionaire also takes a swipe at large media organizations and believes clickbait fuels hateful rhetoric, division, and extremism. Ultimately, Musk says he is buying Twitter as a service to humanity, which he claims to love. In his statement, Musk says: "That is why I bought Twitter. I didn't do it because it would be easy. I didn't do it to make more money, I did it to try and help humanity." Statements aside, he is a successful businessman, and a business motive might actually be behind his acquisition of one of the world's foremost social media platforms.
Musk makes an appeal to advertisers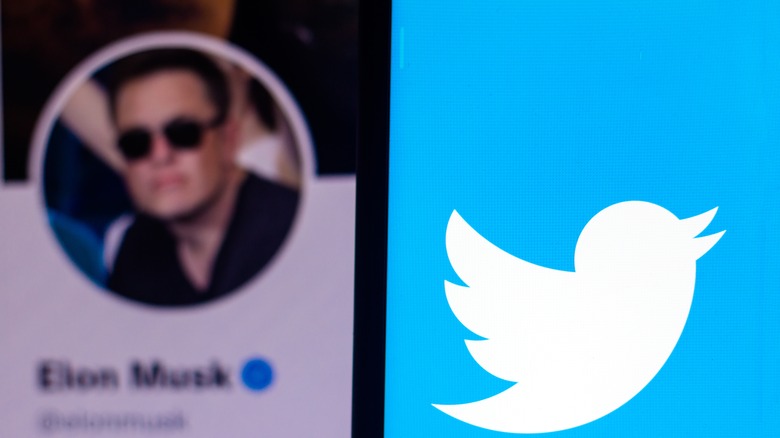 rafapress/Shutterstock
Twitter's new owner's statement seemed to be centered around selling his vision for the company to advertisers. The platform's survival is reliant on paid advertising, and if Musk's plans or a mass exodus puts those advertisers off, then the whole venture could become one of the most costly failures in business history. Musk actually hits out at what he considers "low relevancy" ads, but goes as far as to consider highly targeted ads as useful content. 
Dear Twitter Advertisers pic.twitter.com/GMwHmInPAS

— Elon Musk (@elonmusk) October 27, 2022
Musk then outlines his plans to make Twitter "the most respected advertising platform in the world." promising to strengthen their brands and grow their enterprises. Musk believes he isn't alone in having these views and believes highly targeted sales pitches can "delight, entertain, and inform" people. The three examples he uses are "medical treatments," "services," and "products." This isn't a new concept, with big tech companies basing their entire models around "ad personalization", or harvesting their users' data and using that information to sell highly targeted ads to other businesses. Like many similar services, Twitter already gathers plenty of data about its users and their interests. Going off the content of his statement, one of Musk's more controversial proposals for the platform could end up being another way Twitter can target ads at its user base.
Twitter may not become a free speech platform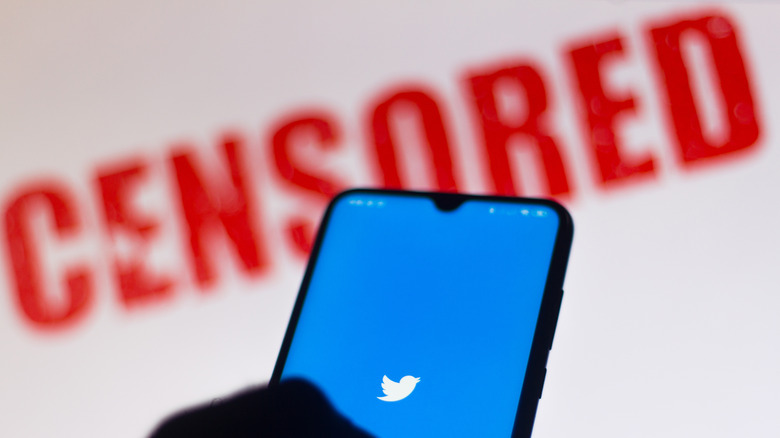 rafapress/Shutterstock
The note also offers a bit more detail on why Musk finally offered to buy Twitter at his original price. He plans to turn Twitter into a "free speech platform." Although it doesn't go into exact details, the billionaire reiterated his stance that limitations to speech should fall in line with established laws. He also expanded beyond legal limits slightly by stating that Twitter "obviously can not become a free-for-all hellscape, where anything can be said with no consequences!" Where the exact line is still unclear, but Musk stated that he wants the platform to be "warm and welcoming to all," before hinting the platform could be set up to allow users to "choose your desired experience according to your preferences."
Musk highlights a system currently used for movies and games to illustrate his point. This might suggest censorship of the platform will be in the users' hands. While bans could still be handed out for illegal activity (or legal, but still extreme speech), users may have to adjust their preferences to avoid seeing offensive speech beyond that. Just as people who are put off by the idea of chasing someone down the street with a chainsaw should avoid playing Grand Theft Auto, people who are put off by controversial rhetoric may have to tinker with their account settings.
This move is obviously a compromise compared to the stance Musk held a while ago, but it is one that makes sense. Mainstream advertisers tend to avoid platforms that host controversial content, but a preferences system could allow a range of companies to tailor their ads to people of varying opinions. Or it could just not work out, and Twitter could fail — something Musk has described as a "very real possibility."