Lucid Adds EV Home Charger With Bidirectional Outage Support To Accessories Catalog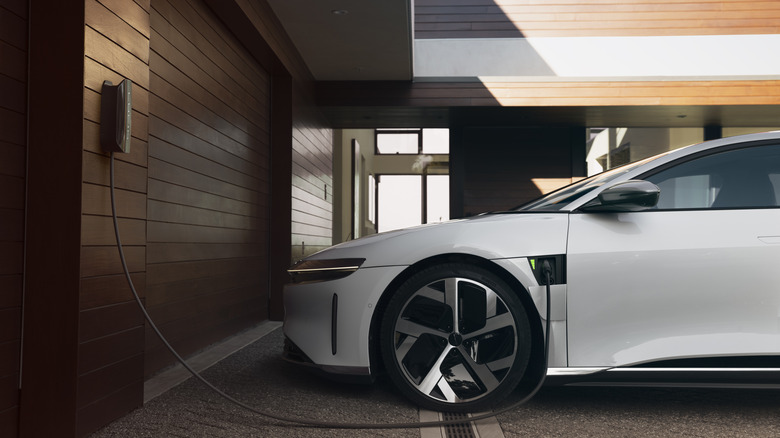 Lucid Group
The Lucid Air EV is a hyper luxurious EV sedan with upwards of 1,000 horsepower that can be equipped for more than 500 miles of range, making it one of the longest range EVs on the market today. Coming in at $154,000 for the Grand Air Touring model, Lucid Air is not a budget EV by any means, but it represents the future of EV superlatives and has the side effect of giving other electric super sedans like the Tesla Model S Plaid a serious run for its electrons.
Like the offerings from Tesla, the Lucid Air is relatively light on options. That's likely to simplify production and give customers a fully loaded car right from the factory. Nevertheless, the Air is an immensely capable (and immensely fast) EV. Today, Lucid announced in a press release a few more additions to the accessories catalog in an effort to make the Air stand out even more from the competition.
Lucid Air storage and charging solutions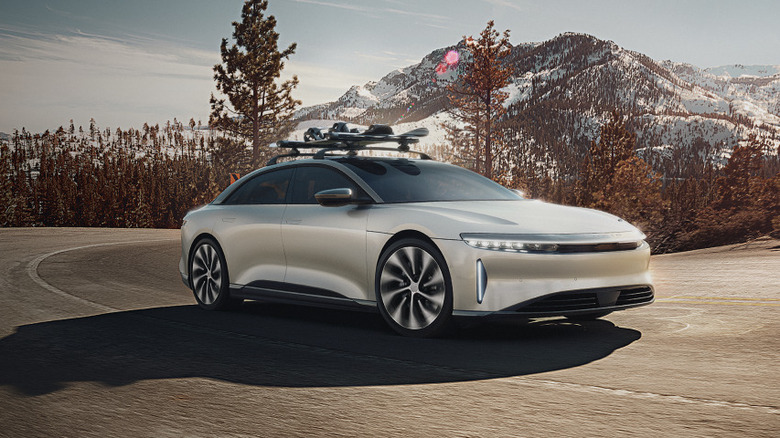 Lucid Group
Until now, there was no first party at home charging station for the Lucid Air. That changes with the Lucid Connected charger. The brand claims the new charger will juice up the Air at a rate of 80 miles per hour. Lucid states it's the smallest and most compact possible enclosure its team could conjure up. Like the Ford F-150 Lightning, the Lucid charger also supports bidirectional charging, allowing the Air to act as a battery and feed power back into the house in the event of a power outage. The new charger will cost $1,200 and be available on a limited basis at the end of this year and widely available in 2023.
In addition to the charger, Lucid also has a roof box for the Air by the name of the "Air Cargo Capsule." With the new roof box, Lucid released a set of roof crossbars allowing for even more roof storage. The Cargo Capsule starts at $2,000 and will be available in 2023. The Crossbars will set you back $500, according to Lucid.