Lucid Air Sapphire Takes On Tesla's Plaid With A 1,200 Horsepower Electric Monster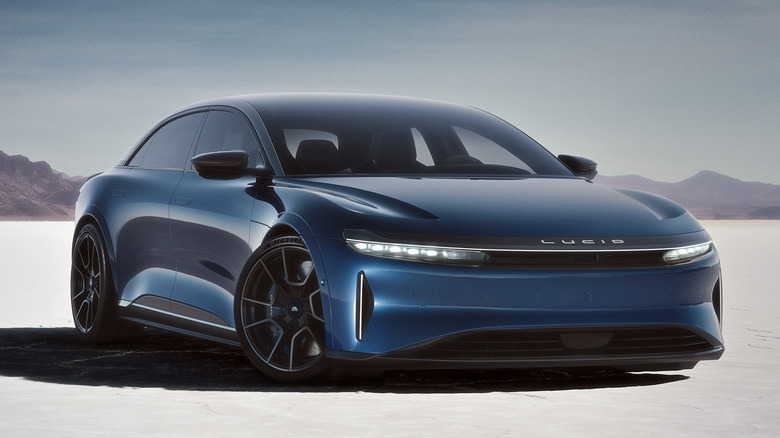 Lucid Motors
Lucid Motors has revealed its answer to the Tesla Model S Plaid, and if your primary complaint about electric cars had been that they weren't fast enough, the new Lucid Air Sapphire should settle that conclusively. First of the startup automaker's models in a new Sapphire performance brand, the sedan will wield over 1,200 horsepower for a 0 to 60 mph time of under two seconds.
Top speed, meanwhile, will be in excess of 200 miles per hour; final figures will be confirmed closer to the EV's release next year. The Air Sapphire will do 0 to 100 mph in under four seconds, Lucid claims, and record a quarter-mile in under nine seconds. That, if you're playing EV Top Trumps, compares mighty well to what Tesla is offering from its top-spec electric sedan. The Model S Plaid will do 0 to 60 mph in 1.99 seconds, Tesla says, and has a 200 mph top speed. For that, you'll pay $135,990. 
The Air Sapphire is Lucid's first tri-motor EV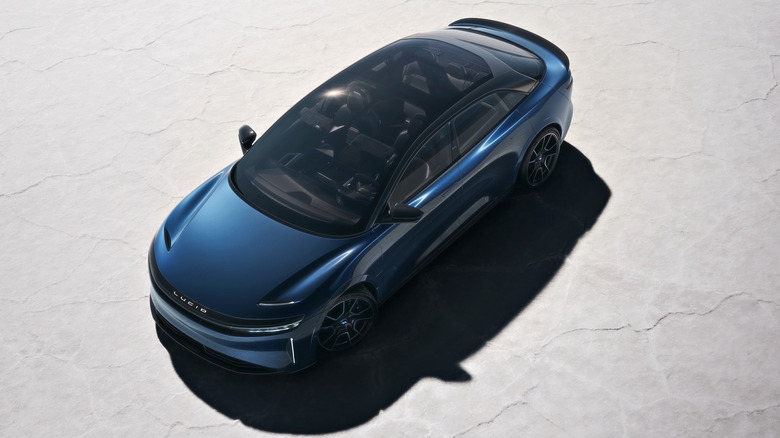 Lucid Motors
As with Tesla, Lucid's method to this speed madness is adding a third motor. It's the first tri-motor configuration that the Air has seen, with a new twin-motor rear drive unit that effectively combines two of the Air Dream Performance Edition drive units along with two custom planetary gear reduction sets. It's small enough to fit into the existing rear subframe of the Air.
At the front, there's the same Dream Performance Edition motor, with its own 670 horsepower for the front wheels. Lucid has upgraded the battery system to deal with the higher power, though isn't talking range or exact power figures yet.
What it is keen to point out, though, is how accessible its performance should be. To unlock the maximum horsepower in the Air Sapphire, you'll only need to switch to the new Sapphire drive mode (and tap the on-screen button to acknowledge just how much punch you're working with now). There'll be no "protracted preconditioning routines" in order to hit the sub-two-second 0 to 60 mph time, the automaker says.
Three motors delivers more than just speed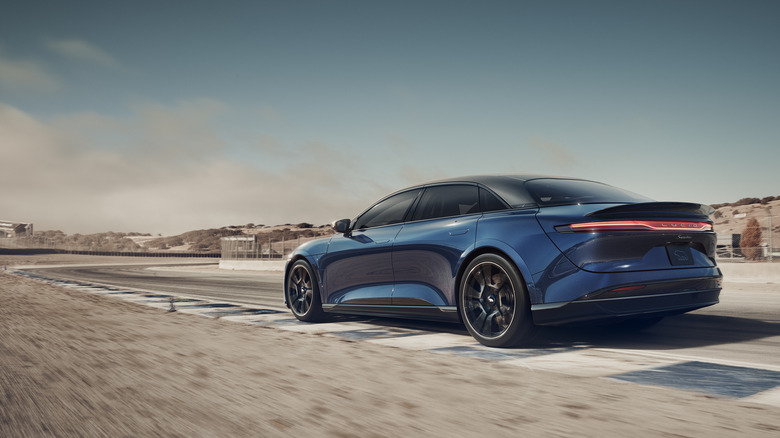 Lucid Motors
That's very different from the Model S Plaid, which requires a fairly lengthy pre-staging in order to hit its maximum speed. Switching into Drag Strip mode apparently can take anything from eight to 15 minutes, as the motors are chilled and the Tesla's battery pack is either heated or cooled so as to be in the zone of peak performance.
In the real world, of course, this is all fairly academic: the opportunities to squeeze your super-fast EV's full capabilities out are few and far between. Nonetheless, Lucid has thought beyond just straight-line acceleration. With the twin rear motors, for example, it has unlocked true torque vectoring: the ability to provide torque to each rear wheel in opposite directions.
The current Air relies on brake-based torque vectoring, slowing the inside wheel in turns for sharper cornering. The Air Sapphire, though, should be able to deliver even more precise turns without effectively slowing the car in the way brake-based systems need to.
A new look, outside and in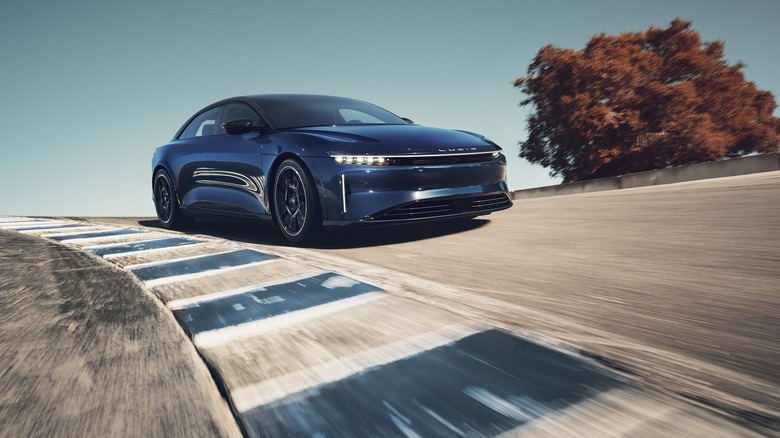 Lucid Motors
Meanwhile, there are new Michelin PS4S tires for the 265/35R20 front and 295/30R21 rear wheels — staggered at 20-inch up front and 21-inch at the back — with 420 mm carbon ceramic brake discs and 10-pot calipers at the front and 380 mm versions at the back with 4-pot calipers. Lucid says it has used a continuously wound carbon mesh for those discs, too, to improve thermal conductivity. The front and rear springs are stiffer, as are the bushings, and there are unique damper, ABS, traction and stability control, and steering settings.
Outside, there's a new tinted carbon fiber rear spoiler, matching side mirror caps, and a new Sapphire Air logo on the rear pillars and trunk. Lucid has added to the track width — with new fender lips adding 24 mm at the rear and 12 mm at the front — and while the standard wheels have a more open design than the Air normally sports, there are cabin fiber aero disc inserts which can help boost range.
Initially, only a single color — a new in-house sapphire blue — will be offered on the car. That'll be combined with Lucid's new Stealth Look trim, leaving the exterior brightwork darker. Inside, there's a new Sapphire Mojave theme, with extra bolstering for the 18-way power sport seats that are finished in black leather, black Alcantara, and Sapphire Blue contrast stitching. The infotainment system gets a new Sapphire Mode color scheme, and there's matching stitching on the steering wheel.
Supercar performance carries a supercar price tag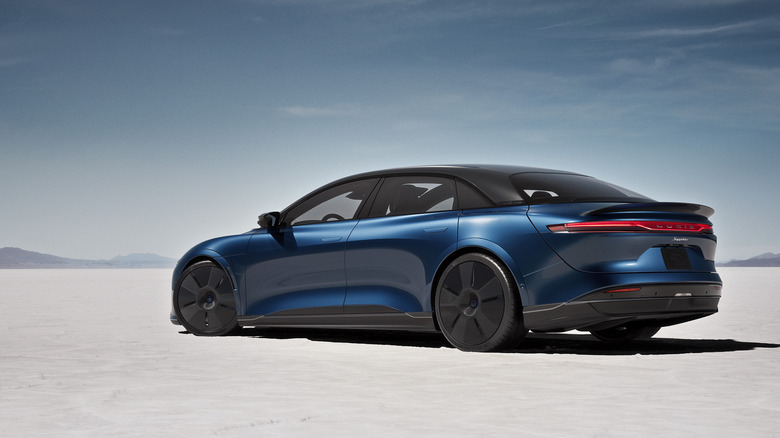 Lucid Motors
Rather than a single trim, the Sapphire badge marks the arrival of a new performance sub-brand for Lucid. Think along the lines of Mercedes' AMG or BMW's M division. That means other Lucid models — including the upcoming Project Gravity all-electric SUV teased back in 2020 but not expected to launch until 2023 — will also get high-end Sapphire versions too.
The price delta involved, though, in getting into Lucid's most potent sedan (and, for that matter, the most potent production sedan in the world, period) is considerable. The Lucid Air Dream Edition, for example, started at $169,000. When reservations open on August 23, 2022, for the Air Sapphire, however, it'll be priced from $249,000. There'll be limited production — capped more by the availability of components and materials, Lucid says, than any specific manufacturing goal — and deliveries should begin in the first half of 2023, assuming all goes to plan.