Amazon Fire HD 8 (2022) Review: Stuck In The Middle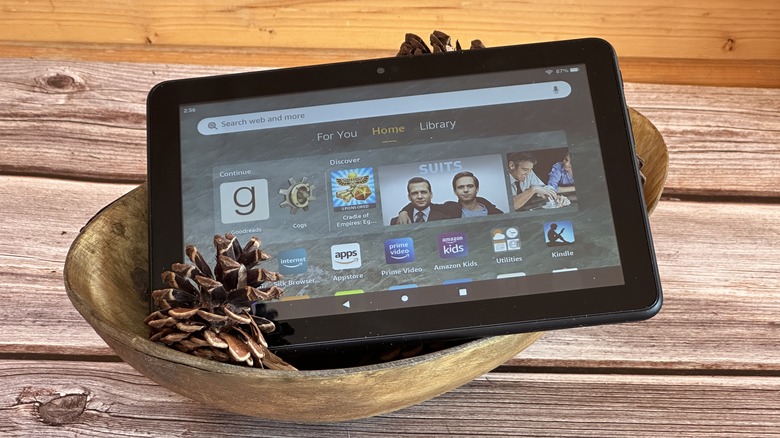 Adam Doud/SlashGear
We may receive a commission on purchases made from links.
Amazon's line of Fire tablets are some of the more popular Android tablets on the market today, but it's not really right to call them Android tablets, per se. Rather, the Fire Tablet is a FireOS tablet, as it runs an operating system that has its roots in Android but bears little resemblance to something you'd see on a Samsung Galaxy Tab A7 or Lenovo tablet. Rather, a Fire tablet is designed to do one thing — promote Amazon content. Whether you're shopping from Amazon or consuming content you bought on Amazon, that is the Fire tablet's singular purpose.
That's fine. Amazon has a ton of content to consume, and a tablet built for that purpose makes a lot of sense. But this particular tablet does not exist in a vacuum and seems to have no real purpose, except to be a more expensive version of a tablet you can already buy for half the price. You get more here, to be sure, but do you get more than what the Amazon Fire 7 tablet brings to the table? That's what we're here to find out. I've been using an Amazon Fire 8 tablet provided by Amazon for one week, and this is my full review.
Amazon hardware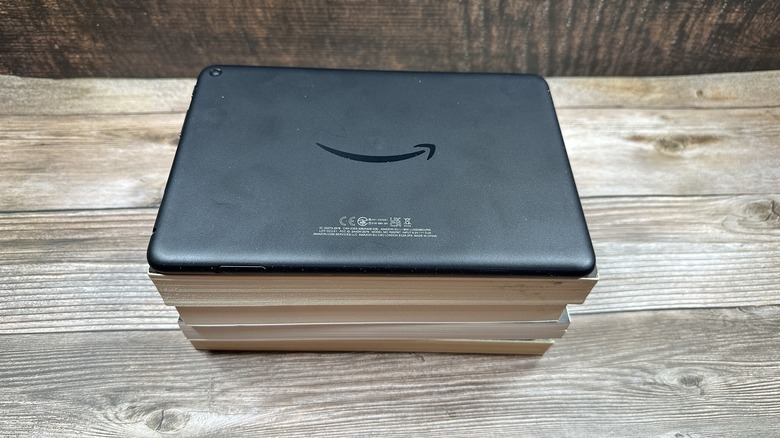 Adam Doud/SlashGear
Starting off with the hardware, if you put this tablet on a table next to the previous generation Fire HD 8, you'd be hard-pressed to tell them apart. Volume and power buttons have been switched, and there is a notable lack of wireless charging in the current generation. That in particular made me sad, but I get why Amazon probably got rid of it. In the 2020 version of the table, the wireless charging was supplemented by the wireless charging dock you could purchase that essentially turned your Amazon tablet into an Echo Show when docked.
This year, Amazon has implemented an always-listening Alexa experience that allows you to ask Amazon's assistant questions even if the tablet is sitting idle on a table.
The rest of the tablet is a typical Amazon build: plastic body, 8-inch LCD screen, 32 or 64 GB of storage (expandable up to 1TB with an SD card that you can buy on Amazon), and a MediaTek MT8169A hexacore processor. The front and back of the tablet pick up more fingerprints than a "CSI" marathon (which you can buy on Amazon).
There is a "Plus" version of this tablet that more closely resembles the 2020 version, with 3 GB of RAM, a 5 MP rear-facing camera, and the aforementioned wireless charging and optional dock, which we will talk about later.
Software the Amazon way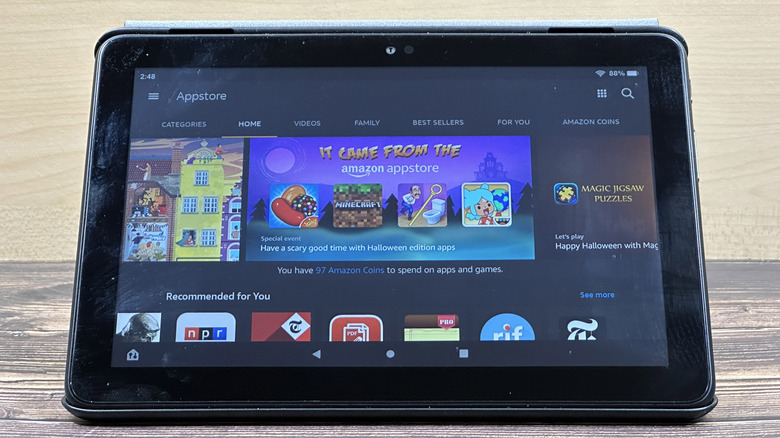 Adam Doud/SlashGear
Unfortunately, when it comes to Amazon tablets, the biggest issue you'll face is in the software department. First, we'll talk about the good stuff. This tablet runs on FireOS 8 which is Amazon's highly-but-less-highly-than-before skinned version of Android. You get the familiar three-button navigation menu on the bottom of the screen for back, home, and multitasking view ... and that's pretty much where the similarities stop.
Your main options on the home screen are For You, Home, and Library. For you is basically a menu of curated Amazon content you have bought or could buy. Library is a page dedicated to stuff you already own (and advertisements for original series from Amazon Prime Video!) and the Home page is a sort of combination of the two. It's a list of all the apps you already have and a "Discover" banner across the top inviting you to pick up where you left off on your latest book (as well as more advertisements for content from Amazon Prime Video!)
In years past, FireOS has been a side-swiping-between-pages affair that categorized your book, movies, shopping, apps, and more. This is a much cleaner look and more user-friendly.
Right off the cliff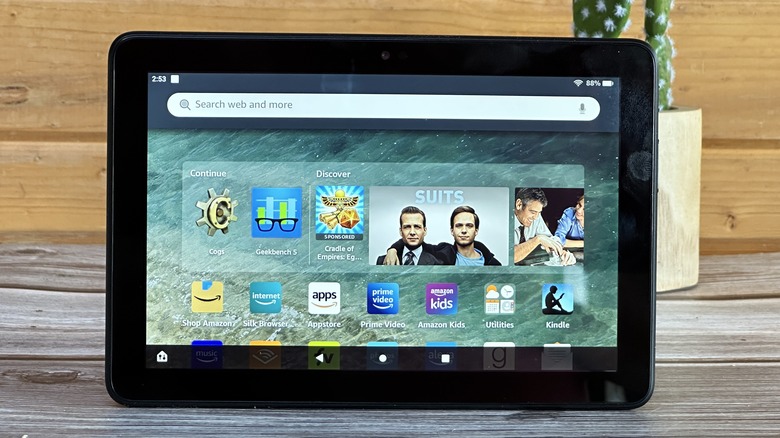 Adam Doud/SlashGear
The real issue comes in the form of the Amazon Appstore. The Amazon Appstore has a few choice selections of content-consumption apps like Hulu, Disney Plus, HBO Max, and the like. The rest of it is a wasteland of abandoned and thrown-together messes that might give you some basic functionality, but fall short in basically every other way.
Google's YouTube app is one example. I watch a lot of YouTube, and it's great to have that option on the Fire tablet. But the functionality isn't where I need it to be. For example, YouTube will recommend a number of videos for me when I open the app. I might be interested in three of them, but when I tap the first video and watch it, I have to use the back navigation button to go back to the main screen which refreshes the recommendations, and those other videos are lost to the ether.
Another example is a game called Cogs, which integrated Amazon's GameCircle account. GameCircle keeps track of your Amazon-based gaming metrics. But that service has been on a depreciation path for two years (just passed the two-year anniversary on October 15th). Cogs still interrupts play every few minutes to attempt to get you to use GameCircle, which no longer exists.
Put up or Shut up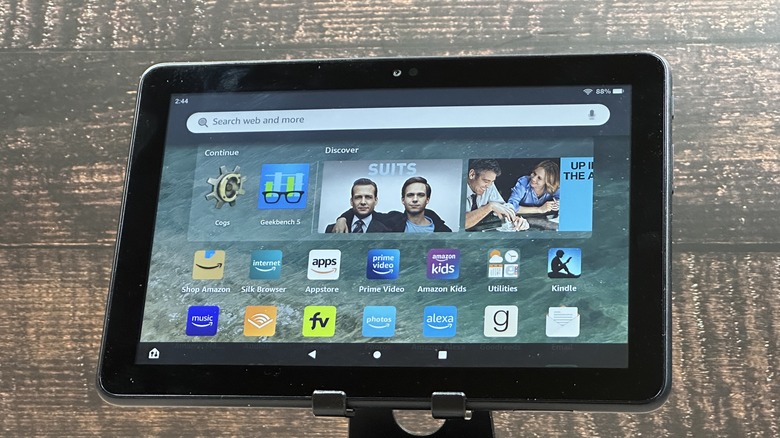 Adam Doud/SlashGear
Put simply, Amazon's Appstore is dreadful and it makes the prospect of using an Amazon tablet for anything outside of Amazon content migraine-inducing. Amazon gets the occasional partnership with a major company like Microsoft to bring a suite of apps to its ecosystem, but for every major brand that joins the Amazon Appstore literally hundreds of others leave and don't bother to clean up their garbage on the way out.
When I recently audited the apps on Amazon's Appstore compared to the apps I had on other Android tablets, I found that some of the apps went back to 2014 since they were last updated. That's almost a decade since an app was left abandoned by its developer. The same app (for Chili's restaurant) on the Google Play store was last updated less than one month ago.
This is simply not acceptable, especially when you consider Microsoft proudly added over 1,000 Amazon apps to Windows 11. It boggles the mind how this has existed like this for so long, but here we are.
Just consuming that content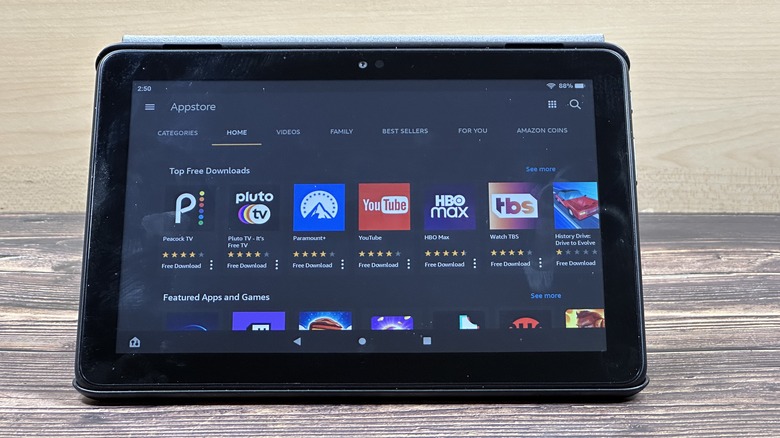 Adam Doud/SlashGear
The good news about the Amazon Appstore is that it is good at what it is supposed to be good at. Streaming apps are plentiful on the Appstore from all the major players, except Apple. Considering this is a tablet that is pretty much designed for content consumption, that's a good thing. You can also control your smart home from your Fire tablet, which is also a good thing. Basically, as long as you hedge your expectations, you'll get along with your tablet just fine.
To that end, the tablet is equipped with stereo speakers and a headphone jack. I've heard somewhere that some people still use wired headphones, so that seems important. The IPS display is fairly unremarkable but good enough for watching movies. It doesn't really get bright enough to use in broad daylight, but you can get by if you can find some shade. It has a resolution of 1280 x 800 so it's also not the most pixel-dense screen you'll ever watch.
Performance and battery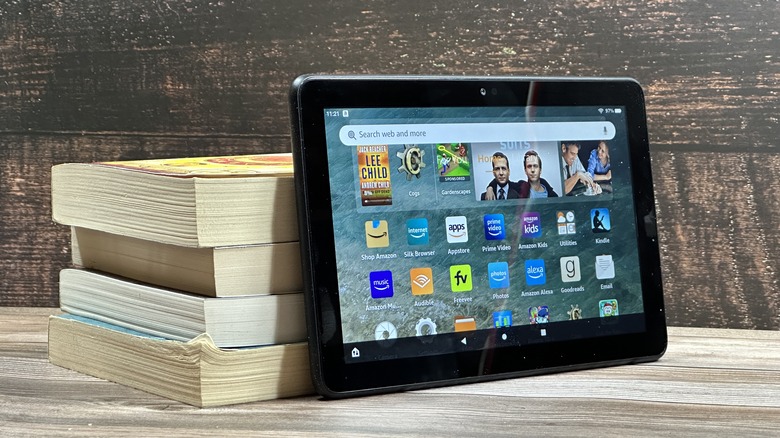 Adam Doud/SlashGear
Overall, the Fire HD 8 tablet is slow and a bit laggy, which is ok for a tablet meant for content consumption. Apps launch quickly and run fine. My gaming on the tablet is confined to a few tower defense games, puzzles, and the like. I tried to run Geekbench 5 a few times, but it crashed before completing the test — a not-unexpected result given the Appstore situation.
As for battery life, it's pretty good. I routinely got through a day and a half and pushed two days on occasion using the tablet to do all my streaming and reading throughout the week. As it happened, I'd just started watching a TV series I purchased on Amazon when the tablet arrived, so that dovetailed nicely with the review period. The included 9W charger will top up the tablet in around three hours, which is way too long. But if you plan to charge your tablet overnight, that becomes more bearable.
Why does this tablet exist?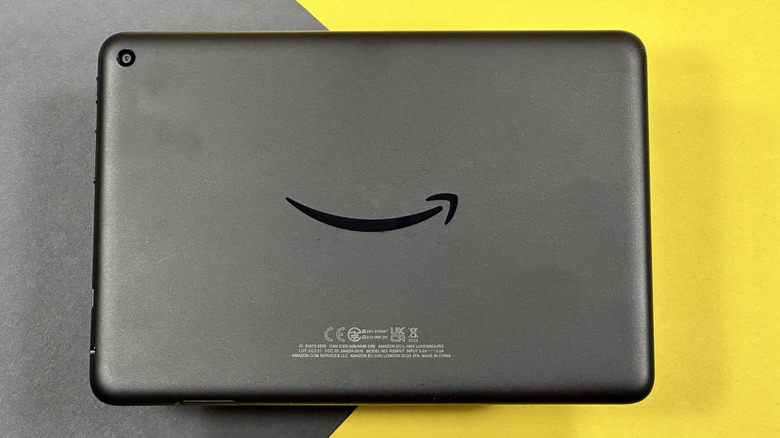 Adam Doud/SlashGear
But all that leads me to my original question — where does the Fire HD 8 tablet fall in the ecosystem of Fire Tablets? The Fire 7 tablet just came out this past summer, and you can get just about the same performance and battery life out of that tablet. There are small spec bumps here and there — a slightly better processor and a slightly larger screen being the most notable — but is that worth twice the price?
The 2020 version of this tablet had an optional wireless charging dock that'd turn the pair into a smart display, and I really liked that. One of the biggest question marks about using a tablet is what you do with it when you're not using it. At least the 2020 version tried to address that point.
Then there's the Fire HD 8 Plus for an extra $20 that has an extra gig of RAM and a better-but-still-don't-use-it camera. Oh, and that tablet has wireless charging as well. So really overall, it seems like the Fire HD 8 tablet exists solely so Amazon can say "The all-new Fire HD 8 tablet starts at just $99.99 (but seriously, drop an extra Jackson for the Plus version)."
So, I'm just left wondering why this tablet exists. For half the price you get a similar experience on a slightly smaller and slightly lower res screen with the Fire 7. For $20 more, with the Fire HD 8 Plus, you get a better experience with more RAM and wireless charging. This tablet just sits in the middle. So, for my money, I'd skip this one and go with either of those other two options.
You can buy the Amazon Fire HD 8 tablet at Amazon's website starting October 19, 2022, for approximately $100.