This Is The First Car Jay Leno Owned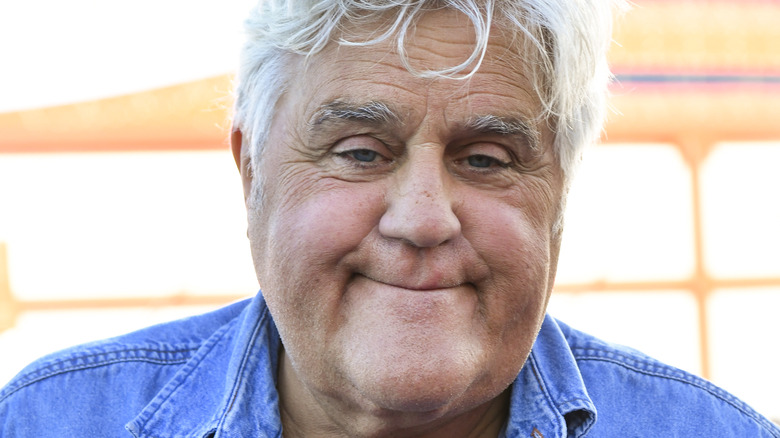 Rodin Eckenroth/Getty Images
When we think of celebrity car guys and enviable car collections, the former "The Tonight Show" host Jay Leno is typically first in mind. Nearly 45% of respondents in our survey chose Jay Leno's car collection as the most impressive, and his 181 cars and 160 motorcycles are one for the books. With a net worth of about $450 million (per Celebrity Net Worth), Jay Leno can indulge his passion for cars and bikes more aggressively than a crazed petrolhead. However, his first car is as humble as Tom Cruise's beloved first-gen Mitsubishi Colt Galant.
Jay Leno is the proud owner of the who's who in the automotive industry. Leno's car collection is an expensive and quirky mix of vintage cars and modern classics, some costing upwards of $20 million each. For instance, Leno has a 1934 Duesenberg Walker Coupe, a one-off example that could fetch $30 million for the right buyer. He also has a McLaren F1, a gorgeous Mercedes-Benz 300SL, and a Bugatti Type 51. Name it, and Leno probably has it in his Burbank garage.
Jay Leno's first car was a 1934 Ford pickup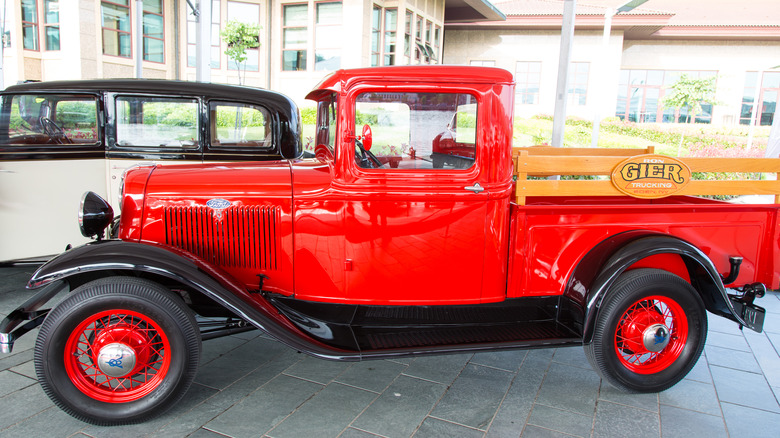 EvrenKalinbacak/Shutterstock
Before all that fame and good fortune, Jay Leno honed his auto smarts with a dilapidated 1934 Ford pickup truck. In a 2015 interview with Petrolicious, Leno said that he bought his first car, an old 1934 Ford truck, for $350 when he was only fourteen years old. Leno and his dad found the car sitting idly at a gas station in Reading, Massachusetts, and they bought it on the spot. However, the truck did not run, and Leno had trouble recollecting how they brought the truck home due to its sordid state.
But it was fine, and the fact that his first truck wasn't running was a challenge that the young Jay Leno was willing to pursue. The idea was to spend the next one or two years bringing the truck back to life and having it running, which he did. Leno adds that having a driver's license in the early '60s was a gift that brought freedom and joy to his testosterone-fueled youth. His old Ford was not only his first car, but it was the first vehicle he successfully worked on and got running.
Leno loved his Ford truck, but his heart pounded faster upon laying eyes on a Datsun 1600. He traded his truck and placed his grubby mitts on the Datsun sports car not soon after. His first car after moving to California was a 1955 Buick Roadmaster that he bought for $350, and he still has it in his collection since he never sold a car again after that — apart from a Tesla Model S that he sold at auction in 2021. Leno claims his old Ford truck is now somewhere in New England, and he would love to get it back.