SlashGear Survey: 45% Of People Wish They Owned This Celebrity's Car Collection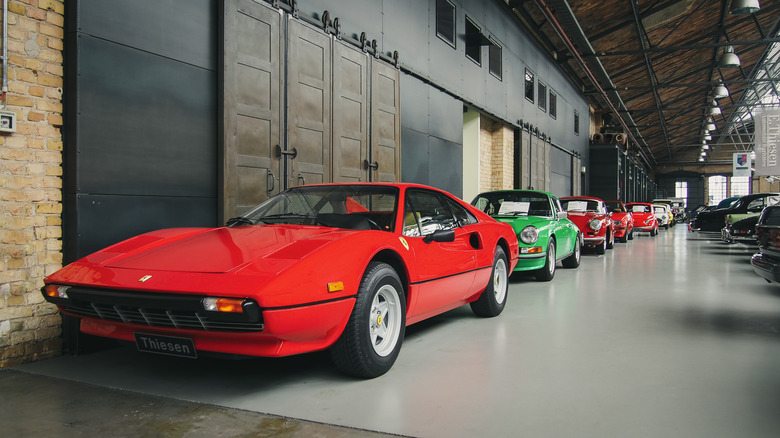 Roman Belogorodov/Shutterstock
It's no secret that celebrities have the means to amass a fantastic car collection. Whether we're talking about corporate bigwigs, Formula One racing drivers, TV celebrities, or the King of Rock and Roll, car lovers will stop at nothing to get their grubby mitts on the ride of their dreams. And this got us thinking: Which celebrity has the most amazing car collection the average Joe wishes they owned?
When talking about impressive car collections, it's hard to beat the 29th Sultan of Brunei, Hassanal Bolkiah. The Sultan is estimated to have 7,000 cars in his palace (per Motor Biscuit), including 600 Rolls-Royces, numerous Ferraris, and one-off high-end vehicles.
In our latest SlashGear survey, we asked 620 respondents from the United States which celebrity car collection is worth coveting. Oddly enough, the Sultan of Brunei didn't make it on the list, but our readers selected some impressive celebrity garages that would make any car lover teary-eyed with joy.
There are car guys, and then there's Jay Leno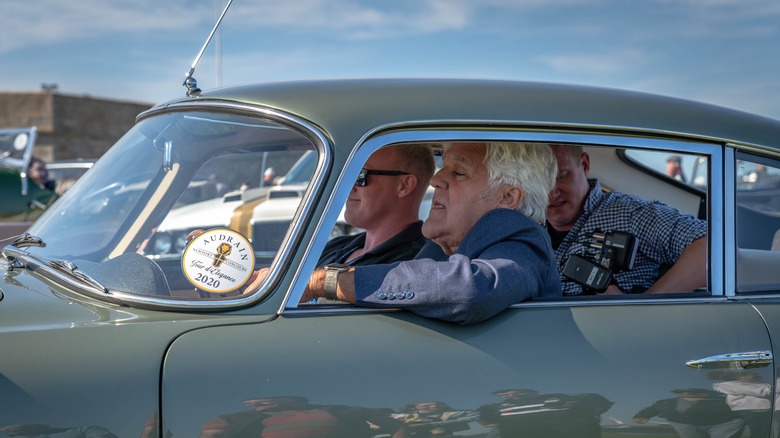 Keith J Finks/Shutterstock
Nearly 45% of the respondents (44.84%) chose Jay Leno's unbelievable car collection as the most desirable of the lot. James Douglas Muir Leno — popularly known as Jay Leno, host of "The Tonight Show" from 1992 to 2009 and 2010 to 2014 — began his TV career writing and performing minor roles before becoming a guest host on "The Tonight Show" in 1987, eventually serving as Johnny Carson's official replacement in 1992 (via Biography). 
According to Celebrity Net Worth, Leno is now worth $450 million, and the duPont Registry estimates the value of his car collection at over $52 million. Leno has 181 cars and 160 motorcycles, and the numbers tend to grow (or shrink).
Name it, and Leno probably has it. He frequently talks about and drives some of his cars on his YouTube channel, "Jay Leno's Garage." His collection includes hyper-expensive vintage classics like a 1928 Bugatti Type 37A, a 1932 Packard Twin Six, a 2004 Porsche Carrera GT, a 1934 Duesenberg Model Walker Coupe (valued at about $20 million), and the mythical McLaren F1. Leno's man cave near the Hollywood Burbank Airport also houses steam-powered automobiles, a V12-powered American LaFrance fire truck, and a 1909 Baker Electric EV, to name a few.
The runners-up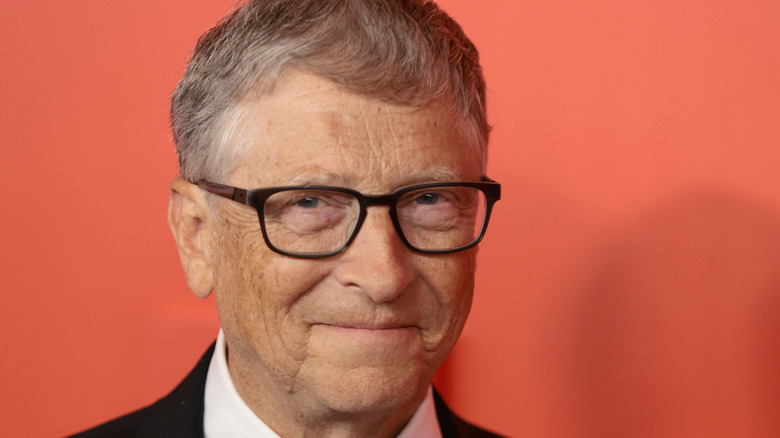 Dimitrios Kambouris/Getty Images
Microsoft co-founder and celebrity billionaire Bill Gates took second place despite having a (relatively) modest collection of cars. However, Gates does have a crazy collection of airplanes, including a Gulfstream G650, a Bombardier BD-700 Global Express, and a Cessna 208 Caravan seaplane (per Lifestyle Asia) – part of the reason why 14.03% of respondents dream about owning the Gates garage (or hangar).
Coming in at third place is comedian Jerry Seinfeld (12.26%), a bonafide Porsche aficionado (per GQ), who auctioned off $22 million worth of cars from his collection in 2016. Fourth place is, surprisingly, singer and recording artist Lady Gaga (9.68%), the owner of a classic Mustang, a 1965 Lincoln Continental, a first-gen Ford Bronco, a Chevy El Camino, and a Lamborghini Huracán, to mention a few.
Boxing champ Floyd Mayweather came fifth place (7.26%) with his awe-inspiring $22 million car collection, which includes four Bugattis and multiple Rolls-Royces (per Daily Star). Seven-time Formula One world champion Lewis Hamilton, the owner of hyper-expensive exotic cars like the Mercedes-AMG ONE and a Ferrari LaFerrari Aperta, was in sixth place (6.45%)
Finishing up our list of celebrities with the most amazing car collections is businessman and fashion designer Ralph Lauren (5.48%). Lauren has a net worth of over $6 billion (per Motorious), and he owns one of the only three remaining Bugatti Type 57SC Atlantic coupes, making that car a priceless piece in his collection.