The Google Pixel Watch Challenges Fitbit More Than Apple Watch: Hands On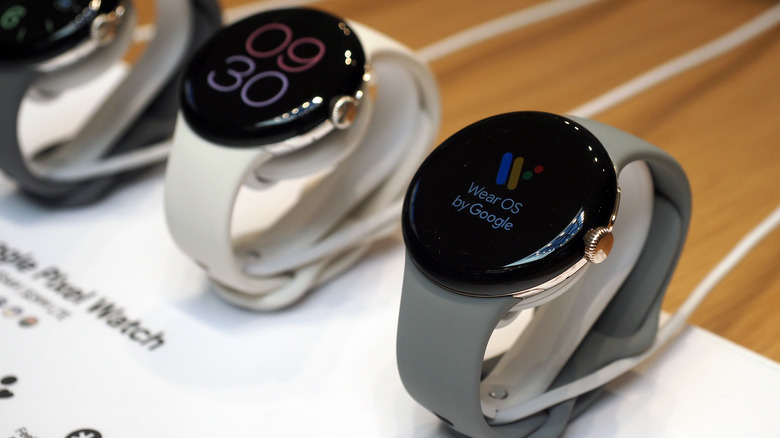 Chris Davies/SlashGear
It always seemed like a matter of when, not if, Google would build its own smartwatch. The Pixel Watch is the inevitable result, the Android-maker's vision of what a modern wearable should look and behave like, leaning heavily on fitness and wellness, and intentionally aiming to blend in a little more than rivals. What a lot of people will be asking, though, is whether Google's watch is arriving too late.
That's because it's not unfair to say that Google's push into smartwatches hasn't exactly been all that successful. Wear OS, and before that Android Wear, were meant to take on the Apple Watch and populate wrists with a whole host of different designs from a wide array of manufacturers. Instead, underwhelming performance and a dwindling number of options left the whole project feeling half-baked.
The big question, then, was whether Google would try to address that itself. After years of repeating its commitment to the platform and its partners, the decision to launch an own-brand smartwatch could be seen as an admission that the Wear strategy isn't working. However, the rumors of a Pixel Watch have been longstanding.
A more familiar watch design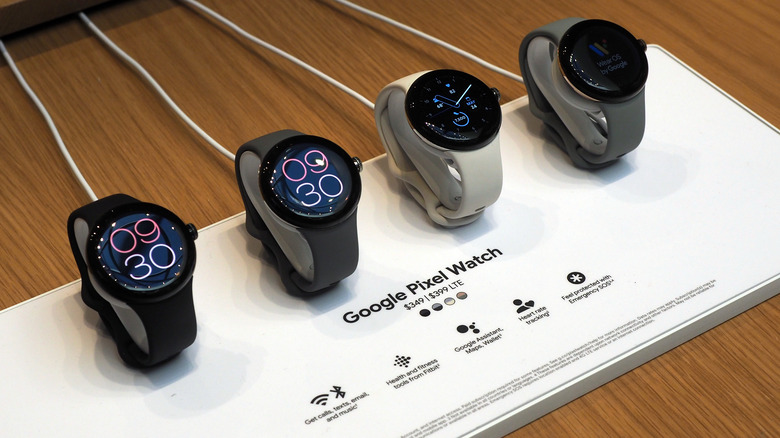 Chris Davies/SlashGear
Now, we're seeing the results of that work, and it's a fairly mixed bag. Google's hardware sticks far closer to the idea of a traditional wristwatch than the Apple Watch ever bothered to, with its circular display far less obviously geeky than the rectangle of Apple's wearable. It also fits with what Wear OS partners have been doing, all the way back to the earliest Motorola smartwatches.
The domed, 3D Gorilla Glass cover glass is slick, and the color options are classic. There's a choice of matte black, polished silver, and champagne gold, with various straps and bands, and of course, you can change the watch face to suit. As well as the haptic crown there's a side button, too.
If there's a lapse, it's things like the size of the bezel around Google's circular AMOLED display. It's a bright panel — up to 1,000 nits — and it supports always-on, but the black boundary looks chunky compared to the slim surround of rival smartwatches. That's less noticeable with Wear OS' darker watch faces, but a lot more glaring if you pick something brighter.
A big focus of health and fitness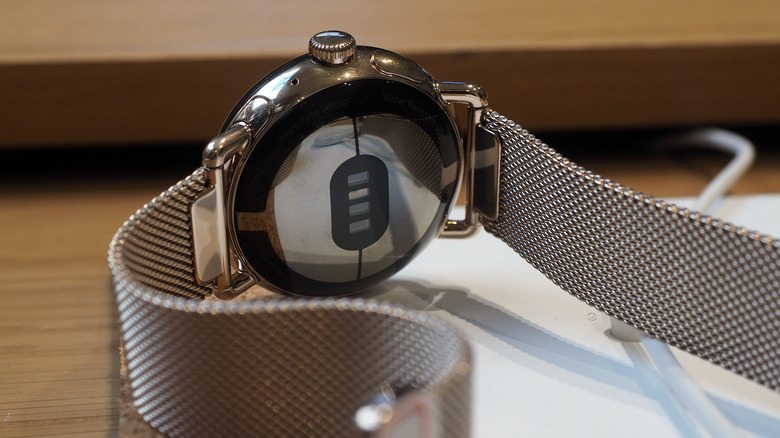 Chris Davies/SlashGear
It's clear that Google has picked up on the fact that health and fitness are key reasons people strap a smartwatch to their wrist. Leaning into the fact that it now owns Fitbit is the obvious result, and so the Pixel Watch can do things like measure your heart rate, show your sleep score, and track 40 different types of workouts. Fitbit's clever Daily Readiness system, which figures out just how prepared you are to actually exercise based on factors like sleep, may also be a welcome addition for anybody who has felt hounded by their Apple Watch's relentless demands to work out.
AFib measuring is basically table-stakes for a new smartwatch these days, but Fitbit's collection of extra workouts and mindfulness sessions as part of the Fitbit Premium subscription might be worth the payment for those serious about exercise. Google will bundle six months, after which you'll have to cough up more to keep the subscription. It also includes the Wellness Report and Health Metrics Dashboard.
Only Android users need apply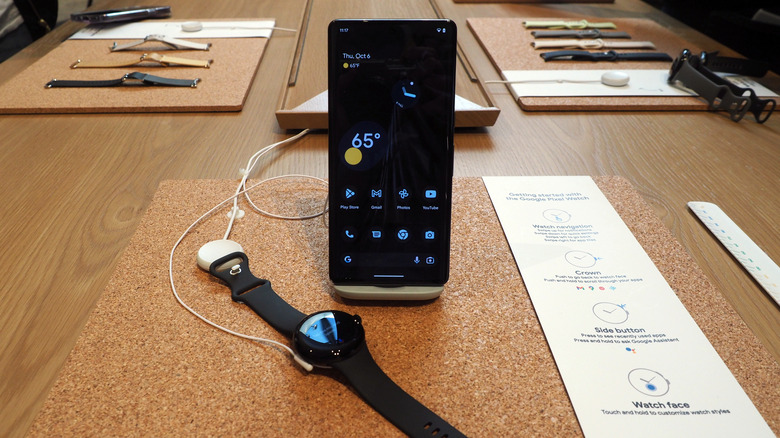 Chris Davies/SlashGear
Of course, we're not constantly working out. A smartwatch also has to deliver a curated smartphone experience to the wrist, neither overwhelming nor leaving you shortchanged. Honestly, I still prefer the capabilities of the Google Assistant to those of Siri on the Apple Watch.
The Pixel Watch won't work with your iPhone, as Google is taking a page out of Apple's playbook and making its smartwatch an adjunct only for Android. It'll work with Pixel phones or any other Android 8.0+ device.
I don't think that's going to be an issue with potential users. In fact, the more frequent question I get asked is from Android users wondering if an Apple Watch will work with their smartphone. In the end, it's a balance of integration versus broader sales, though we'll have to wait to see just how well, and tightly, Google's smartwatch plays with the Pixel 7 and Pixel 7 Pro also announced today.
Is there enough here for Fitbit fans?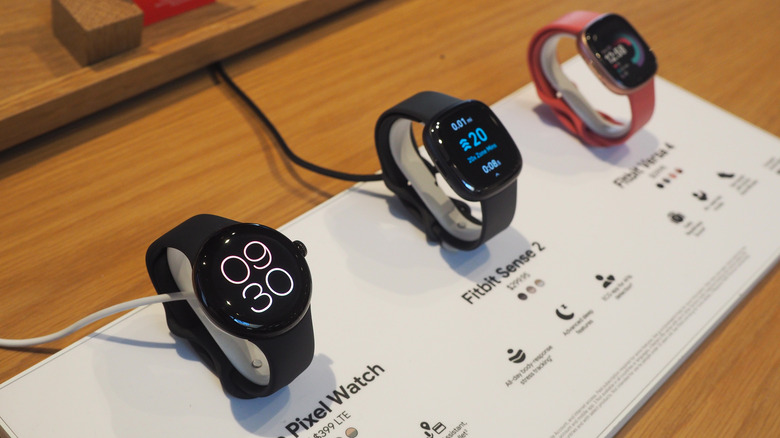 Chris Davies/SlashGear
The big question is whether Fitbit wearers will decide there's enough here to make it worth switching. If they're iPhone users, obviously, the idea is a non-starter. But that's not the only reason they might have second thoughts.
Battery life will probably be a significant concern. We've come to expect a daily recharge for our smartwatches, a side-effect of the greater interactions and the bigger displays. The fact that the Pixel Watch has built-in 4G LTE connectivity as an option will also have a hit on the 294 mAh battery.
Google says it should last up to 24 hours, and that a charge — using the bundled USB-C magnetic cable — should take 30 minutes to get to 50% or 80 minutes to 100%. That's not bad for a smartwatch, but a far cry from the days of wear between charges that Fitbit owners are used to.
Flipping the Apple Watch script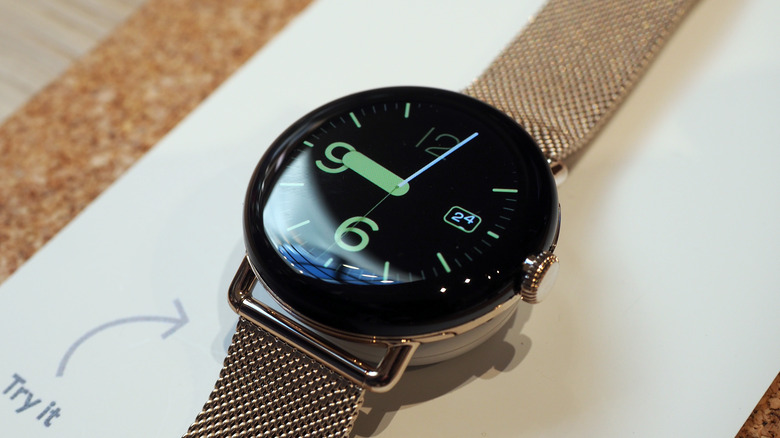 Chris Davies/SlashGear
I like how the Pixel Watch looks, and how it feels on the wrist. It's sleeker than an Apple Watch, certainly, and the twist-on straps are easy to switch out with Google's new latching system. I wear Apple's smartwatch every day, and while I enjoy the functionality when I'm working — relying on it to help triage messages and emails, among other things — it can be a reminder of my desk when I'm trying to relax.
The Pixel Watch, in contrast, feels like it comes at wearables from the opposite angle: a fitness wearable first, with smartwatch tech baked in. That's an oversimplification, sure, but it seems a lot more like a regular watch than Apple's counterpart. How this will shape Google's Wear OS partners as they design their own future smartwatches is a bigger uncertainty. Google's smartphones have always felt like as much a blueprint for its Android partners as devices in their own right, but the Pixel Watch is a relatively unknown quantity in terms of success.
That success — or otherwise — will be measured over the coming months: first off with the initial reviews, and then as sales kick off. The Pixel Watch starts at $349.99 for the Wi-Fi/Bluetooth version and at $399.99 for the version with 4G LTE.