Google Pixel Watch Pairs Wear OS With Fitbit Fitness Smarts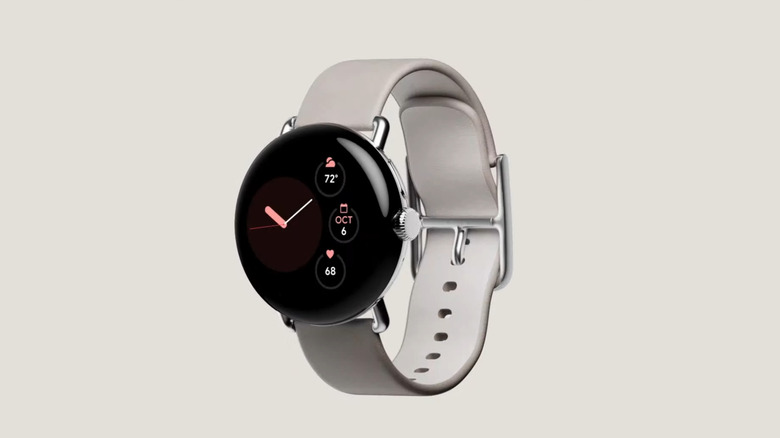 Google
Google has unveiled its entry into the premium smartwatch market at Made by Google '22. The Pixel Watch promises to offer unique styling, fitness tracking, decent battery life, and a not-so-unique but still new safety feature. While the company owns a well-known Smartwatch brand, this is the first watch it has slapped its own name on.
As the watch is part of the Google Pixel ecosystem, expect smoother connections and integration with other Pixel devices. This includes the phone and earbuds that have also been revealed today. So if you're a huge Google fan, there's a whole set of devices out there that match stylistically and play very well together. If you aren't a Google fan but are still into the Pixel watch, Bluetooth is also an option.
The watch will also debut with the latest version of Google's in-house smart device operating system, Wear OS. The company says the new operating system brings a "refreshed UI and rich notifications, see even more at a glance." There are also a number of apps specialized to work on the device. Google's native apps have obviously been optimized — apps like Google Wallet, Calendar, and other Google favorites are central to how the watch operates. Google Assistant is right there too, so you can say "Hey Google" and not have to mess around with any menus. There are also less serious features, like the ability to set a Bitmoji as your watch face.
The company also says Spotify, Strava, Bitmoji, Adidas Running, MyFitnessPal, and Calm are amongst the third-party developers that are also on board. In terms of battery life, the Pixel Watch offers a full 24 hours of battery life from a single charge, and Google claims you can half-fill the battery in as little as 30 minutes.
The Pixel Watch has extensive Fitbit integration
Google
With the Pixel Watch, Google is making extensive use of one of its more popular properties. While Fitbit has its own range of wristwear, including several fitness trackers and the Versa smartwatch line, it is also featuring heavily in Google's new Pixel Watch. Fitbit is set to manage the smartwatch's health and fitness tracking features, including sleep tracking, heart rate tracking, and over 40 workout modes. 
As for what the Pixel Watch itself is bringing to the table, Google promises it includes the most accurate heart rate tracker Fitbit has ever used. That tracker will be used to measure key metrics, including calories, "Active Zone Minutes" and sleep while using machine learning to ensure the results are more accurate than ever before. Google's James Park has described it as "the first watch to offer the best of both Google and Fitbit."
Purchase of a Pixel watch also comes with a free six-month trial of Fitbit Premium, which includes 1000+ workouts, and 400+ mindfulness sessions. Google says the premium service also includes helpful tips and insights to help users take better control of their overall health. Sleep tracking gives a regular breakdown of the sleep stages the watch's user has experienced. Users can then use the data provided to improve their sleep quality. Though, some research has suggested chasing a perfect "sleep score" may do you more harm than good.
That isn't the only trial Google is including to help you with your workouts. The company is also lumping three months of Youtube Music in with every purchase.
Several style choices are available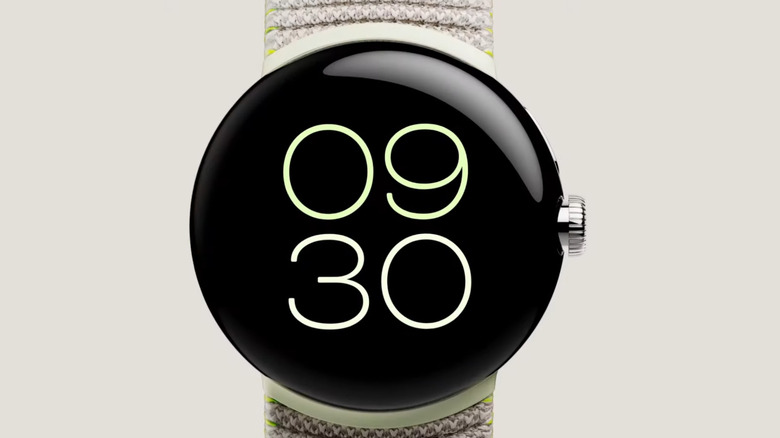 Google
Users have a few style options to choose from and can pick a style that complements their other Pixel devices. The options include a matte black case with an obsidian active band, a polished silver case with a charcoal active band, a polished silver case with a chalk active band, and a champagne gold case with a hazel active band. Several optional bands, which attach with a "twist and click" instead of latches, are also available to purchase if you want to give the style an extra tweak, with even more options coming in the spring. 
While unveiling the watch, Google's Isabelle Olsson explained some of the color choices "We have dark and light neutrals, and our warm collection is designed around our new lemongrass tone. And we created a newer family of colors featuring our hazel hue." The watch body itself is rounded and bezel-less, with a crown on the side for both stylistic and practical reasons. Corning® Gorilla® Glass is also there to protect the watch's face from scratches, chips, and knocks. Your watch is also water-resistant to five atmospheres.
As with other premium smartwatches, the Pixel Watch has a number of safety features that may give some users increased peace of mind. The watch has a "fall detection" feature that Google claims will detect when you've taken a tumble and notify your emergency contacts and the emergency services if you take a particularly rough tumble. The watch will ask you if you need help and automatically dial if the fall has left you unresponsive.
The cheaper Google Pixel Watch, which comes with Bluetooth and Wi-Fi connectivity, is available for a price of $349.99. Adding 4G LTE + capabilities on top of that sees the price increase to $399.99. Pre-order is available now with availability starting on October 13.