Logitech's Best Accessories Just Got A Mac Glow-Up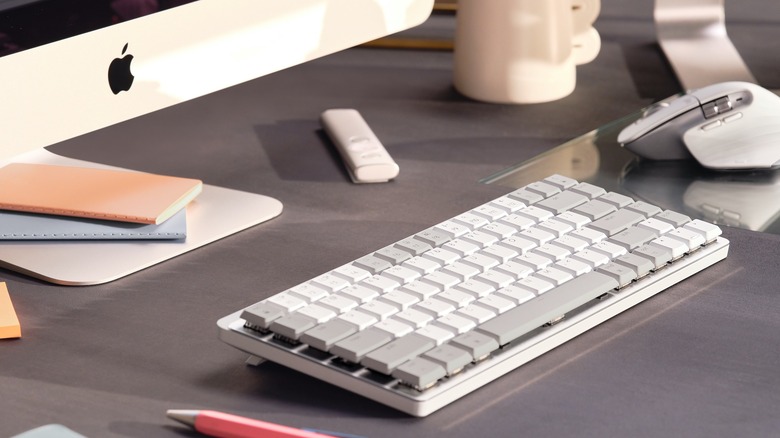 Logitech
Logitech makes a variety of computer accessories, including webcams, speakers, headsets, and smart home accessories. However, the company is mostly known for its wide range of mice and keyboards, and it markets its products under several sub-brands and product lines. Thanks to a series of acquisitions, Logitech now owns a handful of computer audio brands, too, including Ultimate Ears, Jaybird, and Blue microphones.
In addition to these sub-brands, the company is also known for the Logitech C series of computer webcams, the Logitech G series under which it sells gaming accessories, and the Logitech MX series of mice and keyboards, the latter of which is the company's flagship product line. While a large chunk of Logitech's products targets Windows users, the company has been making Mac-focused products for the past few years, which it currently sells under the "for Mac" collection.
To give its Mac-focused products a new lease on life, Logitech has refreshed this existing lineup with several updates. The new Mac-focused products from the company come under a new "Designed for Mac" collection of products, which includes the MX Mechanical Mini keyboard, the MX Master 3S mouse, the Lift for Mac mouse, and the Logitech K380 for Mac keyboard in a new color option. While most of these products are minor updates to existing models, others are entirely new for Mac users.
Everything new with the Logitech Designed for Mac collection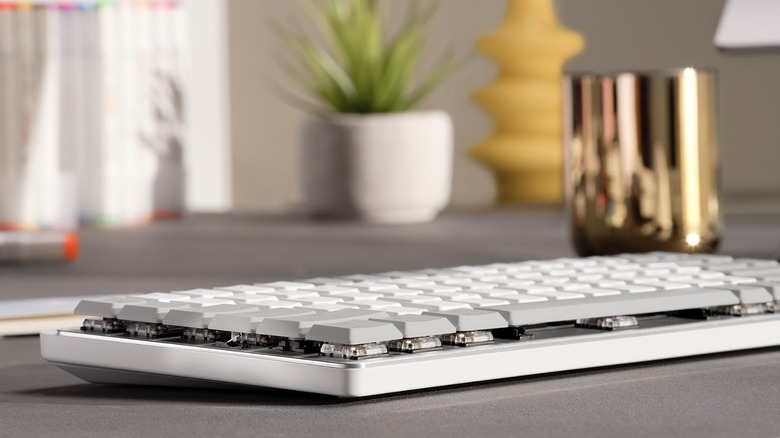 Logitech
While Logitech has been selling mechanical keyboards for a while now, its popular MX Mechanical Mini keyboard was primarily optimized for systems running Windows. While these keyboards were also compatible with Macs, the overall experience of using a Windows-optimized mouse on Macs wasn't seamless. To fix this, Logitech has finally developed a variant of the Logitech MX Mechanical Mini that is optimized for Macs. This is also Logitech's first mechanical keyboard for Mac systems. The Logitech MX Mechanical Mini for Mac gets all the features of its Windows brethren — and lets users connect up to three Apple devices with the option to switch between any of them using the Easy-Switch feature.
The second product from Logitech's new "Designed for Mac" series is the Logitech MX Master 3S for Mac Mouse. As with the Logitech Mechanical Mini keyboard earlier, this product is a Mac-focused variant of an already successful Windows-optimized product. Apart from the Easy Switch option (which we discussed earlier), the Logitech MX Master 3S for Mac mouse has the same features as the existing 3S series of mice. This includes the option to manually set the DPI between 1,000 and 8,000 and support for Logitech's MagSpeed Electromagnetic wheel.
Logitech Lift Mouse and K380 Bluetooth Keyboard for Mac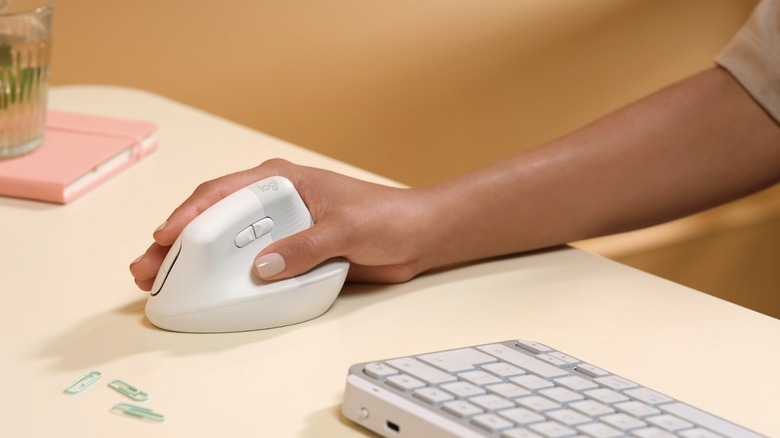 Logitech
In addition to the MX Master 3S for Mac mouse, Logitech also announced the launch of the Mac-optimized variant of the Logitech Lift mouse. Like its Windows-focused cousin, the Logitech Lift for Mac Mouse gets the same ergonomics and the much-touted 57-degree angle of lift that allows users to place their palms in a natural handshake position. Logitech claims that this is a "more natural" posture. This mouse is also feature-loaded and supports Logitech's Advanced Optical Tracking feature. In addition, the product offers customers the option to fully adjust the DPI range and set it anywhere between 400 and 4,000 DPI with 100 DPI increments.
The fourth product announced today is the K380 Keyboard for Mac. This is a slightly redesigned version of the existing K380 keyboard that Logitech has been selling for several years. In addition to the slightly redesigned keyboard layout, the new variant of the keyboard also comes in a new Blueberry color option. The refreshed K380 keyboard is as lightweight as its predecessor and supports Logitech's EasySwitch feature as well.
All four products announced today will go on sale starting this month and will be made available through Logitech's online stores and other retailers. While the Logitech MX Mechanical Mini for Mac has a suggested retail price of $149.99, the MX Master 3S for Mac Mouse has been priced at $99.99. The Logitech Lift for Mac will be cheaper at $69.99, and the K380 keyboard has a suggested retail price of $39.99.