The Reason Why Tesla Insurance Is So Expensive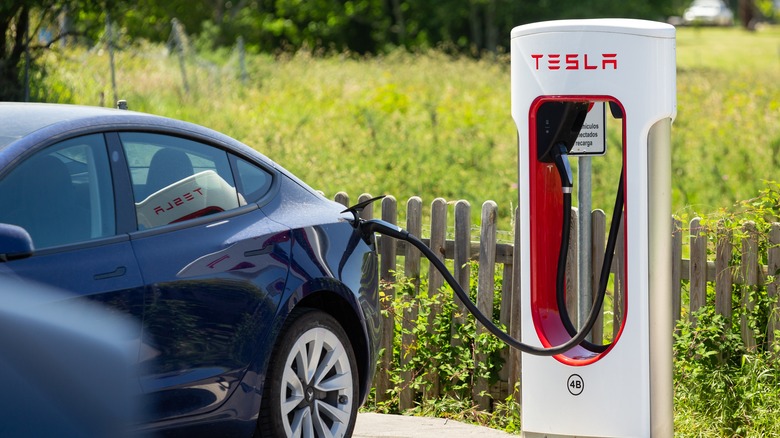 Sergio Rojo/Shutterstock
Tesla makes electric vehicles that are cheaper to fuel than gasoline vehicles. The difference is significant, and you could save thousands of dollars in fuel costs driving a Tesla every year. But according to Kelly Blue Book, Tesla sells vehicles at a higher price tag compared to most manufacturers. Of course, with Elon Musk complaining on Twitter that the chip shortage disrupted Tesla's supply chain, it wasn't a surprise that the company hiked the prices of its vehicles.
On the bright side, the Inflation Reduction Act, which became law on August 16, 2022, removed the 200,000 sales limit on EV manufacturers to qualify for a tax credit. This means Tesla vehicles could once again be considered for a tax exemption — but you have to wait until 2023. However, even if you save on fuel costs and claim the new tax credit, there is one problem that is hard to ignore — Tesla insurance is incredibly expensive. 
Tesla Insurance is more expensive than most gasoline vehicles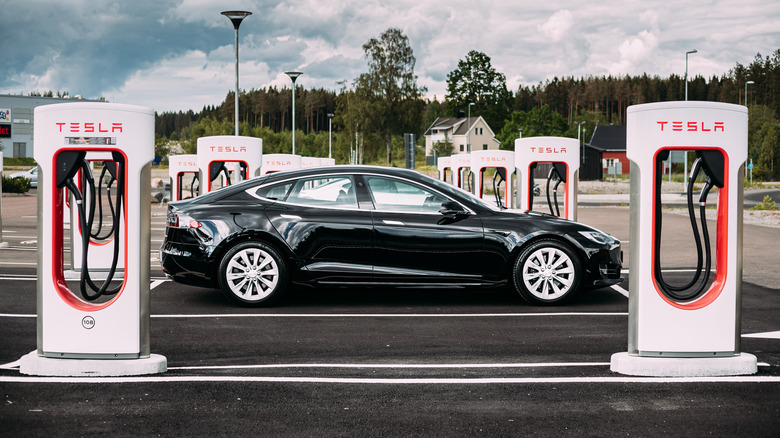 Grisha Bruev/Shutterstock
According to Consumer Reports, the cheapest Tesla vehicle, the Model 3, will cost you more to insure than most gasoline-powered vehicles on the market. The average insurance rate for a Tesla Model 3 is $318 more to cover than the gas-powered Audi A4 (via Consumer Reports). In fact, you would pay more insurance premiums for a Tesla Model 3 than you would for Toyota Prius or a Chevrolet Bolt. Even a Ford F-150 Lightning and a Mustang Mach-E would be cheaper to cover than a Tesla Model 3 (via Get Jerry). 
To put it into perspective, Tesla is the most expensive car brand to insure after Maserati, as calculated by Consumer Reports. However, the insurance premiums are not written in stone and they can vary depending on your age, state, insurance company, or specific Tesla model.
The Tesla insurance is the most affordable cover if you own a Tesla since it's cheaper compared to other insurance companies (via Value Penguin). It also doesn't factor in your age, gender, or accident history to appraise your insurance premium. Instead, it uses your safety score based on your driving patterns. The lower your score, the higher your Tesla insurance premium.
At the moment, Tesla insurance policies cannot be purchased in all 50 states. Nevertheless, you could consider other affordable insurance policies from State Farm, Nationwide, Travelers, and USAA.
Teslas are too expensive to repair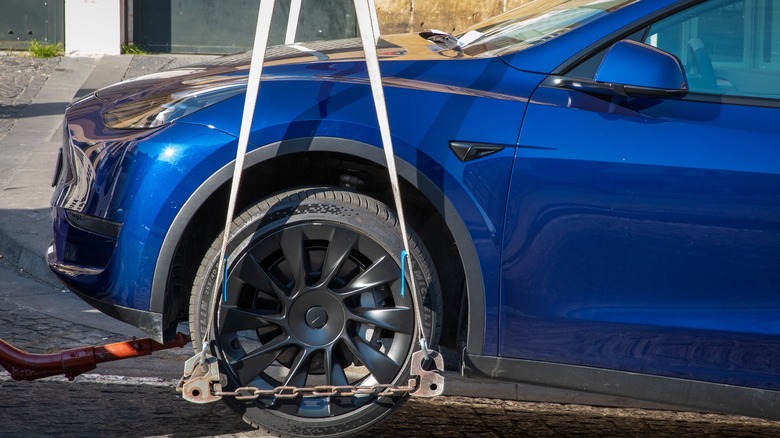 Gennaro Leonardi Photos/Shutterstock
Even though driving a Tesla vehicle can save you thousands of dollars on fuel and maintenance, it can be very expensive to repair. That's why it will cost you more to insure a Tesla than a gas-powered vehicle. In fact, Tesla vehicles are 27% more expensive to repair than gasoline-powered cars.
The worst-case scenario is getting involved in an accident or having to replace the battery. You might receive a repair bill of more than $20,000! Tesla spare parts are also hard to come by, and if you repair your Tesla EV with a third party, you won't be covered by the warranty (via Tesla).
But according to Elon Musk, "The car insurance industry is incredibly inefficient" because there are "so many middle entities from insurance agents all the way to the final reinsurer" (via CleanTechnica). Because of that, Tesla decided to establish its insurance policy that is cheaper than most competitors. Even so, it's more expensive to insure your Tesla than most vehicles — but considering the cost of repairing a Tesla, it' might just be worth it.