The Most Expensive Car In Joey Logano's Collection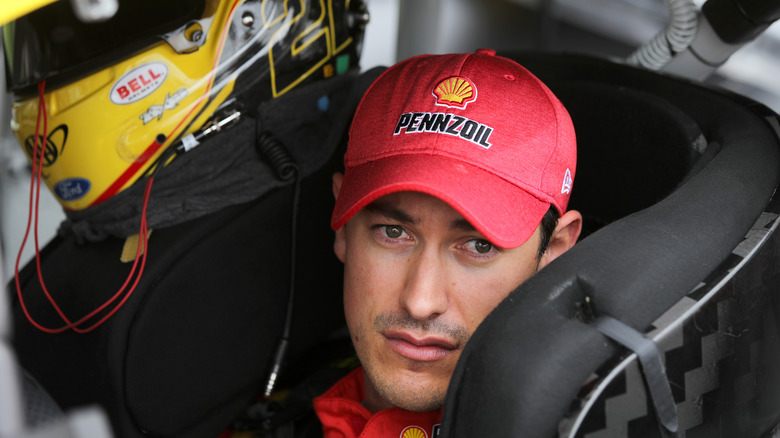 Meg Oliphant/Getty Images
American stock car racing driver Joey Logano is a genuine, dyed-in-the-wool speed freak. Born Joseph Thomas Logano on May 24, 1990, in Middletown, Connecticut, he started racing quarter midgets at the age of six — quarter midget is a ¼-scale version of a full-blown midget car with a fiberglass body, a tubular frame, and a one-cylinder engine with 2.5 to 4 horsepower. The young Joey Logano won the Eastern Grand National Championship and Junior Stock Car Quarter Midget Division at seven and won both titles again in 1998 and 1999 (per NASCAR).
Logano is the youngest title winner in Legends car racing history after taking the checkered flag at the National Bandolero Bandits Championship, the Young Lions National Championship, and the Pro National Championship. He also holds the record of 14 straight wins at Atlanta Motor Speedway, a record that stands as of this writing.
Joey Logano is among the highest-paid NASCAR drivers today, earning an estimated $9 million per year driving for the No.22 Ford of Team Penske (per Sportscasting). His sponsors include Autotrader, MoneyLion, the AAA, and Shell-Pennzoil, to name a few. Logano has the means to amass an impressive auto collection. Still, his garage is unusual for a multi-millionaire compared to other racing drivers like Lewis Hamilton and Hollywood celebrities such as Jay Leno. 
Joey Logano is a Ford man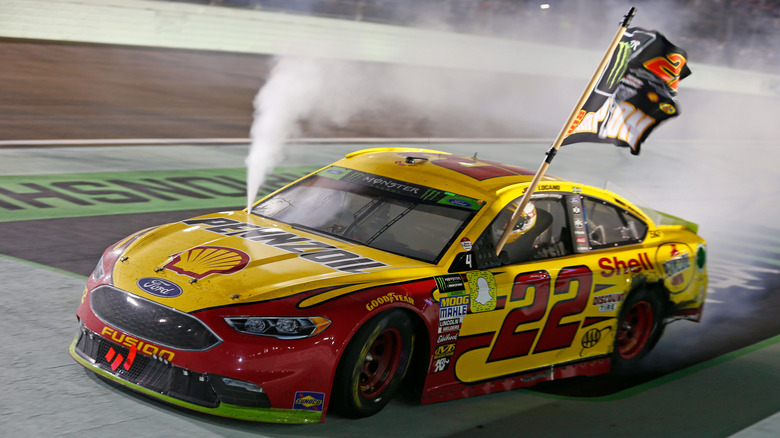 Grindstone Media Group/Shutterstock
Since Joey Logano drives a Ford in the NASCAR Cup Series, his car collection almost consists entirely of Ford vehicles. According to Autoweek, Logano has between 35 and 40 cars in his expanding garage, most of which are Ford cars. If Logano wants to buy a new car besides a Ford, he likes dipping his toes in the vintage or classic car market, as defunct brands like Muntz or Hudson are more to his liking.
The most exciting vehicle in Joey Logano's collection is a 1935 Ford pickup truck from Factory Five, a vintage beast equipped with an 800-horsepower Cup motor and a five-speed sequential gearbox, according to a video by Snap-on Tools. 
Logano claims his Ford drift car is faster than his race car and can perform burnouts like there's no tomorrow. Logano also has a 1971 Ford Mustang Mach 1. Affectionately called the Mach 22 (named after his 22 Cup number), it has a supercharged 5-liter Coyote engine to strike fear in the hearts of other classic Mustang owners. He also has a 1961 Ford Econoline pickup (that he bought from a security guard in a racetrack in Charlotte, per Autoweek), a Fox Body Mustang, a 1946 Ford Super Deluxe Sedan, and a 1953 Ford Cabover Ramp Truck.
The fairest (and costliest) of the lot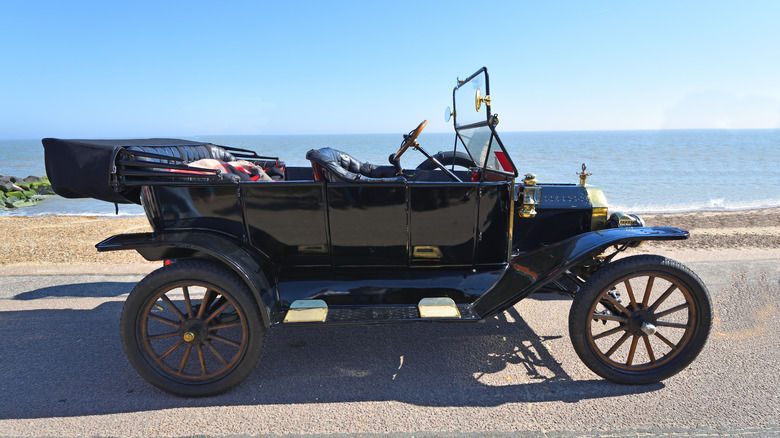 Martin Charles Hatch/Shutterstock
We fervently admire Joey Logano's preference for classic Fords. He has an original Ford Model T that could cost anywhere from $17,000 to $246,000 depending on the year, condition, and level of restoration (per Classic.com). Logano has repeatedly said on his YouTube channel that the Ford Model T is among his top favorites in the world.
Meanwhile, the most expensive car in Joey Logano's car collection is a 2017 Ford GT that reportedly costs $1.2 million. His Ford GT has rounded 22 decals on the fenders, and he made sure to purchase a unit with a 22 VIN to reflect his lucky racing number. Logano also has a couple of Ford Mustang Cup Cars in his collection worth millions of dollars.
Another noteworthy vintage car in Logano's auto collection is a fully-restored Hudson pickup truck. Manufactured between 1942 to 1947, Hudson only made 3,000 units of the truck (per Motorious) and could fetch $42,000 to $72,000 at an auction. Joey Logano had named his eldest son Hudson and even shared a photo with him in an old Hudson truck, announcing his birth.