Vivo V25 Pro Review: Mid-Range In Search Of A Home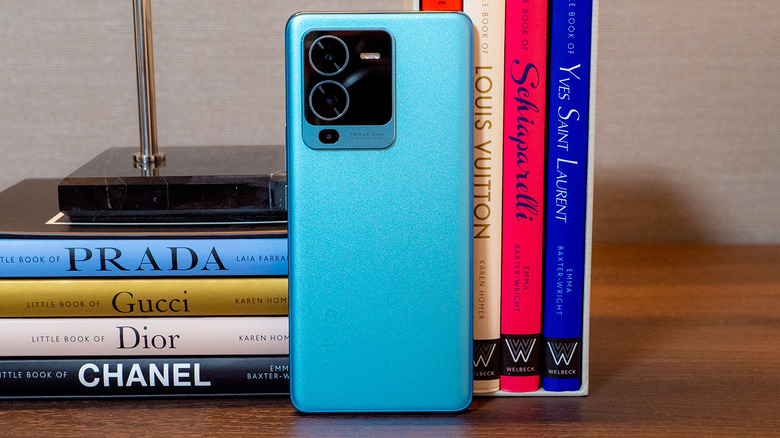 Ewdison Then/SlashGear
The mid-range smartphone market today is flooded with dozens of competing models from almost dozens of brands and sub-brands. As hardware starts to catch up, companies have employed a variety of strategies to get hold of a large chunk of that pie. Some, like OnePlus and the young Nothing, use the strength of their name to make their devices stand out. Others, like Xiaomi and Vivo, try to force their way through via strength in numbers. 
It's not difficult to drown in the number of models and names you can pick when buying a new phone, and their nearly identical specs make the decision even tougher. Vivo just recently launched the latest member of its flagship line, the Vivo V25 Pro, so we took it for a spin to see if it has anything that helps it stand out from the crowd.
They say that beauty is in the eye of the beholder, and that's definitely true of this phone. There is something to be said for the smooth curves of both front and rear glasses that meet in the middle with a plastic frame. The color-changing gimmick is also a nice touch if you're the type that likes flaunting the back of your phone. Even if you don't go for that Sailing Blue variant, the Pure Black option will still look stylish and comfortable in your hand, especially with the phone's matte glass texture.
The gigantic camera bump, however, might be a bit more divisive. Some will find it stylish; others will find it obnoxious as it takes up more than half the width of the phone. Since the bump isn't filled with cameras or sensors, it almost seems like wasted space. Thankfully, it doesn't extrude too much, so there is minimal wobble when the phone is laid down on a flat surface. It definitely calls attention to itself, which, considering it frames one of the phone's key strengths, is probably appropriate.
Display and Audio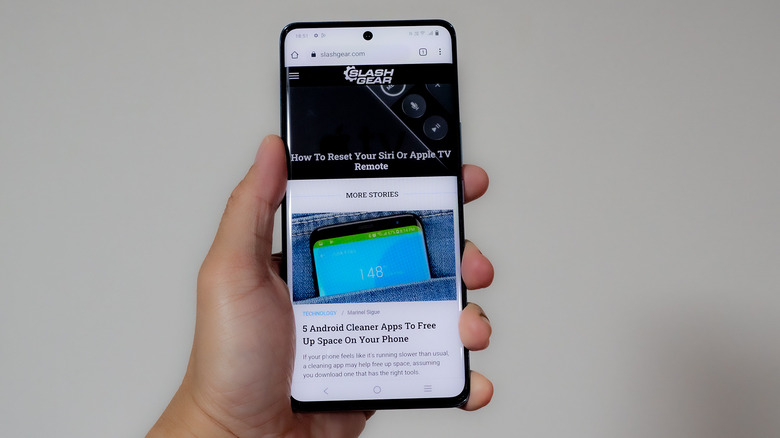 Ewdison Then/SlashGear
Just as the Vivo V25 Pro's back is alive and visually active, its front is equally eye-catching, at least when turned on. The 6.56-inch FHD+ AMOLED screen is quite bright and vibrant, not necessarily at the top of its class but still notable nonetheless. The screen has different color settings, and the default actually seems a bit oversaturated. Fortunately, you can set it to your liking, at which point you'll really start to enjoy the rich colors that the screen can offer.
The display also supports a refresh rate of 120Hz, a step up from the Vivo V23 Pro's 90Hz. However, it can only switch between 60Hz and 120Hz, with nothing in between or lower. Unfortunately, the automatic switching between these two frequencies seems to be quite random and unpredictable. It is only when browsing the system UI that a fluid 120Hz kicks in, switching to 60Hz when at rest. For anything else, it may or may not switch between those two rates, hinting at a bug that can hopefully be squashed in a future software update. The silver lining here is that you can actually force the system to use only 60Hz all throughout or only 120Hz, so you can end up deciding between battery life and performance on your own.
The V25 Pro has a bottom-firing speaker and the earpiece functions as its tiny partner. Together, they deliver sound that's loud enough to get heard but with a quality that's not good enough to get noticed. It's not terrible, mind you, but it definitely falls short of the total multimedia experience you should have with a screen as high-quality as this. Most people will probably have a favorite pair of wireless earbuds or earphones at this point, though, even those aiming for mid-range prices. Still, it's not an excuse when it actually takes very little extra effort and cost to put in speakers with a decent amount of mids, at the very least.
Performance and Battery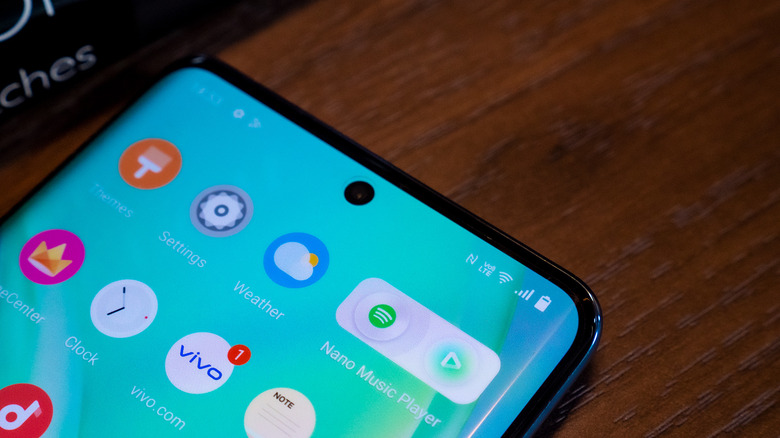 Ewdison Then/SlashGear
The Vivo V25 Pro runs on a MediaTek Dimensity 1300, a relatively young mid-range chipset that has so far been used in very few devices, including the OnePlus Nord 2T. Despite the four-digit name, it is far from the chipmaker's flagship silicon, which isn't really surprising considering the price of this device. For all intents and purposes, it's actually a decent all-around processor. Synthetic benchmarks show it lagging slightly behind other phones with the same chip, but not by much. For both normal tasks and even for gaming, the V25 Pro performs just fine with minimal hiccups and dropped frames. The 12GB RAM definitely helps in this matter, especially if augmented with RAM Expansion.
One area where the phone seems to falter a bit is in thermal management, particularly when gaming. After prolonged use, the phone gets uncomfortably hot. Curiously, that doesn't seem to happen during other taxing activities, including benchmarks. The phone isn't marketed as a gaming device, but it still feels odd that it wouldn't be able to handle something that has almost become so basic even among mid-tier contenders.
The phone has an odd 4,830mAh battery, which isn't exactly small. Despite that, it barely lasts a day under normal use, which is again surprising with that capacity. It's not hard to imagine there might be some missed opportunities to optimize the performance of the V25 Pro, and it remains to be seen if it is something that can be addressed through software. The phone does charge fast, but at 66W, it's hardly a speedster. Going from zero to full still takes about an hour, even if you're using the included 80W charger.
Cameras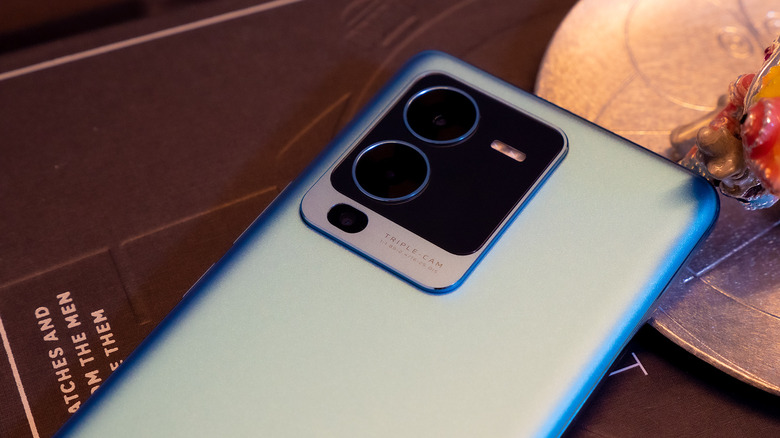 Ewdison Then/SlashGear
While Vivo's "Pro" smartphone sounds almost mediocre at this point, it admittedly starts to shine when it comes to the mobile photography department. It's not going to compete with the actual pros that demand higher prices, of course, but it can definitely hold its head high among its kind. That's primarily thanks to the 64MP main camera that is equipped with both EIS and, for the first time, OIS. The images that it produces are actually quite remarkable, rich in detail, and lacking noise. Dynamic range is good, and colors are more on the natural side rather than saturated. You'll only notice sharpening artifacts when you really zoom in on the default 16MP mode, but the full 64MP mode relaxes the processing a bit.
OIS definitely helps when taking shots at night to the point that you might not even need the dedicated night mode. Unfortunately, it doesn't work for videos, but the existing EIS still does a good job nonetheless. Generally speaking, there is very little to complain about the main camera on this phone, and it would have gotten a perfect score if not for the other members of its gang.
To be fair, the 8MP ultra-wide is actually strong as well, if not for the lack of detail stemming from its lack of pixels. That it doesn't fare worse is actually a better way to describe it. The same can't be said for the 2MP macro camera, which seems to only exist for filling in bullet points. There's no telephoto camera, of course, and the main camera is only capable of a decent digital zoom at 2x magnification.
The other star of the show is the 32MP camera on the front, equipped with something that very few front-facing cameras have. It has autofocus rather than fixed focus, which means you no longer have to worry about blurry selfies too much. It's a combination that seems to be perfect for selfie lovers and vloggers, which is exactly the audience that Vivo is trying to target.
Software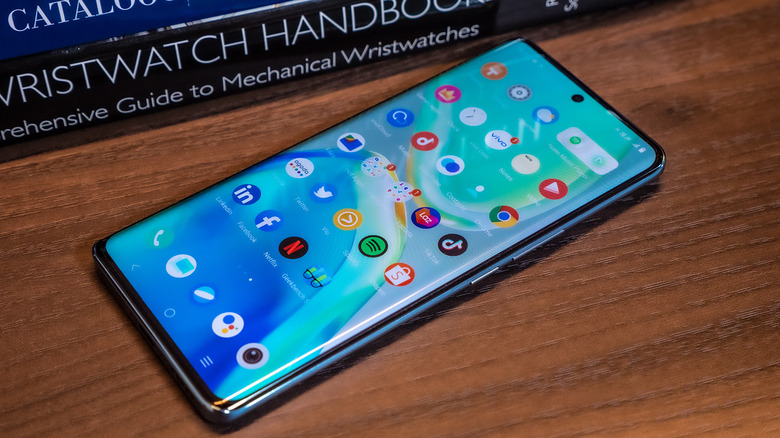 Ewdison Then/SlashGear
The Vivo V25 Pro runs Funtouch OS 12, which, fortunately, is based on Android 12. That means that it is at least running Google's current version, but most of the semblances to Android 12 will only be seen under the hood. That's mostly in terms of privacy features such as permissions and notifications. Parts of Material You are there, like the ability to adjust the color scheme based on the wallpaper. But as you might have expected, Vivo changes so many elements that you won't recognize it as vanilla Android at all. 
That's not exactly a bad thing, especially for Vivo's young and hip audience. Funtouch OS 12 has all the bells and whistles when it comes to customizing the user experience. It even gives a choice that few manufacturers offer, like whether you want to display your recent apps in a carousel or in a grid. Unfortunately, it's easy to overlook these options or get lost in them because they're all over the place. Vivo really needs to sit down one of these days to organize its menus a little better.
As you can expect, there are also plenty of bells and whistles that might not even want to be there — otherwise known as "bloatware." Fortunately, it's easy to uninstall or disable them, but it's still bothersome that you have to be the one to clean up after Vivo. Unfortunately, all these customizations, both the good and the bad, carry a price on maintenance. 
The company doesn't have the best track record in pushing software updates, and it has so far remained silent even regarding its latest phone. Hopefully, we'll see it change its course for the better in the months ahead.
Final Thoughts: Too Much Choice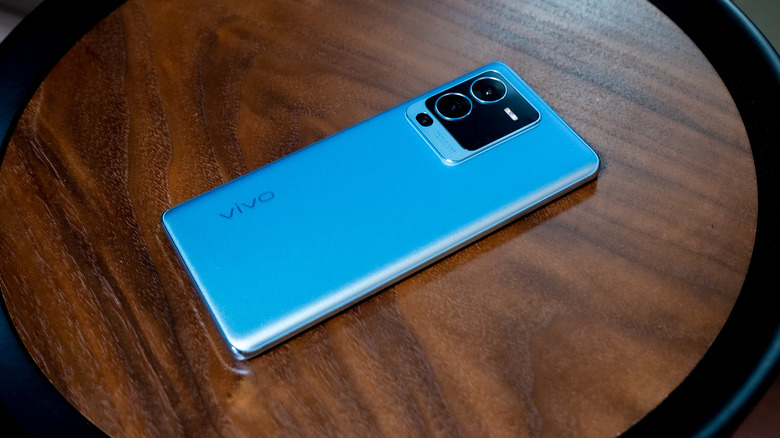 Ewdison Then/SlashGear
While reviewing the Vivo V25 Pro, we found it to be quite a decent offering from the company. It's not a powerhouse, naturally, but it can hardly be called a slouch. The gorgeous screen is plenty enough to look at, but its main and selfie cameras definitely help make its case stronger. It's definitely not perfect, with so-so battery life and barely decent audio. There are some flaws that can be overlooked when looking at a smartphone on this tier, and it would have been just fine if we left it at that. That said, it doesn't exist in isolation, and its market strength will ultimately be judged by how well it can stand out from its peers.
In that sense, unfortunately, it might not have enough to actually make it the best choice in any aspect, though its camera performance comes very close. And with a price range of $450 to $500, it's hardly the cheapest. It has plenty of competition in this range, such as the OnePlus Nord 2T (or even the Nord N20 5G), the OPPO Reno 8, the Samsung Galaxy A53 5G, the Nothing Phone (1), and the Google Pixel 6a, just to name a few. Some of these have better cameras, better screens, better batteries, or even better prices. None are the perfect mid-range, of course, but that only means there are plenty of ways to miss standing out. Unfortunately, it seems that Vivo has opted to take play it safe this year, putting out a phone that is just fine, without the necessary exceptionally strong points that'd put it at the top of the pile.