Eufy 4G Starlight Camera Review: Security Video Without The Tether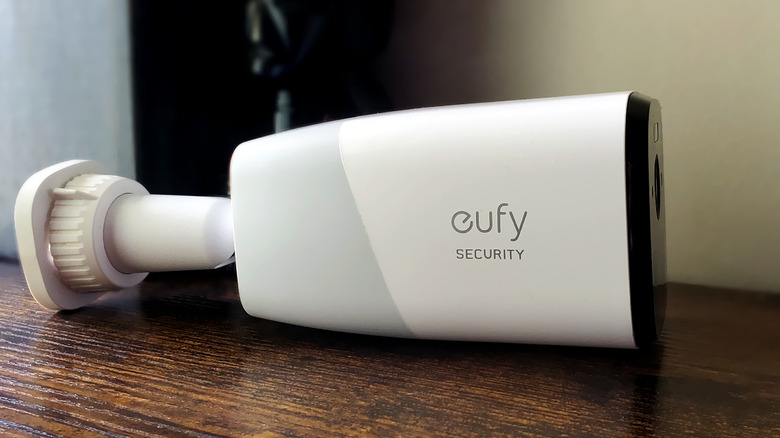 Brittany Roston/SlashGear
We may receive a commission on purchases made from links.
Anker, the company best known for its various charging and battery accessories, offers a unique wireless security camera under its Eufy brand: the Eufy 4G Starlight Camera. The model, as its name suggests, is notable due in part to its built-in 4G connectivity, which makes it possible to mount the camera somewhere that lacks Wi-Fi service, yet still enjoy the convenience of remote access while getting push notifications on your phone. The Starlight part of the name, meanwhile, refers to the camera's nighttime functionality: it can record color videos at night using what Eufy calls the 2K Starlight Sensor.
There's a lot to like about the Eufy 4G Starlight, not the least of which is its optional solar panel and built-in battery intended to truly liberate the device from cables and cords. The camera is on the pricier side (especially if you want the optional solar panel), but it's worth the cost — that is, assuming you plan to use it in a very specific type of environment and don't mind paying for mobile broadband to keep the device functional. The Eufy 4G Starlight Security Camera and solar panel are available as a bundle from Amazon now for $219.99 USD.
Hardware and design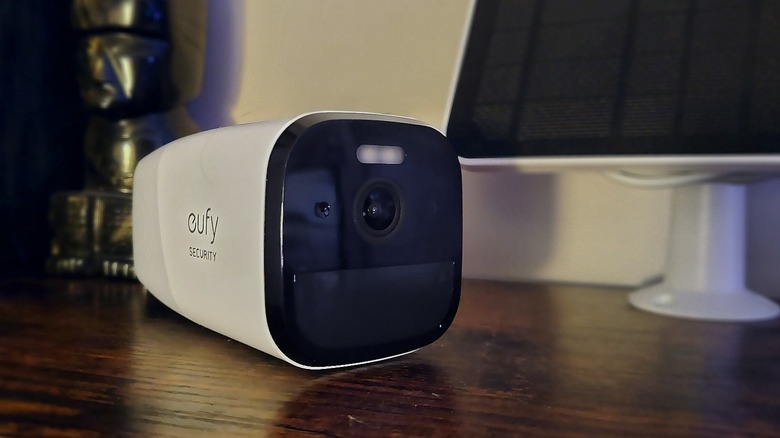 Brittany Roston/SlashGear
Compared to the small pillar- and cube-shaped indoor security cameras you may be familiar with, the Eufy 4G Starlight model is quite substantial in both size and heft at approximately 4.5 x 2.5 x 2.6 inches and 2.9 pounds, though for good reasons: it is designed for outdoor use and therefore is constructed to withstand extreme temperatures (-4 to 131 degrees Fahrenheit), it's waterproof and dustproof, has built-in GPS to locate the camera in case you forget where you mounted it, and it packs a built-in battery with a substantial enough capacity to run for up to three months before needing to be recharged. This large size isn't a problem, as the camera was designed to be mounted in one place, such as on a fence post, the side of a building, or on a tree.
Consumers should keep in mind that the size and design mean the Eufy model isn't subtle and isn't something that could be easily hidden out of sight for an unobtrusive or hidden way to monitor any given space. If that's not a dealbreaker, the camera does bring notable specs to the table, including 2K day and night color video recording, an f/1.6 aperture lens with a 120-degree wide-angle field of view, and support for continuous use with an optional solar panel accessory, which eliminates the need to periodically retrieve the camera to recharge the battery. The security camera itself sports a USB-C charging port, while the solar panel has an older micro USB connector; to get around this, the bundle includes a durable adapter that protects the cable connectors from water. The solar panel is also designed to withstand outdoor environments.
Image and audio quality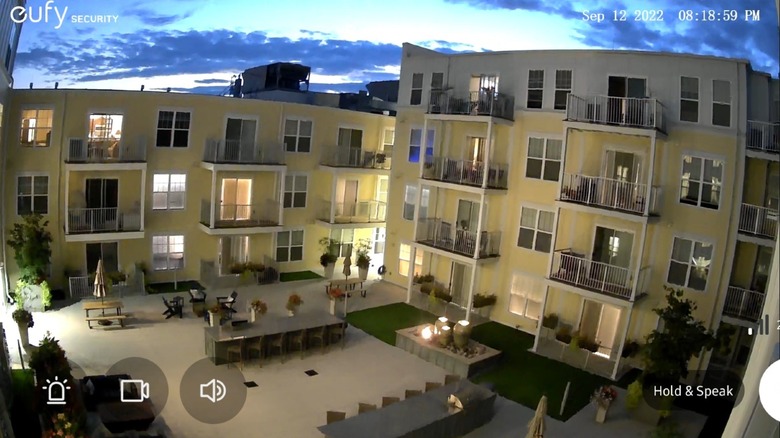 Brittany Roston/SlashGear
The Eufy 4G Starlight camera's audio and video quality are both notable, at least as far as wireless security cameras are concerned. The color night vision in particular is excellent relative to much of the competition, offering better clarity and quality than comparable black-and-white night vision alternatives (though the Eufy camera also has a monochrome mode, as shown below). This may be extra useful for users who plan to mount the camera in a very dark location that lacks external light sources, such as a remote area of rural property, helping ensure any unexpected visitors are captured with substantial enough visibility to make the footage worthwhile. 
The 2K video resolution builds upon that for overall great image quality, particularly when the camera is recording during the day with bright conditions. Make no mistake, though: the image quality is very much what you'd expect from a security camera, which is to say that the video is clearly compressed to strike a balance between data size and quality. 
Meanwhile, the two-way audio support means that users can speak through the camera's built-in speaker to someone who may be located near the device; it's also possible to turn on the audio within the mobile app by tapping a button to listen in on any conversations or noises happening in the vicinity around the camera. Though the audio delivered from the camera is tinny and sharp, the level of clarity is sufficient for understanding what someone is saying. 
This can be used to enhance one's personal safety, making it possible to, for example, ask an unexpected visitor what they want via the app on your phone rather than having to get up and answer the door. The combination of video and audio clarity results in footage that may satisfy an insurance company or law enforcement if the need for either service ever arose. The camera also has a built-in spotlight — which is exactly what it sounds like: a very bright LED that, unlike the night vision LEDs, projects a beam of visible light outward from the camera to illuminate a subject.
App and smart features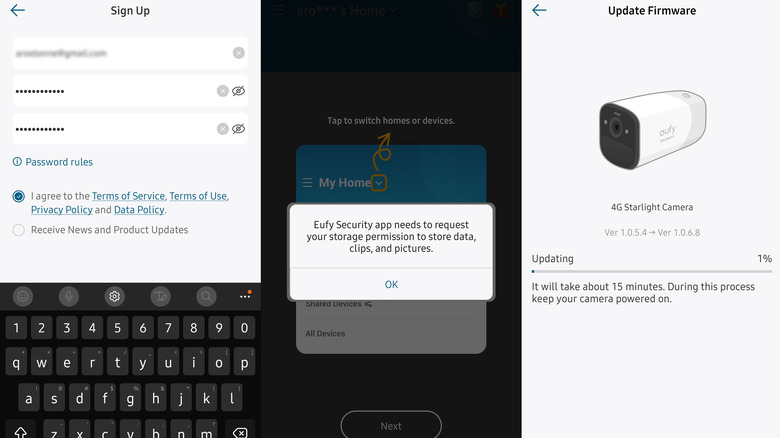 SlashGear
It's no secret that security camera apps can be frustrating — sometimes even unusable, depending on the brand. That's not the case with Eufy. The camera's setup process was very simple, requiring only a couple of minutes and button taps. The key to this process — and the main way this device differs from most of its peers — is the dependency on a 3G or 4G connection (while it can take 5G cards, it can only connect to 4G, Eufy notes). Rather than connecting to a Wi-Fi network broadcast by the camera and then using the app to connect the camera with your home Wi-Fi network, the Eufy camera requires an activated nano-SIM card inserted into a slot hidden behind a weather-proof flap of silicone (shown in the 4G section below). 
The pairing process, which largely revolves around holding a physical sync button on the camera until it beeps, worked the first time around, though the SIM card included with the camera seemed to be defective and after a short while, I had to swap it out with a different card. Similarly, the connection over 4G worked well with both the AT&T and Mint Mobile SIM cards used during testing, but there was a delay of a couple of seconds between adjusting the camera's position and the video feed updating on my phone. Such a delay may make real-time conversations using the camera's two-way audio feature annoying or impossible — though if you plan to mount the camera in a remote location away from your home and its Wi-Fi network, it's doubtful you'll be using that audio feature on a regular basis.
The app itself is pretty similar to the ones you'll find from competing companies, and it's intuitive enough that consumers who are new to the world of DIY home security will be able to figure out how to adjust the settings and view their camera's video feed without much hassle. Eufy offers ample control over both the camera and its software through the app, which also handles firmware updates.
4G support is a double-edged sword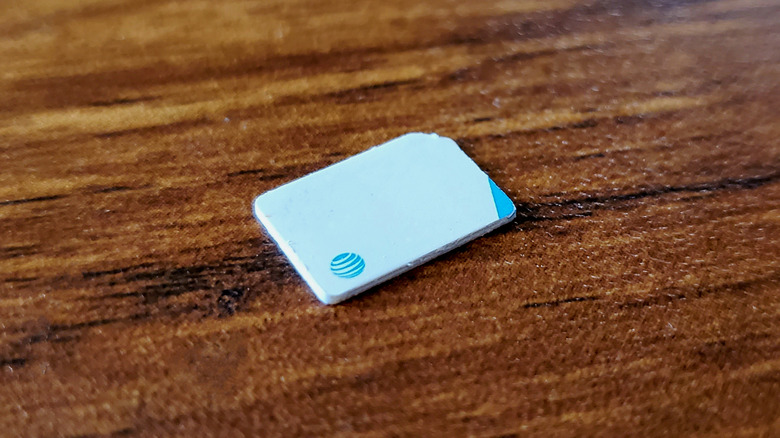 Brittany Roston/SlashGear
It's important to note that Anker's Eufy 4G Starlight security camera can only be used with a 3G/4G network. At launch, the support was limited to AT&T in the U.S., though the company soon added support for EIOTCLUB IoT SIM cards, too — and, as mentioned, we tested the camera with a Mint Mobile prepaid SIM card, and the camera connected to that 4G network without issue. The bad news is that there's simply no option to use the camera with a Wi-Fi network (it lacks the physical hardware needed to do so), and that could be a problem depending on how you plan to use the camera and your budget. The 4G support is great if you need to monitor an outdoor space that's too remotely located to feature Wi-Fi or somewhere like an RV. The downside, however, is that you can't ditch the mobile broadband plan and switch to Wi-Fi if the opportunity presents itself, limiting the model's appeal to niche use cases.
According to Eufy, viewing the camera feed live for around 10 seconds up to 10 times daily over the course of a month, as well as the daily recording of 25 motion events, will use around 500 megabytes of mobile data. That means users may be able to keep their monthly mobile data costs low by choosing, for example, a 1GB per month mobile plan. For reference, EIOTCLUB offers an IoT SIM card that uses the AT&T network and includes a total of 24GB of data that's good for 360 days for $119, which works out to around $10 per month. The data usage will be higher if you spend a lot of time viewing the live video feed, however, particularly if you use the camera at its full 2K video resolution rather than at 1080p.
Assuming your use of the camera is conservative and you limit how often you check out the live video feed, that should be enough data to get you through the year, but it does mean the camera will have a regular cost associated with it — perhaps a hefty one if you're regularly downloading videos from the internal storage. Such is the price one pays for cellular support and the convenience of remote access, of course, but it's important to evaluate your needs and decide whether you're okay with a camera that can only be used with an active SIM card.
Solar panel accessory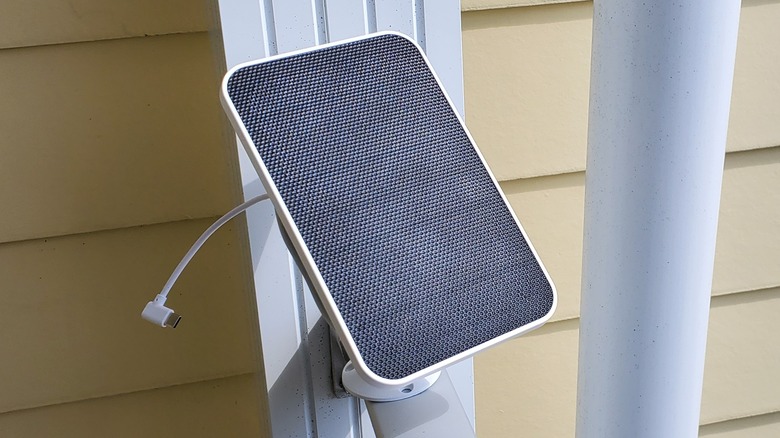 Brittany Roston/SlashGear
The optional 2.6-watt solar panel is worth the extra $60 you'll pay for it; the device eliminates the hassle of having to manually recharge and then remount the camera every few months... assuming you're able to position the panel somewhere it gets direct sunlight on a regular basis. The solar panel includes a very long USB cable (13 feet, to be exact), so you have the option of mounting the accessory several feet from the camera if necessary, or even running the cord through a wall or window to connect it with the camera if the latter is mounted indoors.
The Anker Innovations brand claims you only need a few hours of direct sunlight per day to "forever" power the battery in the camera. This makes the accessory's usefulness very dependent on your local climate. If you live in a place that often has overcast conditions, the company says you'll need a full sunny day to generate enough power to keep the camera running for three days. That should be adequate for all but the most inhospitable of conditions, such as during long, dark winters during which snow often blots out the sun.
If you plan to manually recharge the camera's battery every few months or you'll have a wired power source available, you can skip the solar panel and get the 4G Starlight camera as a standalone product for $229.99 from the company's website or a bit cheaper from Amazon. The Eufy brand offers various bundle options, such as the camera with one solar panel accessory for $289.99, all the way up to a bundle that has four cameras and four solar panels for a substantial total of $1,160.
There are some other limitations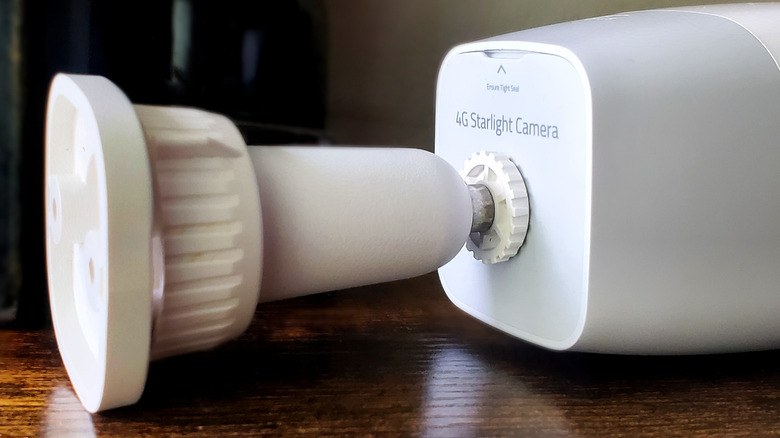 Brittany Roston/SlashGear
The 4G Starlight camera certainly doesn't lack in the features department, though it may not have the exact features you need for your particular circumstances. In addition to the lack of Wi-Fi support, the security camera has integrations with both Google Assistant and Amazon Alexa but does not include HomeKit support. That means while many consumers will find the camera compatible with their existing IoT assistants, Apple diehards are left out of the party and will need to look elsewhere if they want to utilize their existing devices fully.
The device's 2K video resolution quality means that the 8GB of local storage won't go very far if you plan to record lengthy videos rather than sporadic motion events. The camera doesn't have a microSD card slot, so there's no way to expand the storage in order to hold on to a greater quantity of videos, and the camera lacks the ability to automatically upload and store media in the cloud.
The good news is that the camera includes an AI-powered feature that means you can choose to have it only record instances of motion that result from a human rather than every motion event, which will help cut down on how many video clips it records. Eufy claims this feature will reduce the instances of false alerts by 95% — or, put more simply, you're not very likely to get alerts about a human nearby when the subject is, in fact, a raccoon.
Final thoughts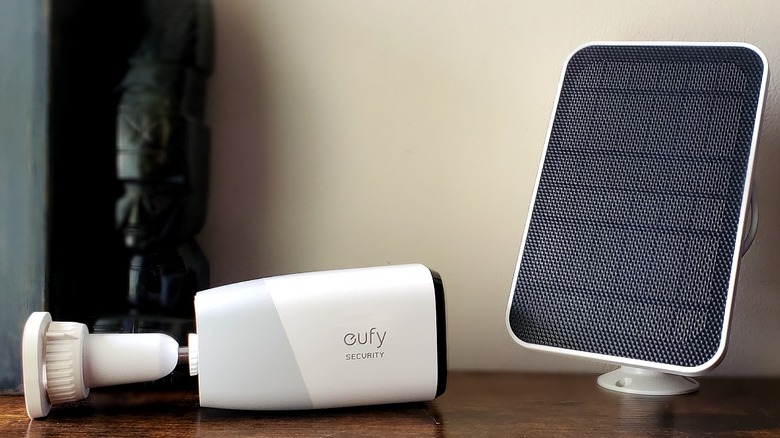 Brittany Roston/SlashGear
The Eufy 4G Starlight and its companion solar panel is a great security camera system for those who need a stable, reliable video recording solution that isn't dependent on potentially spotty, unreliable Wi-Fi and electrical services. The camera's strengths lie in its complete wireless independence, making it possible to utilize the camera in environments where typical alternatives aren't sufficient: remote property, outbuildings on a farm that lack electricity and Wi-Fi, and even outside one's home if you want to make sure the camera will keep rolling during a blackout or internet service disruption.
This strength is also the camera's biggest weakness, however, as it is only useable for as long as you continue to pay for a monthly or annual mobile data plan. Support for EIOTCLUB SIM cards means consumers have a variety of plan options to choose from that are tailored to IoT devices, plus you may get away with using a SIM card from a carrier that's not officially supported, as we were able to do with Mint Mobile. Even then, however, you'll still be forced to use a 3G or 4G network with zero options for connecting to Wi-Fi, and that means a regular cost associated with the camera.
If dependence on a cellular network isn't a dealbreaker, the security camera's long battery life, durable construction, smart assistant integrations, simplified setup, and great video quality are all upsides that help justify the relatively hefty price tag. Ultimately, you should take the time to carefully consider what it is you need and want before deciding whether the Eufy 4G Starlight Security Camera meets your specific needs. If it does, you'll likely be satisfied with the product.
It's important to be aware of a sort of security issue that happened with Eufy cameras back in 2021. That issue was reportedly fixed in short order and we've had no similar issues during the course of our review. 
After this review was initially posted, eufy Security was the subject of an investigation that appeared to show some flaws in the way they handled streaming video.