Zune HD launching September?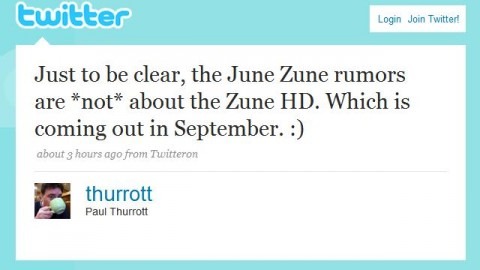 The Zune HD June launch tweets may have been fake, but well-connected-regarding-Microsoft blogger Paul Thurrott has thrown PMP lovers a bone in the shape of the actual launch schedule for the upcoming device.  According to Thurrott's tweet, the Zune HD will hit shelves in September.
Thurrott's source is said to be one "close to Microsoft", and the same news is apparently confirmed by another "good source" of Ars Technica.  Microsoft themselves have already confirmed that a new Zune is expected to launch this year, and it's expected to take on both the iPod touch and include the company's new living room assault.
There's also talk of the "HD" part of "Zune HD" referring to an HD Radio component, though others are claiming the PMP will be capable of pumping out HD-quality video through a mini HDMI port.  So, no official September confirmation as yet, but several converging rumors and leaks that seem to suggest the Zune HD will land there or thereabouts. 
[via Ars Technica]