ZTE Light Tab 2 hands-on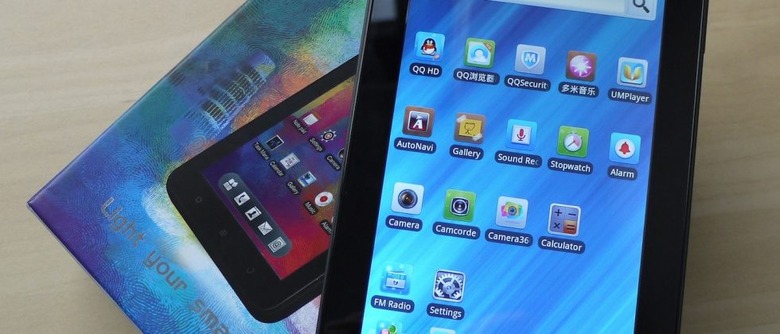 Cheap Android tablets have become their own sorry little meme, but ZTE might have a minor gem on its  hands with the new Light Tab 2. The name may be naff but, for the budget price, you're getting a surprising amount for your money: a decent 7-inch display, solid build quality, and integrated quadband 3G/UMTS, among other things. Of course, there are some compromises to be made along the way, too; read on for our first impressions and some video fondling.
At £195.83 pre-tax in the UK ($310), the Light Tab 2 (V9A) is one of the cheaper 7-inch tablets around with a brand name that's at least vaguely recognizable. Just as we've seen from ZTE's smartphones, the company specializes in affordable kit: so, the Light Tab 2 gets integrated 3G alongside its WiFi b/g/n and Bluetooth 2.1, A-GPS, a 1.4GHz single-core processor paired with 512MB of RAM, and a multitouch display. It's running at 1024 x 600 resolution, so the same as Samsung's original Galaxy Tab - and, indeed, the Galaxy Tab 2 - but at least the LCD panel itself is decent. Unlike other cheap tablets we've seen, there are no dodgy viewing angles and the image quality doesn't dive when you flip to landscape orientation.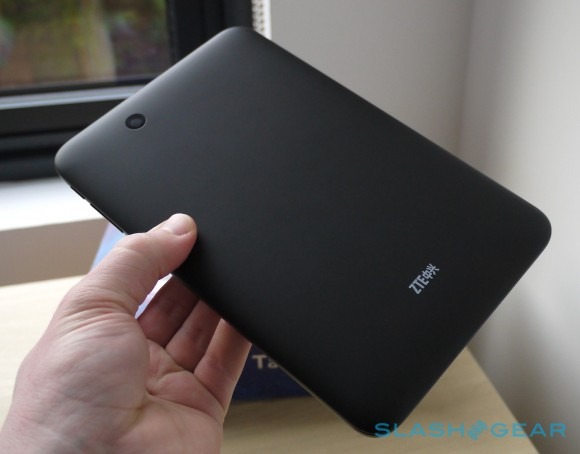 Build and design are solid and simple rather than anything more dramatic. The entire plastic back panel – matte-finished, though not soft-touch plastic – pulls off to reveal a 3,400 mAh battery, SIM card slot and microSD slot to augment the 4GB of internal storage. It's all creak-free and sturdy, but the aesthetic isn't going to win any awards. Physical controls are limited to power/lock and volume on the upper right edge, along with three touch-sensitive buttons under the display, plus you get stereo speakers, a 3.5mm headphone jack and a microUSB port for charging and syncing. At 202 x 122 x 12.6 mm and 402g it's fairly compact though slightly heavier than what we've seen Samsung produce lately.
ZTE Light Tab 2 hands-on:
[vms d234463057972460c04f]
The big drawback is, unsurprisingly, the OS. ZTE has opted for Android 2.3 Gingerbread, rather than say tablet-specific Honeycomb or the latest Ice Cream Sandwich. We're back to where the original Galaxy Tab left us, but ZTE hasn't put the same effort into reskinning the core apps as Samsung did. Instead, you get a choice of two launcher skins, both showing – on our pre-launch demo model at least – plenty of Taiwanese and defaults like Baidu search.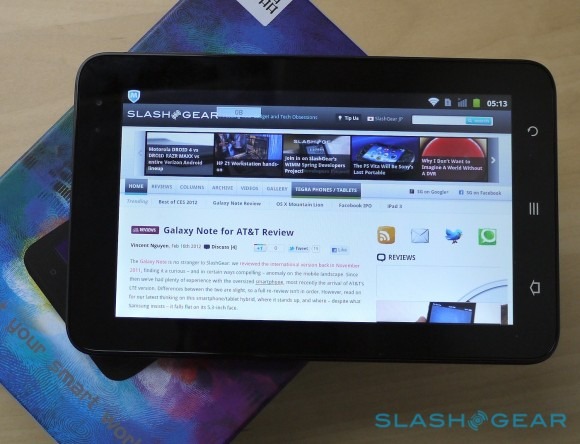 That should be different by the time the Light Tab 2 makes its official debut, but the overall experience is more akin to an oversized phone than a true tablet. Still, webpages – once you click through to the full site – look decent in the browser and there's Flash Player support, while 720p videos played with no issues, as did streaming YouTube clips. You can also use the ZTE to make voice calls, though you'll feel even more ridiculous holding it to your face than you would a Galaxy Note.
The rear 3-megapixel camera and the front-facing 0.3-megapixel camera are nothing to write home about, and there's no LED flash, but taking photos with a tablet has always felt somewhat gimmicky anyway. We managed a full day's use on a single charge, though didn't have enough time to put the Light Tab 2 through the full gamut of battery testing.
Ice Cream Sandwich would obviously be ideal, but the ZTE Light Tab 2 gets a lot of the core things right. It's swift enough and solid enough to belie its price tag, and ZTE hasn't cut corners on the display or the connectivity options. We've a feeling that, when the Android homebrew community gets its hands on the slate, unofficial Honeycomb and ICS ROMs will be whipped up in short order, and the Light Tab 2 could turn into a minor star.
Thanks to Clove for the loan of the Light Tab 2; it's available for pre-order now at £195.83 plus tax, with shipments expected late this month.