ZTE Grand Memo II LTE Hands-On At MWC 2014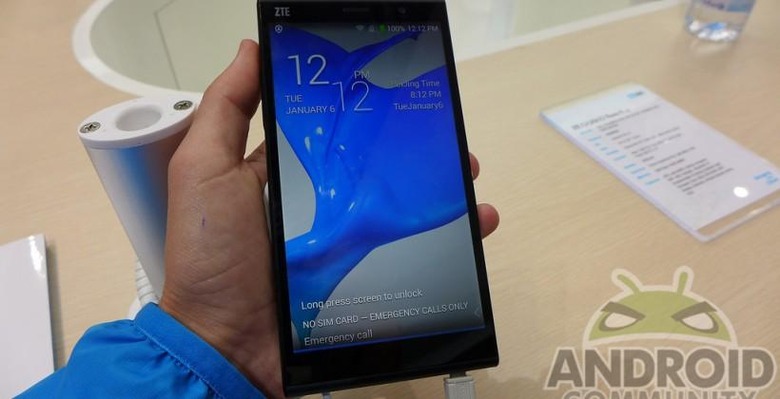 ZTE promised and has delivered and now we're getting a quick look at the Grand Memo II LTE. But with a larger than normal phablet size and mid-range hardware specs, ZTE might find this giant smartphone a hard sell in some markets.
The Grand Memo II LTE was already teased even before MWC 2014 began, so we're not too surprised how it turned out to be. This smartphone touts a 6-inch screen, 0.3 inches larger than its Grand Memo predecessor, but also 0.3 inches shy of Samsung's largest phablet. Despite that size, this giant only has a 720p resolution, which is not that bad for a mid-tier device.
And mid-tier it truly is, as you will not find hardware here that's meant for punishment, but more than enough for your average use case. You have a Qualcomm Snapdragon 400, 2 GB of RAM, 16 GB of storage, an ample 3200 mAh battery, and a collection of connectivity features including, you guessed it, LTE support.
This ZTE giant does try to boast of some features, particularly with its cameras. On the front you have quite a high 5 megapixel shooter with an f/2.2 aperture. The rear camera, as always, is a bit more interesting, sporting 13 megapixels, Sony's BSI technology, and the same f/2.2 aperture. The placement of the rear camera lens and flash, however, is quite curious, as it sits not quite in the middle and not quite in the corner of the smartphone's back.
The ZTE Grand Memo II LTE runs the latest Android 4.4 and also brings along with it ZTE's MiFavor custom interface, one that is claimed to be designed to give off a more natural feel, though that has yet to be tested in the wild. ZTE has not given word where and when its latest phablet will be available, much less how much it will cost interested buyers. Judging by the demo units, the device will come in two color options of white and very glossy black.