ZTE And NVIDIA Announce World's First Tegra 4 Super Phone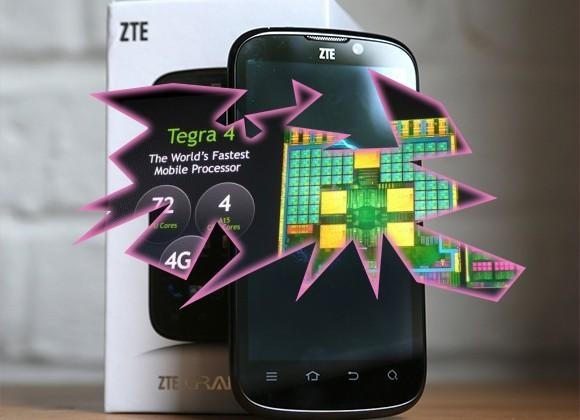 The world is about to get its first Super Phone working with NVIDIA's new Tegra 4 quad-core processor, and the manufacturer of this masterpiece has been announced as ZTE. This will be the first time the Tegra 4 will be available on a smartphone in the world according to ZTE and NVIDIA, with a release time set for somewhere before the half-way point through 2013. This announcement does not include a name for the device, nor many specifications or a price, but it does let loose that one important bit – first ever!
With ZTE once again joining up with NVIDIA to bring a "first" to the market, we've got to wonder how much of it we'll see at Mobile World Congress (coming up in just a few days). ZTE generally brings quite a show to the international mobile event, but with an announcement set so close to the actual reveal, we can't imagine a real bit of hardware really ready for the public so quick. Regardless, we will be seeing something big from NVIDIA and ZTE separately without a doubt.
Check our SlashGear 101: NVIDIA Tegra 4 in detail guide for more information on Tegra 4 as well – pump up your brain!
As far as this first Tegra 4 Super Phone from ZTE – whenever we do get to see it – it'll be working with Android and will have the full-fledged NVIDIA Tegra 4 processor rather than the NVIDIA Tegra 4i we saw earlier this week. This means that the i500 LTE modem will not be integrated in on the SoC and the amount of GPU units inside will be higher as a result. While the Tegra 4i works with 60 GPU cores, the full Tegra 4 works with 72.
You'll also be seeing the Tegra 4i in action with the Phoenix Reference Platform before too long as well. No release date has been mentioned with that device either, but we're crossing our fingers for soon!
With ZTE bringing another hit to the market in 2013, we can't help but hope that it'll enter the USA this time around. ZTE is responsible for such cool devices as the ZTE Grand X with the first Tegra processor / Icera modem combo – we saw that last year at MWC as well. There's also the ZTE U950, a Tegra 3-toting smartphone for less than $160 USD – an undeniably enticing combo.
Stick around in our Mobile World Congress 2013 portal for more information from the NVIDIA and ZTE teams in the near future – we'll be flying in this weekend!