Zero emission, 100% crazy: Nissan builds its astonishing BladeGlider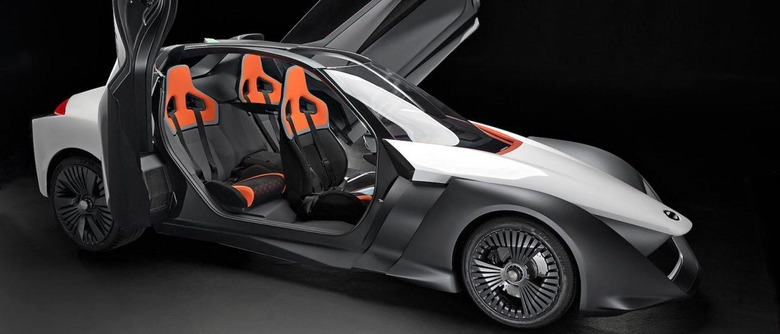 Nissan's bonkers BladeGlider concept was only ever intended to hint at how electrification and driving enthusiasm could work together, so imagine our surprise to find a fully functional version has been made. Shown off at the Tokyo Motor Show in 2013, the oddly proportioned three-seater looks more like a wingless jet-fighter than a car, but according to Nissan it could well shape the automaker's future EVs.
The goal of the original concept was a car that embraced its electric drivetrain rather than attempted to mimic traditional gas-powered motoring. That means styling cues from the DeltaWing racing car, together with a panoramic, wraparound windshield so that everybody inside gets a good view, and a driving style more like gliding thanks to the near-silent electric motors.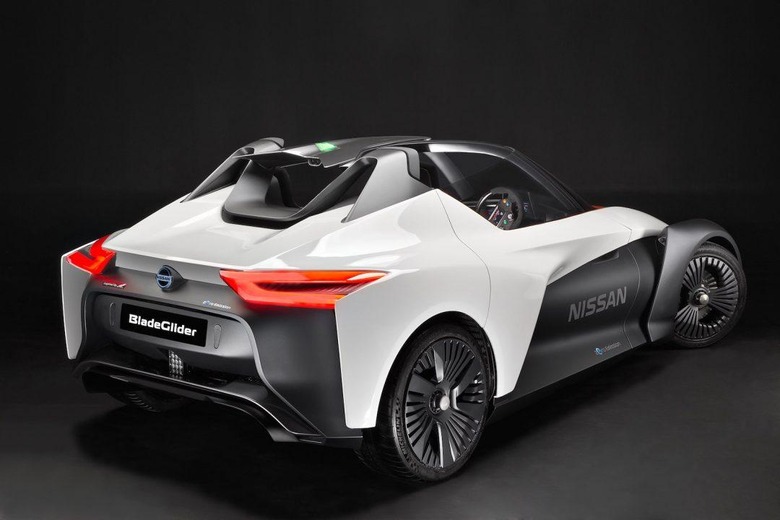 Back in Tokyo, Nissan's suggestions that the concept would play a significant part in future EV development sounded a whole lot like the usual marketing speak. Instead, the company gave the green light to producing two fully functional versions.
The result is a rear-wheel drive open-top roadster, with two 130 kW electric motors – one for each rear wheel – capable of propelling the BladeGlider from 0-62 mph in under five seconds, and on to a top speed in excess of 115 mph.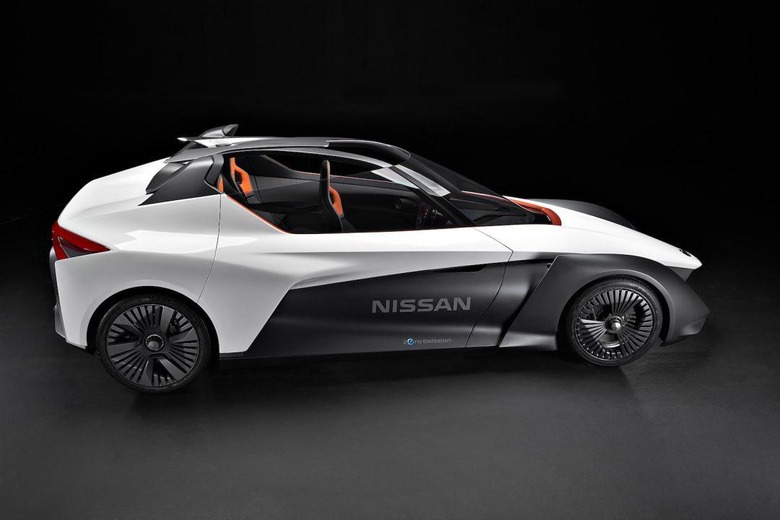 Total power is 268 HP, while torque comes in at a heady 521 lb-ft. Since this is a fully-electric car, all of that torque comes in at once, with power from a five module li-ion 220 kW battery. Nissan isn't talking total range at this point.
Still, while you have charge it should be good fun to drive. Nissan has used true torque vectoring, pushing more power to the wheel with the best grip as well as combatting understeer in the process, and the system has three modes: off, agile, and drift.
Open up the distinctive, rear-hinged dihedral doors and climbing into either the front seat or the pair of individual back seats that flank it looks surprisingly straightforward. Though there's no roof, Nissan did use an integrated roll-over bar design that rises over the rear headrests and then runs down the center of the cabin.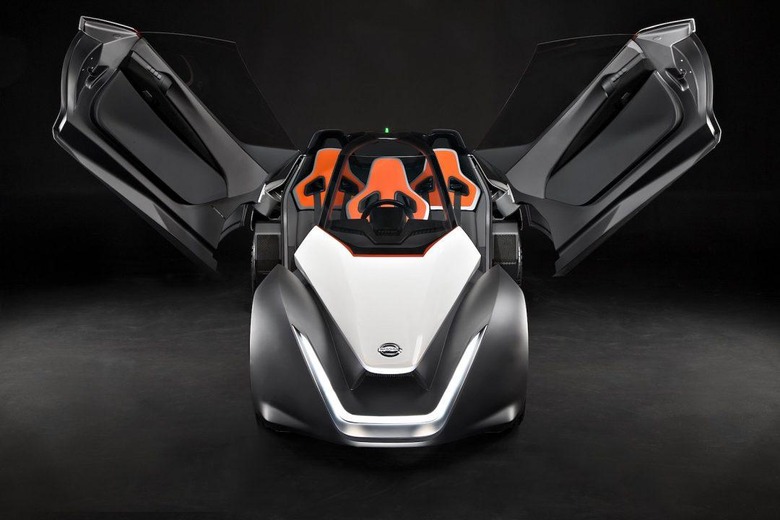 Each seat has four-point safety harnesses, and are trimmed in a mixture of fabric and epoxy resin that, Nissan says, is both resilient and grippy. One car is finished in Cyber Green and the other in Stealth Orange, while both get reflective silver highlights.
The driver is faced by custom displays, with the center panel showing speed, charge and power regeneration status, and the torque map, while two further screens show video from the rear-facing cameras Nissan has used instead of wing mirrors. Not only does that leave the BladeGlider looking more futuristic, it's more aerodynamically efficient too.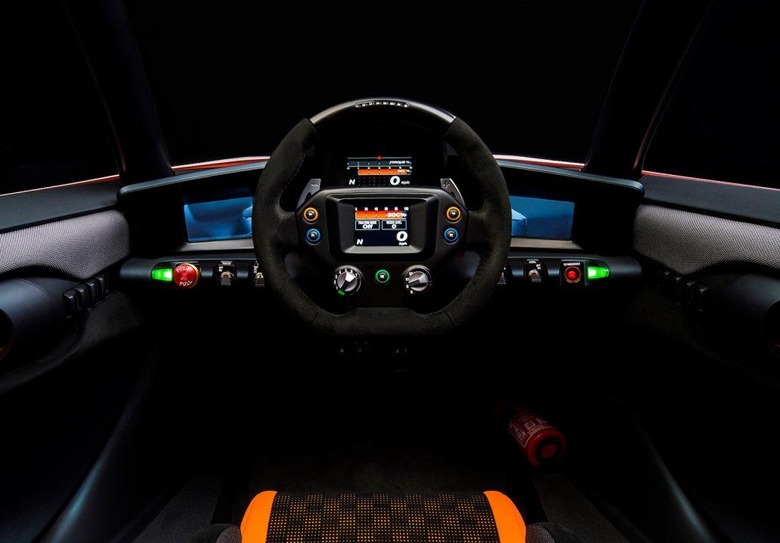 Outside, there are huge vent intakes for the special cooling system for motors and battery, together with single stud wheels.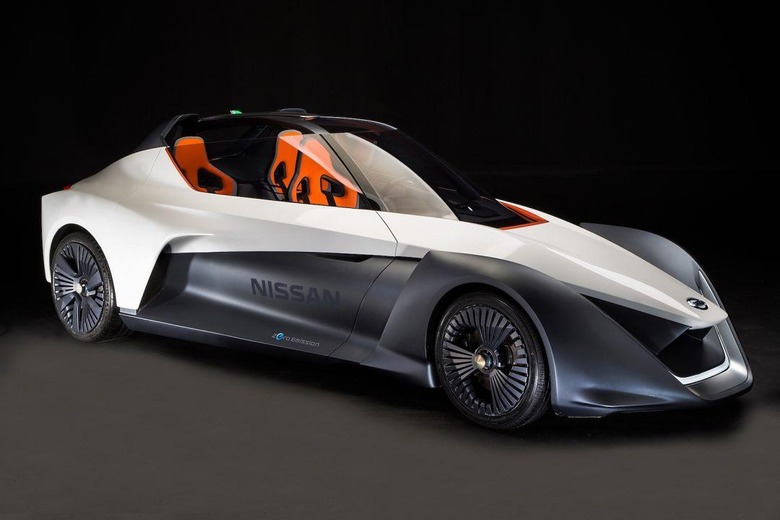 Sadly it's unlikely that the upcoming Nissan Leaf refresh will borrow too much from the BladeGlider concept, though we can't help but hope that the automaker takes some of the lessons to shape an electric or hybrid-electric sportscar in the same manner as Acura's NSX, perhaps.
The pair of BladeGlider prototypes will go on public display in Rio de Janeiro, Brazil, this month.