Nissan DeltaWing goes road racing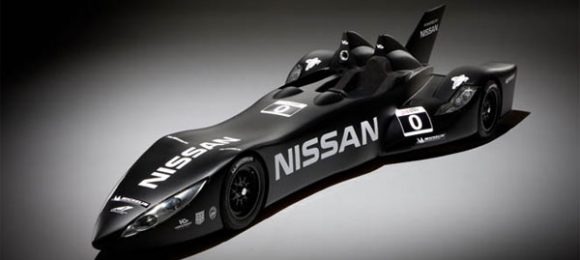 The car you see here isn't Batman's latest ride, it's called the Nissan DeltaWing, and it looks very strange. The car is described as part road racer and part salt flat racer it is designed to be more aerodynamic than other cars on the grid and to use half the fuel the other vehicles use. Interestingly, the car isn't a pure flight of fantasy research project either. It will be coming to the 24 hours of LeMans. Fuel economy is a huge deal in endurance racing and if the car delivers on its promise it could be very competitive indeed.
The DeltaWing is a joint project undertaken by Ben Bowlby, a former Lola design chief, and Chip Ganassi Racing. Apparently, the team working on the car pitched it as the future of IndyCar, but the racing organization didn't feel the same way calling the car too radical. Since that initial pitch, the project has been joined by Nissan and Michelin, with Nissan providing the engine, and Michelin providing the rubber. The car weighs a scant 1300 pounds with a full fuel tank fuel and driver. It's also said to have a 50% reduction in aerodynamic drag and is expected to compete well against more powerful competition in endurance racing.
The engine inside the funky looking car is a Nissan unit that comes out of the Juke DIG-T from Japan. In the Nissan production vehicle, the turbocharged 1.6-liter four-cylinder engine has scant 180 hp. However, for DeltaWing duty, that engine is tweaked to produce 300 hp. The engine is mounted behind the driver and powers the rear wheels. You may be wondering about the narrower front end than seems stable for racing car. The designers say that with the driver and the engine further back in the chassis, the front wheels can be thin since they carry much less weight. Check out the video to see some major arse hauling of the vehicle in testing.
[via Wired]