Yoga Tablet 2 with AnyPen hands-on: any object a stylus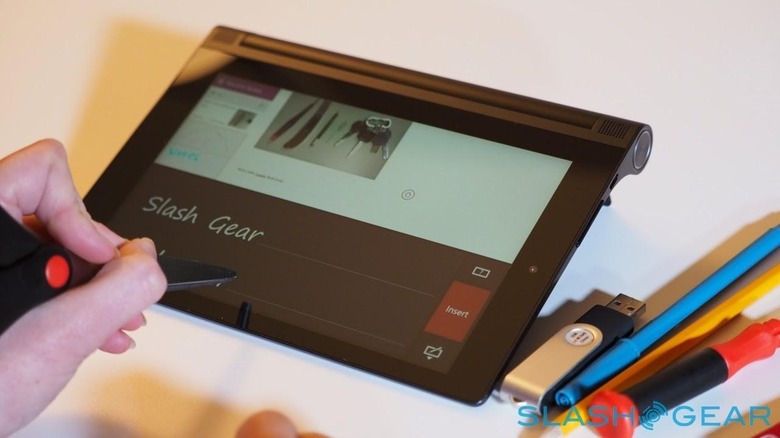 This week we're having a look at a whole bunch of Lenovo devices at CES 2015, one of the strangest being this Yoga Tablet 2. This device has an 8-inch display, Windows 8.1, and the ability to work with any metal object as a stylus pen. This device works with the same basic hardware as the Yoga Tablet 2 series we reviewed in late 2014, but here it's rolling with features that no other tablet in the world has come to market with.
Inside you'll find an Intel quad-core processor, full-sized Windows 8.1, and a 1-year subscription to Office 365. Office 365 works with stylus devices in basically all areas, and with this device you'll be making all devices your stylus.
You've got 10-point multitouch in this IPS LCD display and 1920 x 1080 pixel resolution across 8-inches of screen. And the screen, strange as it is, works with a wide variety of of devices as stylus. Lenovo suggests we'll be able to use a pen, a pencil, or any other metal object to write.
• Keys
• The edge of your metal phone
• Fork
• Pencil
• Pen
No matter how strong the reinforced glass over the display here may be, we're still going to hesitate writing with a knife or a fork. Better we stick to the slightly more blunt instruments like the pen.
Initial tests show this technology to work surprisingly well. It's not the same as writing with an S Pen from Samsung or an NVIDIA DirectStylus, but it's just as intriguing.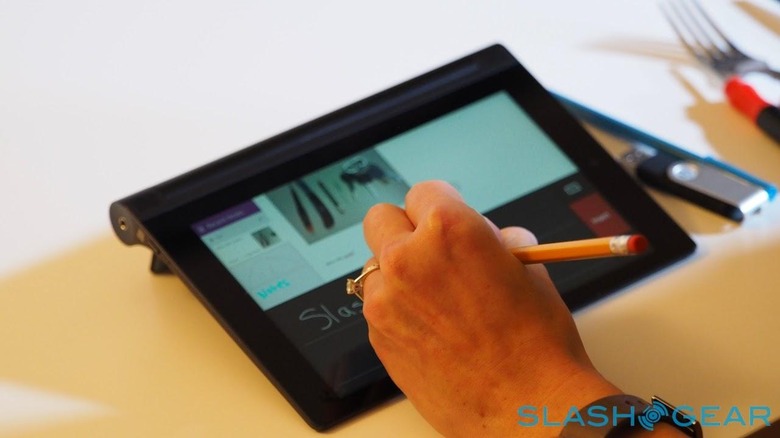 Once we get this device in for review, we'll see how the stylus technology holds up to long-term utilization.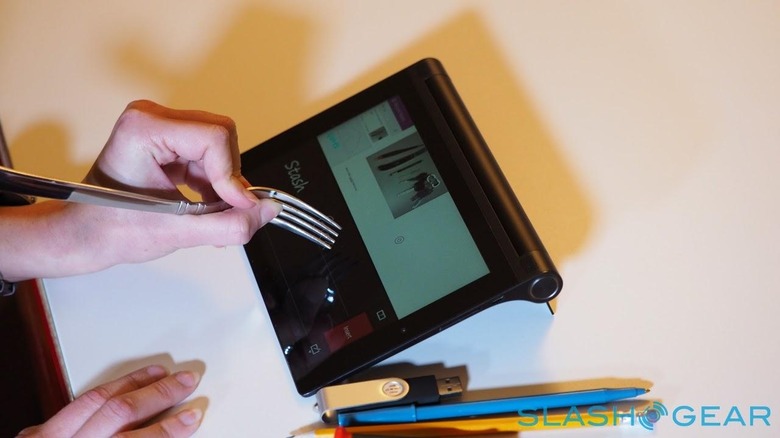 The Yoga Tablet 2 showed us the professional nature with which Lenovo is able to roll with the punches in this strange tablet market we're in today. Front facing speakers, a fold-out stand that can act as a loop to hang on a hook, and a respectably robust physical build top to bottom. The Yoga Tablet 2 with Windows – with AnyPen technology – brings Lenovo to an entirely new market.
This device will be released in Wi-Fi and LTE editions – though we'll be waiting a bit to find out when and if it'll be released with mobile carriers in the USA. More than likely you'll need to pick up your own separate SIM.