Lenovo YOGA Tablet 2 Pro Review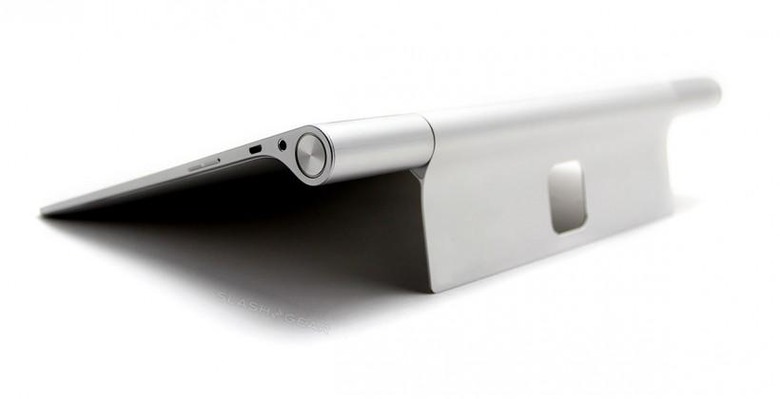 The Lenovo YOGA Tablet 2 Pro is a unique piece of work. Lenovo didn't fall into the same trap many manufacturers make in creating tiny boosts for their devices each year, changing only base configurations. They didn't say, hey, this YOGA Tablet is neat enough, let's just give it a better display for the tail end of 2015. Instead they've made a radical change – they've created a 13.3-inch display-toting tablet that carries its own projector and the world's first tablet-based 5-watt subwoofer. Suddenly this tablet business seems like a whole different ball-game.
Hardware
Up front you've got a 13.3-inch 2560 x 1440 IPS LCD display. That's bringing on 221 pixels per inch – not the sharpest device on the block, but certainly well within the bounds of "beyond sharp enough". The iPad Air 2, for example, has 264 PPI.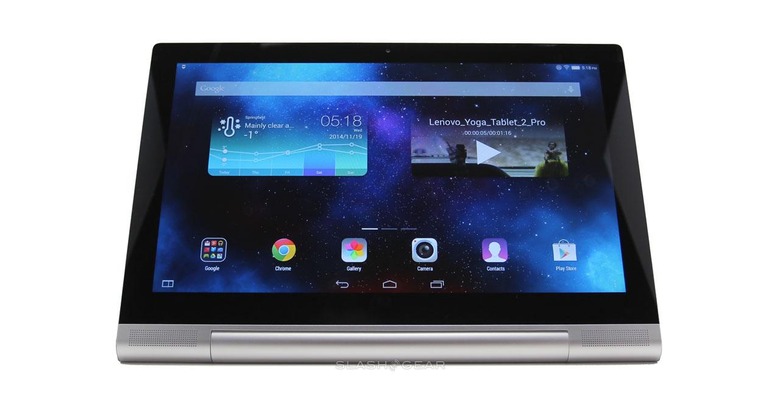 Below you'll see a few views of this tablet's display – it's bright, sharp, and color-correct at all angles. You'll also see the non-Pro YOGA Tablet 2 which we'll be reviewing separately.
The hinge at the back of this device is a fine piece of hardware. You'll be able to move and stop it at any angle within its nearly 180-degrees of adjustment, and it's not loosened any perceivable bit while we've had the tablet in our review lab.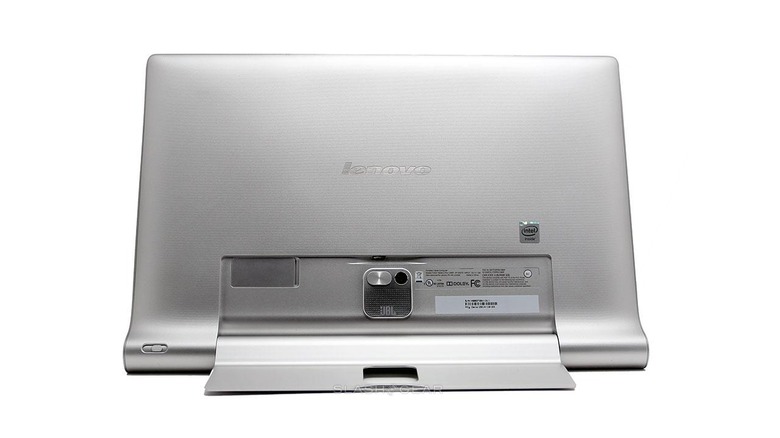 Near the JBL subwoofer at the back of this tablet you'll find a button – this button kicks out the kickstand so you'll be able to access it easier than previous models of the YOGA tablet. Also next to the subwoofer and the button is a camera lens.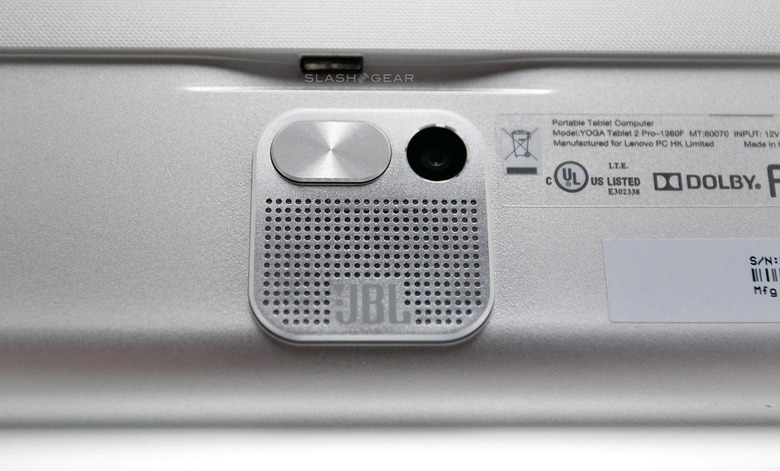 There's also a camera up front of the YOGA Tablet 2 Pro. While this isn't an award-winning-class camera setup by any means, it certainly out-performs the first couple of generations of tablet on the market by a long shot.
Above you'll see a set of photos taken with the YOGA Tablet 2 Pro's back-facing camera in a variety of environments.
The rear shooter is an 8-megapixel auto-focus camera with blue calcium oxide glass to protect it. There's an f2.2 wide aperture lens, and a BSI-2 sensor to boot. Up front you've got a standard 1.6-megapixel camera.
For performance inside you've got an Intel Atom processor. Below you'll see a number of benchmarks which show how this device does in synthetic testing.
Remember that the above tests are dependent on the display size and have little to no baring on our overall view of the device.
In fact speed in opening apps, running games, playing movies, and processing tasks has been nothing but top-notch with this device. We're looking forward to Intel bringing more heat to the Android smart device world in the near future.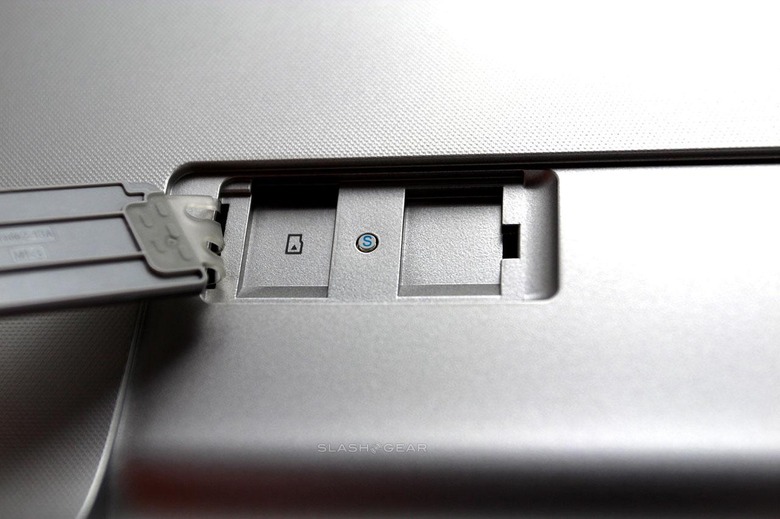 Also inside is 32GB of EMMC-based storage space and a microSD card slot for 64GB more. You've also got 2GB of LPDDR3 RAM.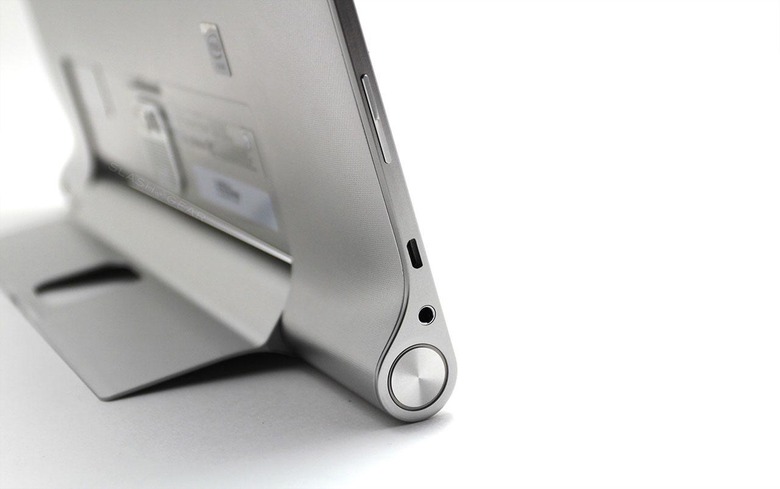 Lenovo has pulled out all the stops on this tablet when it comes to audio. They've got two forward-facing 1.5W JBL speakers and a 5-watt Subwoofer around the back. Inside you've got Dolby Audio Digital Enhancement software to adjust your sound to your liking.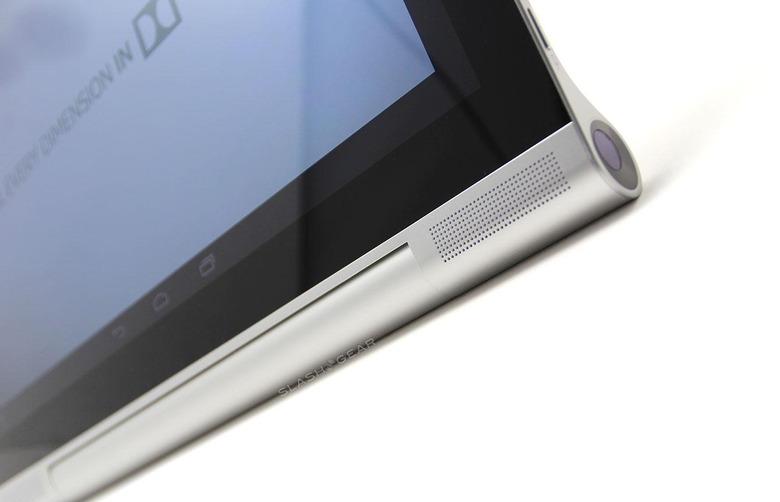 Inside you've also got a Wolfson Master Hi-Fi CODEC audio processing chip – that's separate from your Intel chip – made for stuio-quality noise reduction.
You also get a pair of high-quality JBL earbuds in the box that are NOT your average sound-blasters. Instead you get full sound – as high-quality as we've ever heard in a pair of earbuds, in or out of a smart device box as an accessory.
Software
Lenovo also doesn't pull any punches when it comes to software. They've included a relatively large number of apps, especially for a device that's not working with a mobile carrier. You'll see the Projector App, SYNCit, Brewster Contact Management, Darqi, SHAREit, Smart Switch, Guevera Music, Kingsoft Office, AccuWeather, Route 66 Navi + Maps, Amazon Kindle, and Evernote.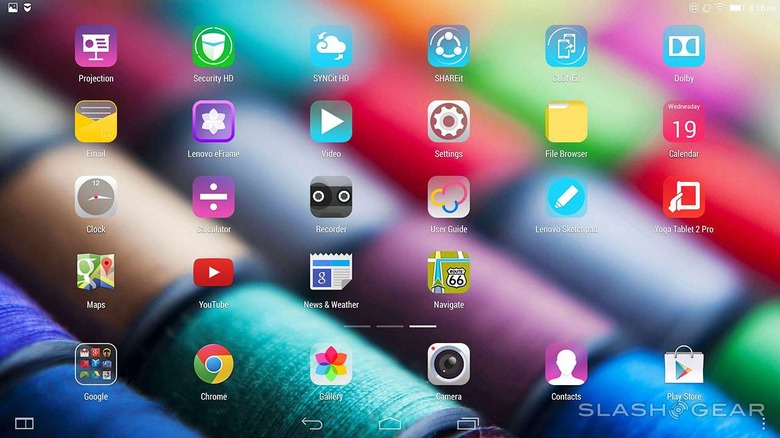 With Security HD you'll be able to see and manage all of your apps. From here you can uninstall, move, or freeze your apps with ease – this is instead of using your Google App Settings essentially the same way, with a slightly less intuitive interface. You can also scan and allow/disable permissions for each app and block ads.
SHAREit and CLONEit are very, very similar. With SHAREit you'll be able to send music, movies, and photos from one divide to another with Wi-Fi, just so long as both devices have the app. With CLONEit, you'll be able to clone your device information, settings, apps, etc from one device to the next.
SYNCit HD works with a Lenovo ID, backing up your contacts to the Lenovo cloud OR to an external memory card.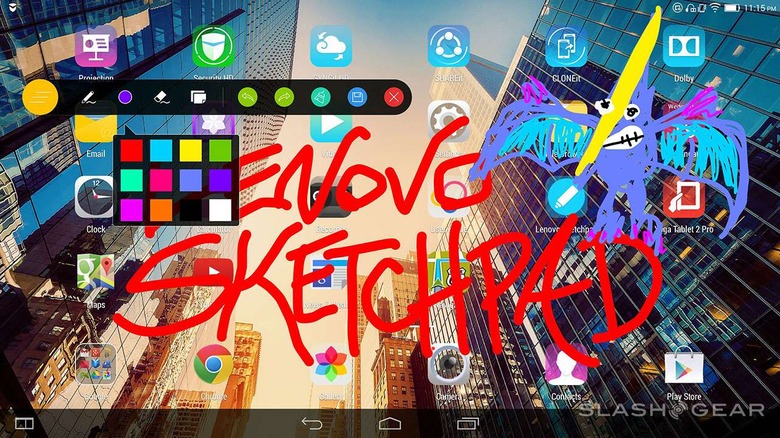 You've also got Lenovo Sketchpad which allows you to capture whatever screen your on OR create a new page to work on in a very basic environment. Opening Sketchpad allows you to keep the toolset you see here above whatever software you've got open concurrently, allowing you to make notes and save your screen whenever you like.
Projector
In the hinge of the Lenovo YOGA Tablet 2 Pro is a pico projector. While this isn't the first projector ever embedded on an Android smart device, it's certainly the best. That doesn't mean it's going to stand up against stand-alone projectors being released on the market now, but it's certainly good enough for basic home theater adventures.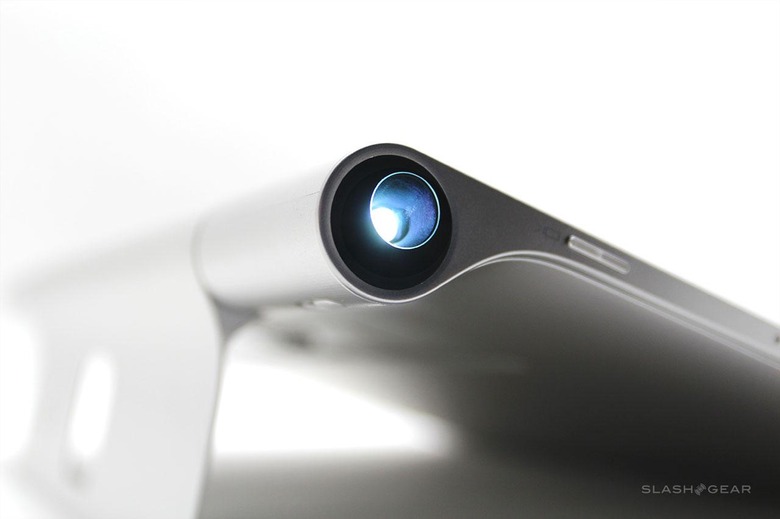 On the side of your tablet you'll have a single button which can activate or de-activate the projector with a push.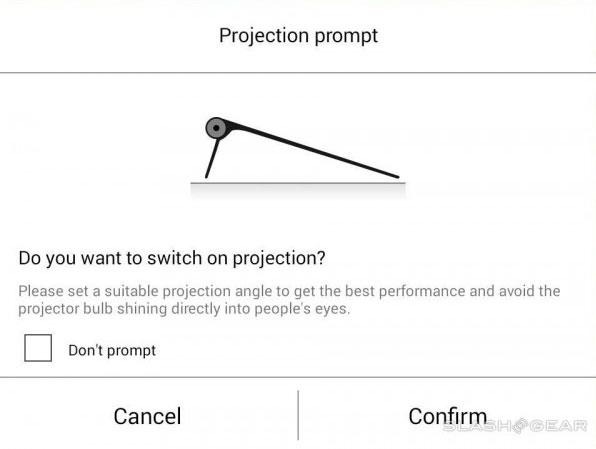 Under the hinge there's a sliding button which allows you to manually adjust the focus on your projector.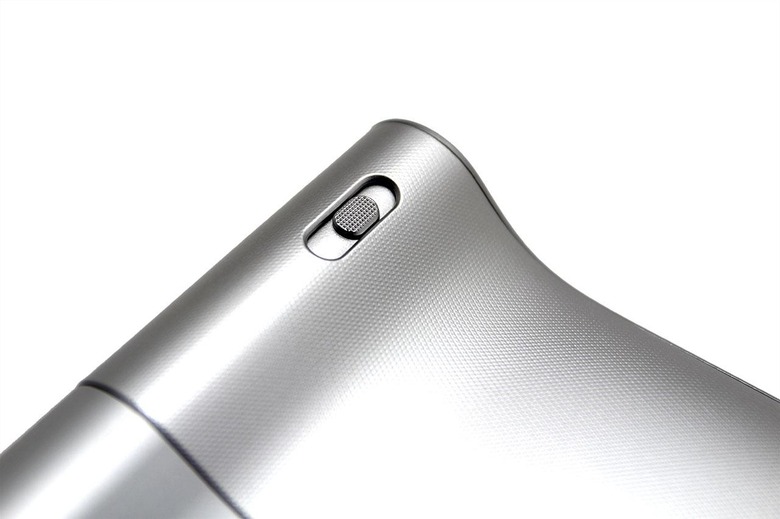 This projector has a number of built-in software adjustment features, each of which are able to be accessed in your settings menu or through the icon shortcut on your home screen.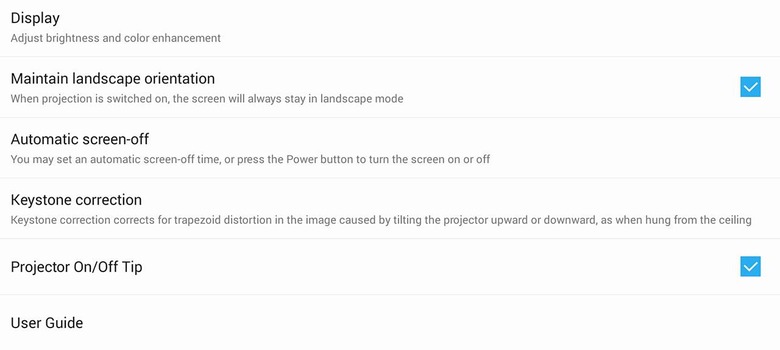 Above you'll see what you're able to do. You'll be able to project a 50-inch picture up to approximately 2-5 meters in a dark room, and slightly less (or slightly less visible) in a light environment. As with all light projectors, the darker the environment, the better.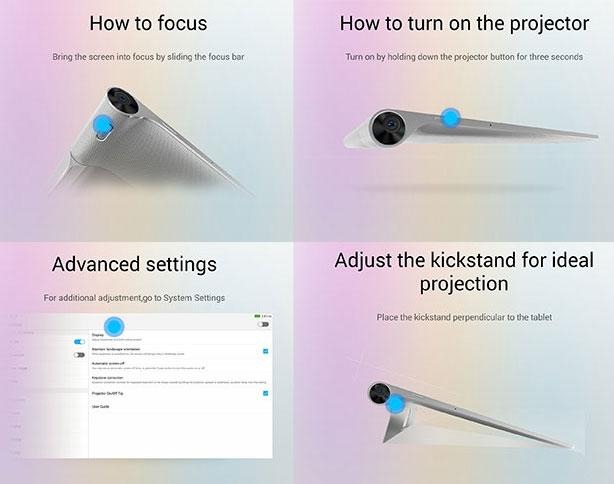 With this projector you're working with a 16:9 aspect ratio and a resolution of 854 x 480 – quite a bit smaller than the resolution of your tablet's display. Brightness sits between 30-40 lumens, and you've got around 20,000 hours on your bulb – at this time we've not been able to investigate replacement bulb options, but once you're done with 2.28 YEARS of projection straight (20,000 hours), we'll see about your options for a fix.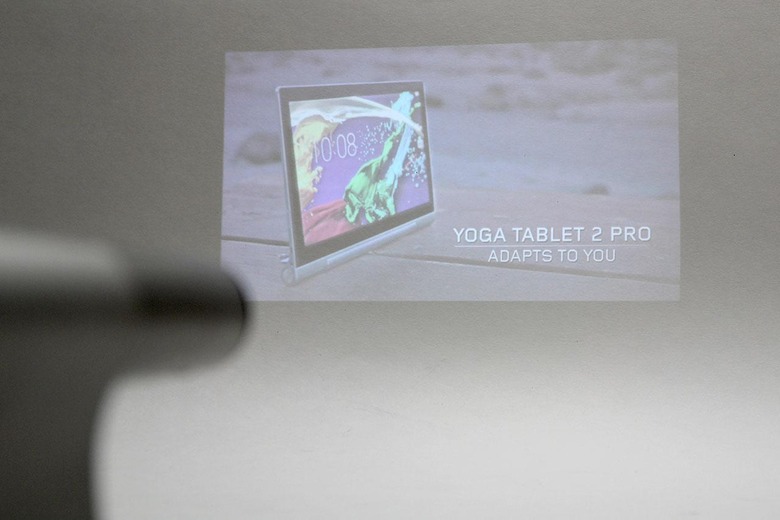 While you do get some automatic adjustments of the picture with "automatic keystone correction" as it projects from the device, you will still need to keep the device in its "tilt" mode (with the kickstand out, display upward), to work accurately. Automatic keystone correction works with your tablet's built-in G-sensor which detects the device's angle.

Your display will remain on while you're projecting for 10 seconds, after which it'll switch off while the projection continues. Handy how that works.
Battery Life
When you've got a tablet that works with a massive display, speakers blasting out the front AND the back, and you're running a projector at the same time, you're going to have to be a bit more understanding about not-so-great battery life.
On the other hand, a 9600mAh battery is mighty large, and even when we're using the projector to play movies we're easily able to run through one of the extended Lord of the Rings films. Of course if you're projecting you're not likely walking around, so you might want to consider plugging in while you're at it.
Standard work with this device (not projector work) lends itself to 8+ hours of battery life, no sweat.
Wrap-up
If you're in the market for a massive tablet, the Lenovo YOGA Tablet 2 Pro Review is pretty awesome. The only real competition this device has at the moment is the Samsung Galaxy Note Pro 12.2 which, if you're buying straight from Samsung, will cost you about $150 more than this Lenovo product. There's also no projector there, but there is an S Pen – so that's the... very strange tradeoff.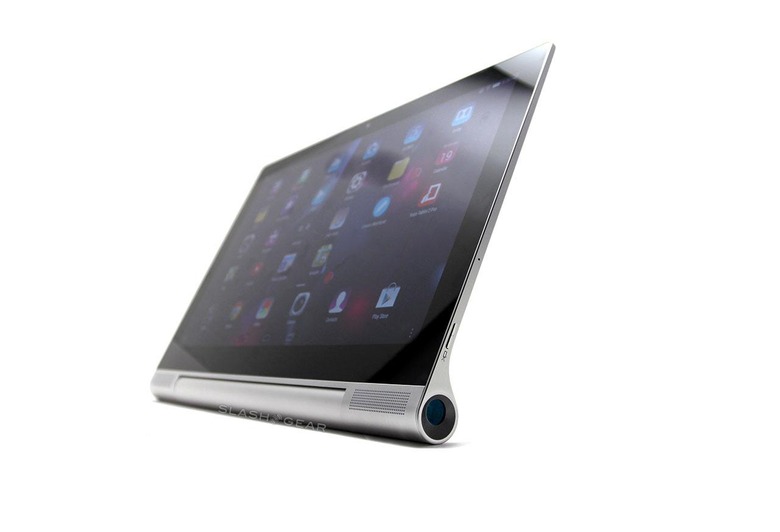 If you're in the market for a home entertainment machine that acts independent of an HDTV, this is the one you want. If you live in a small apartment or a dorm, for example, just skip the TV and run with this 13.3-inch beast. At $499 it's not the cheapest tablet on the block, but once you blast your ears off with these speakers while you're projecting a 50-inch movie on to your bedroom wall, you'll know where the money went.