ITG's xpPhone was one of the more curious prospects for Computex – something with the form-factor of a MID but resolutely intended to be used as a cellphone – and jkkmobile stopped by to check it out.  The xpPhone certainly tries to fit in as much as possible: SSD up to 64GB in size, multiple wireless options including Bluetooth, WiFi, 3G and WiMAX, and an AMD mobile processor.
Video hands-on after the cut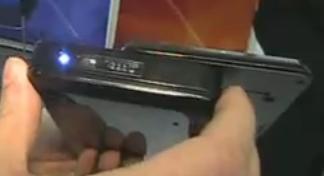 Contrary to our initial expectations, ITG didn't cut down the number of buttons on the xpPhone's keyboard; that's perhaps because the device is considerably larger than we first envisaged.  The 4.8-inch touchscreen is swaddled by a thick bezel, and as you can see in the video it's a chunky device.
We can't imagine holding the xpPhone to our head and using it as a traditional smartphone, but with a Bluetooth headset it might be more practical.  An estimated five hours of battery life is always welcome, but we're unconvinced overall; this seems a little too much like the jarring mash of device-types that has led MID sales overall to be disappointing.