ITG xpPhone: WVGA touchscreen, QWERTY & 3G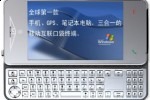 As descriptive names go, ITG's xpPhone says it all.  The 4.8-inch WVGA touchscreen slider is, as you might expect, a phone, and runs, unsurprisingly, Windows XP; it's all chugging along on an unspecified AMD mobile processor with up to 1GB of RAM, a choice of up to 64GB SSD or 120GB hard-drive, WiFi, Bluetooth and GPS.
There's also a full QWERTY keyboard on the slide-out section, with separate numeric pad, D-pad, trackpad and mouse buttons.  Considering the potential size of the device, we're thinking ITG may be a little over-ambitious in how many keys they want to squeeze in, but that's the joy of concept render.
A camera – up to 3.0-megapixels – removable Li-Ion battery good for up to 5hrs talktime, five days standby or seven hours MID use, and a variety of ports (USB 2.0, USB mini-B, SIM slot, audio in/out and VGA via an expansion port) finish up the deal.  ITG say the xpPhone could use GSM/WCDMA, EVDO, WiMAX, TD-SCDMA or TD-HSDPA networks, which basically means that they're open to offers for anyone willing to foot the manufacturing bill.  They'll be hawking it at Computex in a few days time.
[via Pocketables]